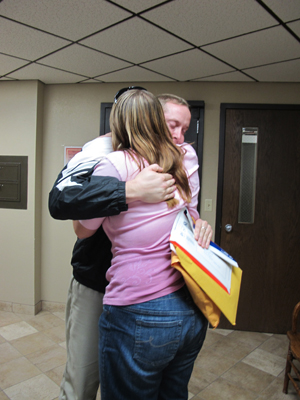 WATFORD CITY — Brock Savelkoul didn't look like a free man when he got into the pickup with his sister out in the McKenzie County jail parking lot Wednesday afternoon. This was no rejoicing "yeehaw!" moment.
He looked like a man leaving with the most serious orders he'd ever been given: to save a life.
Seventeen days ago, he faced deadly force in a two-hour standoff between a raving, suicidal Iraq war veteran and police trying to stop the craziness.
On Wednesday, the law put its long arm firmly around his shoulder and sent him from the McKenzie County jail directly to a Veterans Administration treatment center in Fargo.
This is no get-out-of-jail-free card.
If he leaves treatment, he returns to jail.
Savelkoul, 28, will be back in court in December to face felony and misdemeanor charges for his alcohol-fueled rampage through the county Sept. 21. He doesn't remember writing a suicide note for his family in Minot that day, his wild sunset ride into Watford City, or taking two guns into a convenience store and pointing them at clerks and customers. He doesn't remember speeding away from town with police in pursuit and the long, cold standoff on a dark stretch of U.S. Highway 85 when he fired his guns twice and begged cops to kill him.
He doesn't remember finally putting down all six of his guns, walking away from his ammunition, being Tasered, handcuffed and arrested.
He figures it's in that same bad place where all his disturbing wartime memories are stuffed.
He left in borrowed jailhouse clothes five hours after the district court judge agreed to reduce his bond from $20,000 cash to $1,000. His grandmother posted the cash so he could go.
He walked into the arms of his sister, Angie Heinze, who would drive him to Fargo, where he'll get medication and counseling. He'll be transferred to St. Cloud, Minn., as soon as a bed opens in that veteran's treatment center with its 45-day post traumatic stress disorder program.
It is a case where the judge, the state's attorney, the public defender, the county veterans service officer and others agreed that this man needed treatment first, the law second.
"I've never seen this before," said McKenzie County veterans service officer Jerry Samuelson. "This is new territory that we're going into. The judge, the state's attorney, the public defender, they're all doing the right thing."
Savelkoul was medically discharged in March. His discharge papers say that he suffers from post-traumatic stress disorder, depression, insomnia, anxiety disorder, hypersensitivity, hypervigilance and pain from where he took shrapnel in his right leg.
Halfway through his third tour in Iraq, in 2009, he and his unit took a bomb blast and he suffered a shrapnel wound, a concussion and a traumatic brain injury. He was a staff sergeant, 1st Field Artillery, 4th Battalion and Field Artillery, 2nd Brigade, 1st Infantry Division, regular Army.
His family said he's been a changed and troubled man ever since.
Savelkoul is well aware that a special door was opened for him, hopefully leading out of the dark confusion of his mind to the bright light of a better day.
"I have been given a second chance. It's not one I can mess up. They're doing me a favor by getting me into treatment," he said in an interview before leaving jail.
Since his incarceration, the military has finally resolved his medical claim. He's now officially considered 80 percent disabled.
Inside, he looked more robust than a week ago when it was all going down.
In full sunlight, he looked frail and damaged.
"I feel anxious," he said. "I'm depressed, but I have surges of hope that there's a future ahead of me."
He's been in treatment on, but mostly off, for more than a year. He quit his medications because he didn't like how they made him feel. In the end, he relied on booze to make it all go away. He was intoxicated that night.
Savelkoul said this time he knows he has to give it all he has and give up every secret thing he holds inside. "Stuffing it didn't work," he said.
He said he's never told any counselor his whole story; he's never told anyone every single thing in his heart.
"I don't like to tell even other veterans. I feel guilt, ashamed. I feel like I didn't succeed," he said.
While she waited for the paperwork to be done and her brother to walk out the door, Heinze dealt with her own feelings. They balled up into a lump that was hard to swallow.
She, more than anyone, wanted people to know that the man behind the headlines was a seriously disturbed and frequently suicidal veteran. If she's made one phone call on his behalf since his arrest, she's made a thousand.
"I would do anything for my brother. When I saw that look of fear on his face (the day after his arrest), I never saw him look so scared. I would try my hardest, but this is it, the treatment he needs. If he walks out of it ... ," she said.
The sentence dangled there in the waiting room of the jail.
It seems too much to contemplate.
In jail, as the interview ended, Savelkoul said what's ahead has always appeared as an emotional minefield. The explosions won't tear his limbs off, but he's avoided walking through that minefield just the same. Until now.
He is hopeful. "I'm not too old yet. I might be able to make my life turn out," he said.