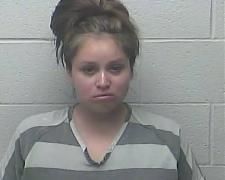 BISMARCK, N.D. -- A woman is accused of hit-and-run crashes that police said caused thousands of dollars in property damage while she drove drunk with one child on her lap and two others in her vehicle.
Kayla Gail McKenzie, 22, of Bismarck, is being held on a $10,000 cash-only bond at Burleigh County Detention Center.
McKenzie allegedly was involved in the hit-and-runs Tuesday night while her 1-year-old child was sitting in her lap.
She was arrested at 8:34 p.m. Tuesday, after police found her passed out in her 2004 Dodge sport utility vehicle at 131 E. Bismarck Expressway. When she appeared in court Wednesday, McKenzie said that was her residence.
Bismarck Police Sgt. Mark Buschena said that shortly before 6 p.m. on Tuesday, witnesses saw McKenzie behind the wheel of the SUV as it rear-ended a 2008 Subaru that was slowing down at the intersection of North Fourth Street and Main Avenue, causing an estimated $200 in damage.
Witnesses said the woman had her 1-year-old child in her lap and her two other children, ages 2 and 4, unsecured in the vehicle.
Following the collision, McKenzie allegedly continued driving, ultimately heading down a dead end alley between North 11th Street and North 12th Street, where she struck a chain-link fence, which in turn hit the side of a garage, and then backed up into another fence, causing an estimated $4,000 in damage.
Buschena said McKenzie pulled out of the alley and turned back onto Main Avenue where, to avoid east-west traffic, she struck a parked 1997 Chevy pickup at Fourth Street and Main Avenue, hitting the truck so hard that it rolled into a parked 2013 Ford truck.
That collision caused an estimated $5,500 in damage to the two vehicles.
When Bismarck police found McKenzie's parked SUV, which was missing its front bumper, Buschena said, McKenzie appeared disoriented.
You have free articles remaining.
The children were unharmed.
McKenzie was taken into custody and a drug-detecting dog was brought to the vehicle.
The dog gave a positive ID, leading police to discover a marijuana joint, some rolling papers and a glass cylindrical device with burn marks on it, Buschena said.
At her first appearance Wednesday, McKenzie was charged with Class C felony reckless endangerment, Class C felony child neglect, Class A misdemeanor driving under the influence with a minor in the vehicle and Class A misdemeanor driving under suspension for the fourth time.
Because McKenzie is facing felony charges, she did not enter a plea on Wednesday.
South Central District Judge Bruce Haskell provided McKenzie with paperwork to apply for a court-appointed attorney.
Assistant State's Attorney Christine McAllister called the allegations against McKenzie "disturbing" and added that McKenzie had prior convictions for child neglect, in 2010, and driving under the influence, in 2013.
McAllister said McKenzie's blood alcohol level was 0.252, more than three times the legal limit in North Dakota. She requested a $2,500 cash-only bond as well as mandatory drug- and alcohol-testing.
An emotional McKenzie admitted to drinking "excessively" that night, but said she could not recall driving.
"I look like a bad mother, but I'm not. I'm actually a really good mom," she said.
Haskell responded by quadrupling McAllister's recommendation, requiring McKenzie to post $10,000 in cash and comply with alcohol testing and the drug patch program.
McKenzie's next appearance will be a preliminary hearing, where a judge will examine whether there is probable cause to proceed with the case, followed by an arraignment, where McKenzie will be required to enter a plea.