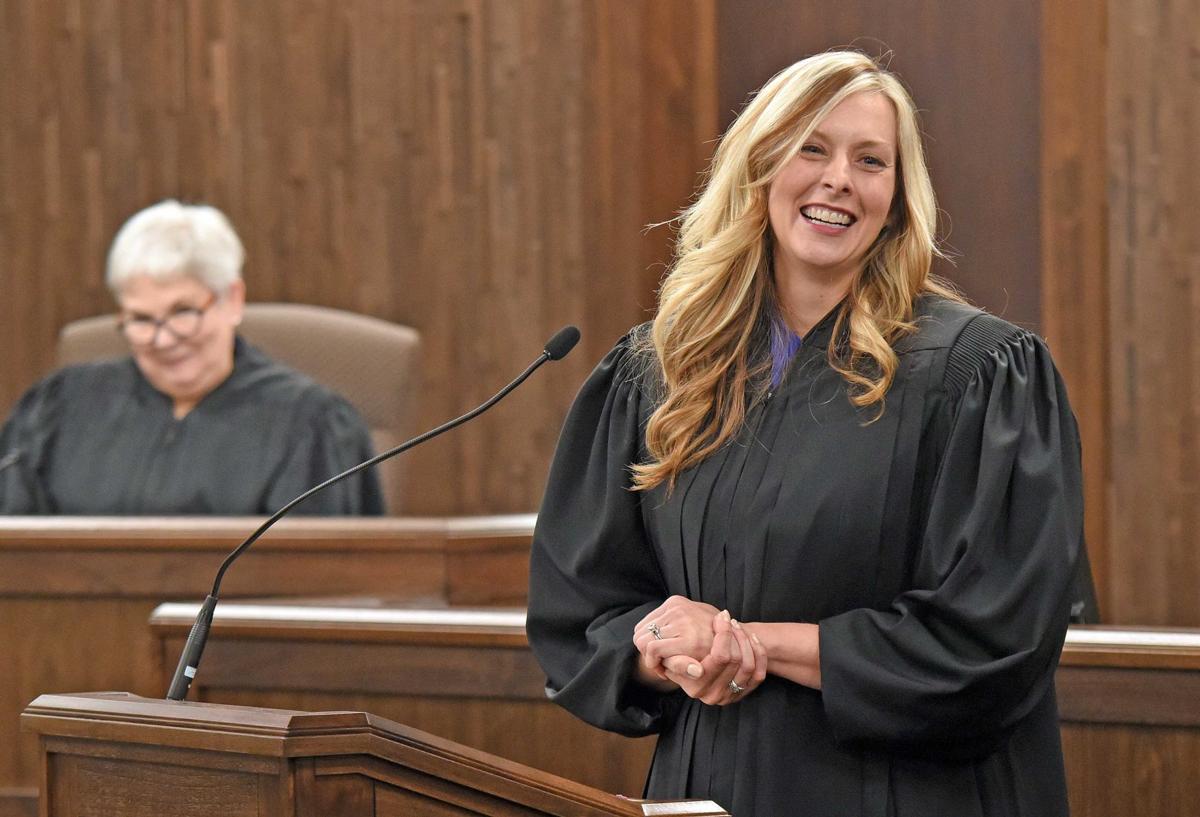 District court filings in North Dakota fell more than 6% from 2018 to 2019. The judicial district encompassing Burleigh and Morton counties remained the busiest in the state.
The East Central Judicial District, home to the state's biggest city of Fargo, had the most civil filings and juvenile cases of 2019. But the South Central Judicial District, comprising Burleigh, Morton and seven other counties, had the most total filings, criminal filings and jury trials of North Dakota's eight judicial districts last year, according to the 2019 North Dakota Courts Annual Report.
For years, South Central has logged the most civil, criminal and total case filings of the eight districts, according to data from previous annual reports. The trends mostly continued in 2019, but with decreased numbers from 2018 and personnel needs persisting amid expected budget difficulties in 2021.
The district's caseload fell almost 3% from 2018 to 2019, to 29,032 filings. Criminal filings fell about 1%, civil filings fell more than 10% and juvenile cases fell by almost 22% in the district. Jury trials went from 56 in 2018 to 58 in 2019.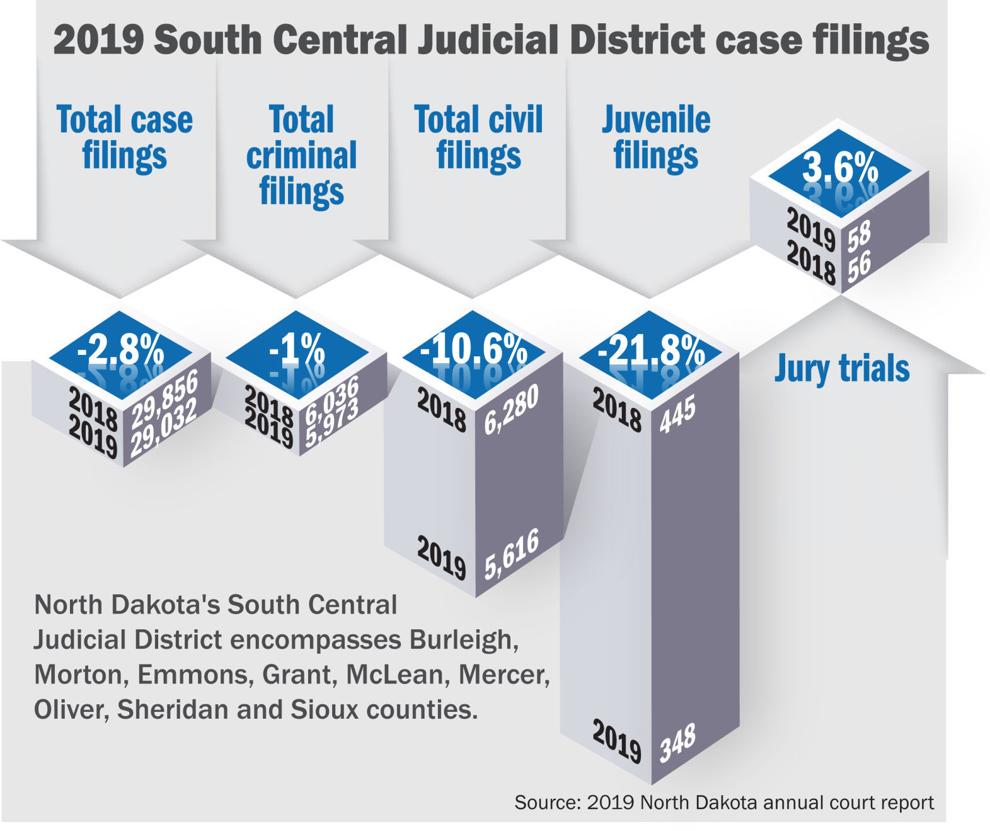 Several factors appear to account for South Central's workload.
South Central District Presiding Judge Bruce Romanick said East Central is largely fed by Fargo-area cases within its three-county spread, while South Central contains the Bismarck-Mandan area, the bustling U.S. Highway 83 corridor and the "fairly busy" counties of Morton, Mercer and McLean.
"It's when we put all ours together that we match Cass County," Romanick said.
State Court Administrator Sally Holewa attributed South Central's caseload to encompassing the seat of government, where businesses tend to locate. Businesses can generate disputes over contracts, services and other matters. The area's growing population also accounts for more cases, such as family and child issues and neighbor disputes, Holewa said.
Case types remained fairly steady in 2019, Romanick said. He attributed the larger East Central civil caseload to asbestos lawsuits rising in Cass County. The larger population in the east also probably drove more divorces and civil suits there, he added.
South Central jury trials and criminal filings were little changed from 2018. Few cases ever go to trial. The ones that do likely involve a mandatory sentence or substantial penalty, Romanick said. 
The coronavirus pandemic has resulted in a dam of trials due to North Dakota's Supreme Court suspending jury trials in mid-March, eventually to July 1. Jury trials will resume next month after the high court likely adopts a new jury selection plan.
Romanick said court officials are revamping courtrooms to accommodate social distancing. He said there is a "substantial clog" of trials, and he hopes jurors are comfortable with coming in.
Meanwhile, 2020 filings appear to be on pace with 2019, despite the pandemic and restrictions it rendered, he said.
Juvenile cases in 2019 totaled 348, down more than one-fifth from 2018's 445 cases, which Romanick said could be attributed to programs meant to keep children out of court. 
The decrease largely related to a 15% drop in deprivations, or cases of child neglect and abuse, said Carrie Hjellming, director of juvenile court for a state unit of 17 counties that encompasses the South Central Judicial District. But delinquent and unruly referrals to court were up from 2018, she added. 
She also credited juvenile programs for the 2019 decrease, noting the Dual Status Youth Initiative, which launched in early 2019 as a program to reduce referrals to juvenile court of children and families also involved in the child welfare system.
Hjellming said juvenile court referrals ebb and flow each month for a variety of factors, such as fewer monitors of behavior due to no school in summer. The pandemic "is new for all of us," she said.
South Central's weighted caseload over the years was evidence for the 2019 Legislature to add a 10th judge and a new court reporter to the district. Gov. Doug Burgum in August appointed Judge Pamela Nesvig. Romanick said her addition to the bench has "really been beneficial."
But judge and clerk needs persist, Holewa said. The latest weighted caseload study identified a need of about five judges and 17 clerks statewide, broken down into 0.5 judges in South Central and five clerks total in Burleigh and Morton counties, she said.
In beginning to plan its budget request to the 2021 Legislature, the judicial branch's top priority is "being able to sustain a court system" amid economic conditions rendered by the pandemic, Holewa said. And this is after the 2017 Legislature cut 10% of court staff, or about 35 people. Most of the court budget is salaries.
"We are bare bones right now on what we do," she said. Courts may call in retired judges to handle a "heavy scheduling" of jury trials dammed from the pandemic, she added. Those judges are paid from the Supreme Court's salaries and wages line.
Romanick doubts there will be a request for another new judge next year. Clerk needs might be more of a priority, he added.
"We're hoping to hang on to what we've got to do the job," he said.