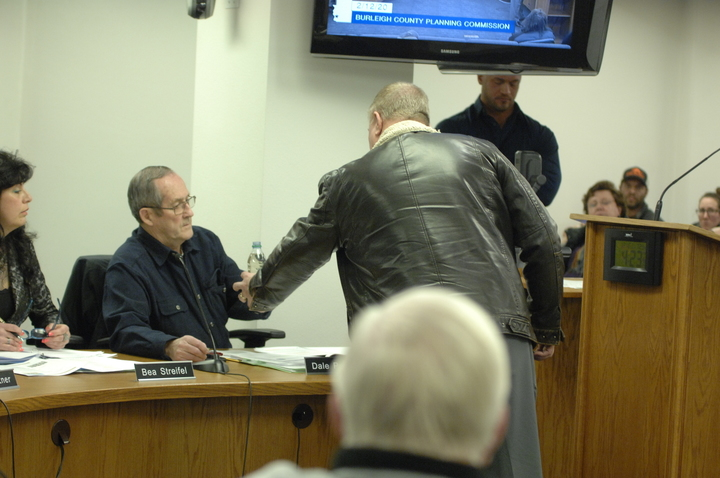 The Burleigh County Planning and Zoning Commission rejected a proposal to change the zoning in an area between Bismarck and Baldwin, following hours of testimony and questioning on Wednesday.
Bismarck-based real estate company Pioneer Land asked the county to change zoning from agricultural to planned use development, a real estate development that includes residential and commercial buildings. The proposal prompted complaints from area residents who feared a decrease in property values and congestion along a road that they use to take U.S. Highway 83 to Bismarck.
The proposal was part of a group of developers' plans to build a wastewater treatment facility by 26th Street Northeast and 110th Avenue. The facility ultimately would have discharged filtered and cleaned wastewater into the Missouri River, via Burnt Creek, said Mitch Flanagan, Burleigh County building official-director.
Pioneer Land withdrew the original rezoning proposal in December, delaying it until county staff determined how many homes the rezoned area would have allowed for construction. Staff determined 161 lots could be developed in the proposed area.
About 70 people attended Wednesday's meeting, most of them residents living by the proposed area. Many voiced opposition to changing the zone and the developers' plans to build the sewage treatment plant.
Resident Mike Sandal worried about property values.
"There is no doubt in my mind that no one is going to spend money to purchase my 4 ½ acres, when they can buy another lot for much less," he said. "Also, people who want to live in the country are not going to want to live where we have a dense-pack housing development."
Resident Troy Stigede worried about traffic.
"The road is shot right now," he said of 26th Street's condition. "You get a quarter inch of rain -- the garbage trucks won't go down it, the school buses don't go down it, you can't travel down it."
Bismarck Mayor Steve Bakken, who serves on the county planning commission, stated he had a potential "conflict of interest" in the wastewater treatment proposal passing. He did the same during a meeting in December.
You have free articles remaining.
If county commissioners passed the developers' proposal to build a wastewater treatment plant in the rezoned area, a sewer system Bakken works for, BioClere, would have been able to sell a system to the development, he told the Tribune. He receives a commission if he sells a system as a representative of the company, he said.
"If the development went through, the company I work for has an opportunity to sell the system to that development just like they do with any other development," Bakken sid. "They would put a bid in to see if they have the best bid."
Other planning and zoning commissioners unanimously agreed there wasn't a conflict of interest, with one saying he consulted with State's Attorney Julie Lawyer. Commissioner Brian Bitner said he believed there was no conflict of interest since the board was considering zoning for the development project in the meeting, not whether to approve the wastewater facility.
Some residents weren't convinced.
"If we're going to talk about wastewater, is Bakken still going to be voting if that's part of what we are doing tonight if there's interest there? I think that needs to be reevaluated," resident Mary Jo Ehrman said.
The commission voted 8-1 to reject the rezoning proposal, with Bakken in the minority.
"Bismarck is growing extremely fast and, at some point, (the area) is going to be within city limits," Bakken said after the meeting. "Now, as the city grows out, it's going to be a nightmare annexing 2 ½-acre lots from an infrastructure perspective, from a tax perspective."
Bitner, who also sits on the county commission, said during the meeting that he was not "comfortable with the technology" proposed, mentioning concerns with the effluent's path before it is discharged into the Missouri River.
"I actually love the idea, and I love the type of thing we are moving towards in Burleigh County with the community type of systems. I'm not comfortable with this one because it discharges," he said. "However well-meaning and well-tested and what not, I think if you were doing this subdivision uphill from my place, I would probably be looking for some dynamite or something."
Arthur Goldammer, a representative with Pioneer Land, said his company will not appeal the decision to the county commission.
"We plan to work with the landowners to come up with a new structure that would allow us to bring the project back to the commission using one of the existing single family rural residential zoning districts, that are typical for the area and more familiar to the county," he said in an email.