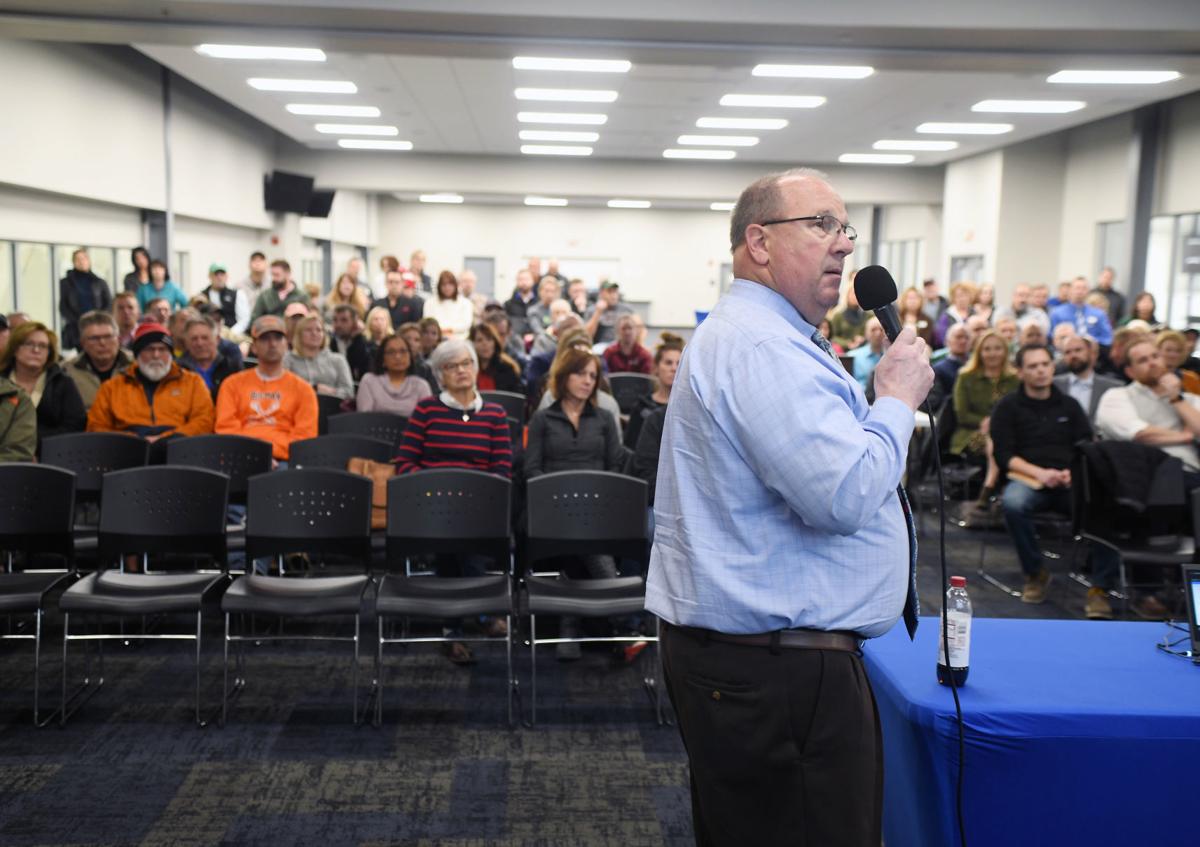 A concept unveiled Wednesday night for a proposed indoor community recreation complex in Bismarck includes a design shape that somewhat resembles a pistol or a hair dryer, with a separate ice arena and a cost surpassing $100 million. 
The Bismarck Parks and Recreation District presented a feasibility study draft for the proposed facility. About 90 people attended the event.
Parks and Recreation staff are proposing to build a center based on recommendations, presented in April, by consulting firm GreenPlay, which studied how to improve local parks and facilities. The final draft is scheduled to be complete in December.
The draft that a designer and a GreenPlay LLC representative presented at the Capital Ice Complex included construction, operation and maintenance costs concepts.
Construction costs would be almost $114.5 million, funded by a new sales tax and private donations.
Projected revenue would be $2.6 million each year. Projected expenses would total $3.1 million annually. Expenses not covered by revenue would be paid through the Parks and Recreation budget.
Staff said if the project were to be voted on by the public and approved in June 2020, the center could open in 2023. 
In March, Parks and Recreation distributed a survey that received 1,717 complete responses. When respondents were asked what facilities they wanted in an indoor recreation center, most selected walking and running tracks, followed by athletic courts.
Under the draft study concept, the center would have a main building with a separate building housing an ice arena, and a courtyard in between. The concept includes a four-lane running and walking track and an "adventure trail," an indoor cross-country track with elevation and obstacles. 
Staff also recommend six indoor tennis courts, adjacent to five indoor pickleball courts. Other amenities recommended include two indoor basketball courts, four racquetball courts and an indoor playground.
Staff said the center would be larger than 25 acres. They have not determined a possible location. A site would be determined once a proposal is passed and funding is secured. 
In October, Parks and Recreation held an event where area residents asked questions about the project and provided input. Facilities and Programs Director Kevin Klipfel said about 200 people turned up.
"We had all kinds of positive comments," he said in an interview. "Everybody kind of has their specific interests, 'Where is the tennis housed?', 'What do the gymnastics look like?', 'How about pick-up ball?', 'What about the rock climbing wall?'"
Stephanie Birkeland, executive director of the Bismarck Gymnastics Academy, said Wednesday night that she is excited about the recommended gym area, which looks more spacious than what her organization uses.
"We are kind of bursting at the seams and kind of need a bigger area," she said. "I know that we are looking at a bigger area than what we have now, so that's progress for us moving forward."
Get local news delivered to your inbox!
Subscribe to our Daily Headlines newsletter.