Upon making it to the hospital during an early April snowstorm for the birth of their first biological child, Mary and David Hess breathed a sigh of relief and chuckled about the months' long joke that their little one, whose due date was April 9, would make his big debut during a Northern Great Plains blizzard.
Little did the couple, who live in Mobridge, S.D., know that the snowstorm would later hamper efforts to save the life of the mother, who suffered complications after childbirth, and trigger a response from everyday heroes, who put themselves in harm's way to save her life. On this Mother's Day, their story offers a time for reflection on families and the importance of their community support networks.
The joyful news
Shortly after their August 2007 wedding, Mary and David Hess realized their dream of starting a family. Unable to achieve a pregnancy in two years' time, the couple sought advice from a medical professional.
"We talked about it, we prayed about it and decided if God wants us to have a biological child, we'll have a biological child," David Hess said.
In the meantime, the Hesses, who were living in Pennsylvania, researched adoption from the foster care system. They followed all the necessary steps and were blessed with four adopted children — two sets of siblings.
The Hesses were selected to care for Makai, 7, in February 2011, when he was 2 days old; they adopted him in November 2012.
DaSalle, 7, joined the family in April 2012, just days before his first birthday. His 2-day-old brother, Carlton, 5, came to live with the Hesses in August 2012. The two brothers were adopted May 2014.
Makai's sister, Milan, 4, joined the family in January 2014, at age 7 months; her adoption was finalized August 2015.
In the summer of 2016, the family moved to South Dakota for work, where David Hess is employed as a truck driver for Walworth County Implement, C & B Operations.
One day last August, as Mary Hess, 36, was tending to her daily activities, she began to feel "a little different." A pregnancy test confirmed the couple's suspicion — they were expecting a child. Quick calculations estimated an early April due date.
"I teased my wife it would take a major winter storm for us not to be able to get to the hospital," David Hess said.
The pregnancy progressed and the couple decided to find out the sex of the baby. They were having a boy, who they would name Criston Chiamaka. David Hess said they wanted their son's name to have meaning; Chiamaka means "God is splendid."
Mary Hess had a rather uneventful, healthy pregnancy. She began experiencing labor pains in the early morning hours of April 2, just as a winter storm was approaching. The couple made it to the hospital in Mobridge safely, and Criston, a healthy baby boy weighing 7 pounds 10 ounces, was born at 10:30 p.m.
"It wasn't like we had huge amounts of snow … maybe 6 inches by suppertime," David Hess said. "The wind was picking up and visibility wasn't good. It made roads treacherous."
Warm and safe in the hospital room, Mary Hess held her newborn baby for the first time.
Criston was delivered by Dori Vojta, a certified nurse midwife with Mobridge Regional Hospital. Robert Marciano, a doctor who specializes in family medicine and obstetrics at the hospital, was called to assist with the delivery, but the baby was already born by the time he arrived.
Both medical professionals attempted to remove Mary Hess's placenta post-delivery, but it wouldn't come out. She was also losing blood at an alarming rate. While the doctors assessed the situation, the mother took a turn for the worse.
"She was as white as a sheet. I've never seen her so white before," David Hess said.
Vojta ordered Mary Hess be given oxygen and the two doctors, in addition to a third doctor — Matthew Schaffer, who specializes in family medicine and obstetrics at the hospital — rushed her off to surgery, in an attempt to stop the bleeding.
"In a half-hour period, we went from rejoicing and being overjoyed about the birth of our baby, to me sitting alone in the delivery room, holding Criston, and not sure if I was ever going to see my wife again," David Hess said, unable to contain his emotions.
Mary Hess was diagnosed with placenta accreta, a condition that occurs when the placenta attaches itself too deeply into the wall of the uterus. She needed to be transferred to a Bismarck hospital to undergo surgery by a physician who is highly skilled and more familiar with the serious condition.
Arrangements were made for a plane to land in Mobridge and transport the patient to CHI St. Alexius Health, Bismarck.
In addition, the Mobridge hospital only had two units of Mary Hess's blood type — O negative — on hand, which were administered immediately. The plane, en route from Fargo, was to bring more life-saving blood.
That's where the storm comes back into play. Due to wind, low visibility and an icy runway, the airplane was unable to land in Mobridge, despite efforts by an airport crew who cleared the runway of snow and vowed to stay put until the mother was where she needed to be.
It was the same story for a second plane, en route from Sioux Falls, S.D.
"An attempt at a landing would be foolish," said David Hess. "It couldn't be done."
Braving the storm
As David Hess sat cradling his newborn son in the recovery room, praying fervently for his wife, who desperately needed a blood transfusion in the surgery room down the hall, members of law enforcement, as well as hospital staff, were putting their lives on the line in an attempt to save the mother's life.
Despite the nasty driving conditions, these individuals — who the Hesses refer to as heroes — were traveling every which direction from Mobridge to collect O-negative blood from other cities. In total, eight units of blood were collected.
One of the individuals later told David Hess that while driving on the bad roads to obtain the blood, the following thought kept running through their mind: "No child should grow up knowing that on their birthday, their mom died."
"The way people cared, and the things people did … putting their own lives on the line. They did all they could to make sure they got there in time," David Hess said.
In total, Mary Hess received 10 units of life-saving blood in the Mobridge hospital. By closing off some of the arteries to the uterus, doctors were able to reduce blood loss.
Though stable, she wasn't out of the woods. The weather needed to clear enough for a plane to land, so the mother could be transferred to the Bismarck hospital for surgery.
"The doctors in Mobridge wanted to maintain Mary's ability to have a child in the future, if possible, which was beyond their skill level," David Hess said.
The next morning — April 3, about nine hours after Criston was born — a plane made a successful landing at the Mobridge airport, and Mary Hess was transported to Bismarck's CHI St. Alexius Health, where doctors decided a hysterectomy was necessary.
Prior to the surgery, David Hess, who rode along to Bismarck in the airplane, spent a quiet moment with his wife, who was unresponsive at the time.
"I took her left hand and squeezed it a couple of times, and let her know I loved her and that people were praying for her," he said.
Mary Hess later told her husband she knew it was him and received his message in that moment.
The surgery went well and Mary Hess awoke the next day, April 4, aware that she had had a hysterectomy, but unable to recall much of what happened during the 24 hours following Criston's birth.
"She, basically, missed a whole day of life. That's a lot to process," David Hess said. "That day was a hard day for her. But it was a good day, too."
In the meantime, Criston, who remained in the Mobridge hospital, began to develop slight breathing troubles and was not feeding well.
"He was breathing too fast, and he wasn't sucking right. The doctor said, 'I think he misses his mommy,'" David Hess said.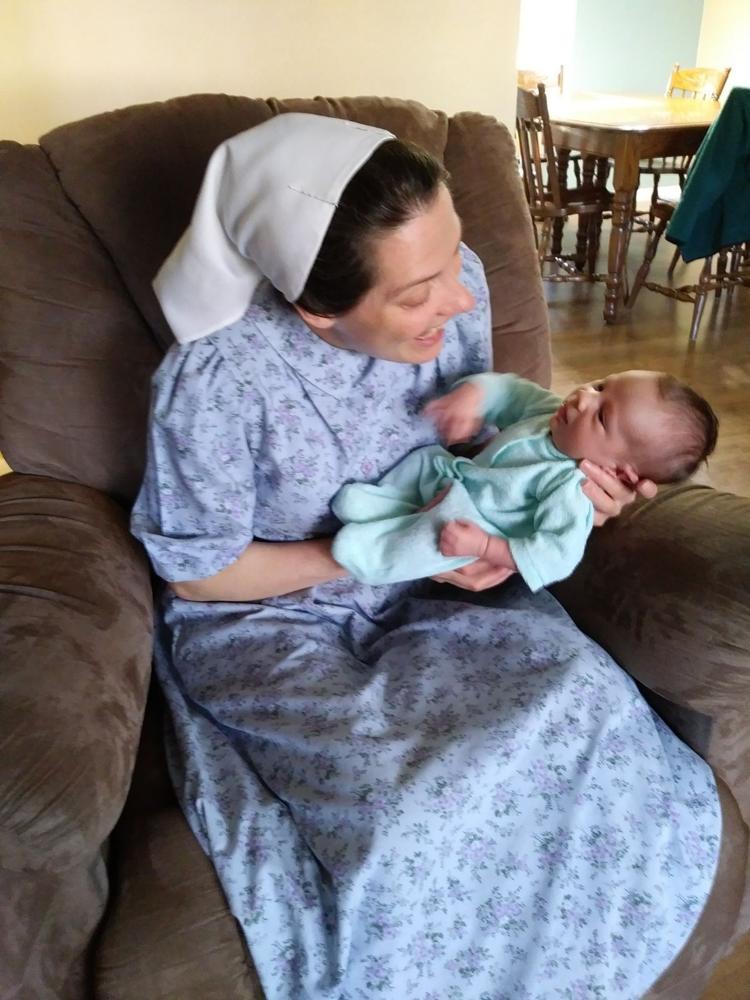 Criston was transported to the Bismarck hospital's neonatal intensive care unit, where he was prescribed an antibiotic and administered oxygen. After 48 hours, he was feeling well enough to forgo the treatments.
Mary Hess received two additional units of blood in Bismarck, on April 5, bringing her grand total to 12.
"Getting that blood definitely helped her regain strength and power," David Hess said.
An anointing service of healing, in which prayers are said for both mental and physical healing, also helped her feel stronger, he said.
The icing on the cake was the April 5 reunion of mother and son, who had only spent 30 minutes together on April 2 — the day Criston was born.
"He knew it was her, she knew it was him … it was the best medicine for both of them," said David Hess.
April 7 was the day the couple finally got to go home with their newborn baby. A day or two prior, Mary Hess devised a plan for the moment they stepped foot out of the hospital.
"When I walk out of the hospital with this baby, I'm going to truly think and say, 'God is splendid,'"  said Mary Hess, who kept to her word and her husband joined her in praising the Lord as they exited the medical facility.
Both mother and baby are doing good, according to David Hess. Criston was seen by an orthopedic surgeon last week in regards to some concerns of hip dysplasia. The doctor recommended Criston wear a harness for the majority of the next four weeks, with the hope of correcting the condition.
The Hesses said they are grateful for the excellent care they received at both hospitals, as well as inflight.
"The staff were all so caring and nice. You could tell we weren't just another job. We were someone they cared about," David Hess said.
Not wanting to leave anyone out, David Hess said he wants to thank all the people, from all walks of life, who worked together to save his wife's life. The family would also like to thank everyone for their prayers.
"Most importantly, we want to thank God and give him the glory for 'God is splendid,'" he said.
"This story is just an amazing example of the Dakota spirit and communities pulling together," said Peter White, an intensive care doctor at CHI St. Alexius Health who was working when Mary Hess arrived at the hospital. Doctor Heather Sandness Nelson, who specializes in obstetrics, also provided care to the mother when she arrived in Bismarck.
"Airport personnel stayed all night, on duty, hoping the weather would clear and a rescue plane could land in Mobridge. And all of those people went out to those small hospitals and got the blood in blinding snow and snow drifts … it's an amazing thing," he said.