Kenny Graner is nothing but prepared for calving in winter weather. 
The Huff area rancher has taken to napping in a pickup in his heated shop to save time from undressing and dressing before he regularly drives down to check on his calving lot.
"It might not be a comfortable bed, but when you're tired, you can sleep anywhere and anyhow or any way," Graner said. 
As a winter storm dumped more than 9 inches of snowfall Saturday in the Bismarck-Mandan area, Graner has kept busy tending to newborn calves and barn space amid the cold, wet weather. 
The first 12 hours after a calf's birth are critical for nursing and keeping dry, he said. A calf that is wet and chilled is susceptible to health risks, including pneumonia. 
An antibody-rich milk called colostrum is vital for newborn calves until their immune system is functional, to protect from various pathogens. 
"These may be pathogens that cause calf scours or pathogens associated with respiratory disease," said Gerald Stokka, a North Dakota State University Extension veterinarian. "In either case, the pathogens are simply taking advantage of a calf with a compromised immune status."
Graner utilizes calf huts, "hot boxes" and windbreaks in various weather conditions during calving, and can house up to 40 pairs of cows and calves bedded in his barn during a 24- to 36-hour storm. 
Extreme subzero temperatures and wind chills don't help: "There's not much time for an animal to survive when it comes out at 99 degrees and wet. They freeze real fast," Graner said.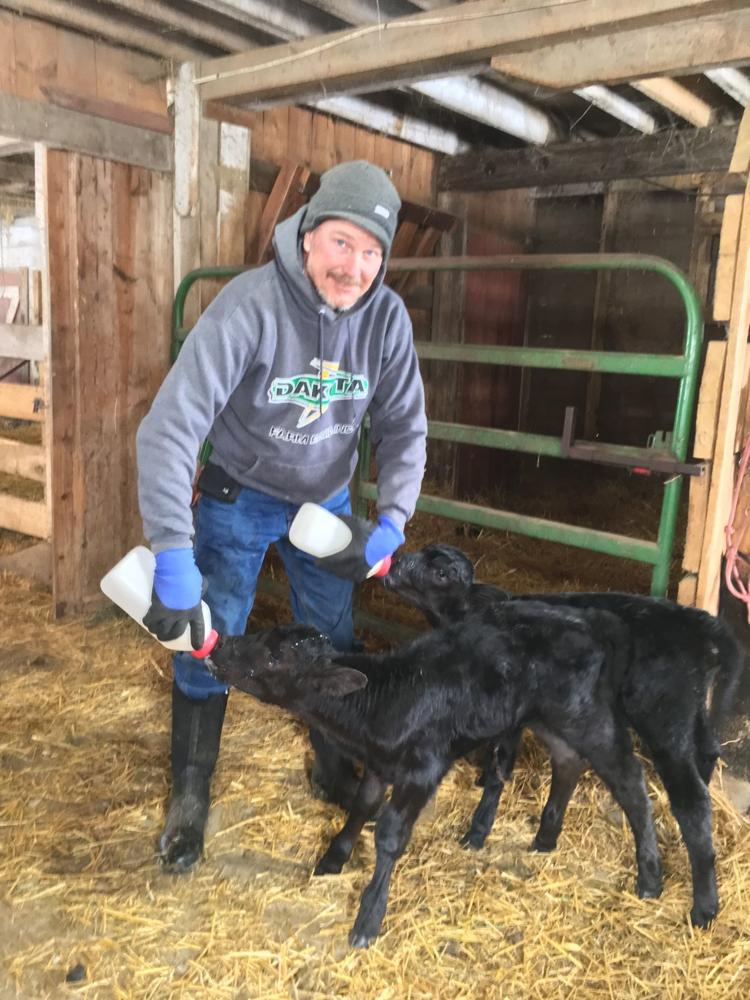 He's welcomed about 30 calves so far as of Friday, including three pairs of twins. 
"Basically, we got a good start," Graner said.
He and his wife, Mary, have also kept busy mending a couple cracked rafters in their barn's roof and tending to other calving needs during good weather on Friday.
The National Weather Service reported that 10 inches fell in Bismarck from Saturday's storm. Southeastern North Dakota took up to 9 inches.
Nathan Heinert, a meteorologist with the NWS, said 'decent' but cooler weather is expected Sunday. High winds may taper off Sunday as the weather should begin improving. 
Road conditions are mixed statewide from Saturday's storm, with a no travel advisory for much of south central and eastern North Dakota due to heavy snow.
Interstate 94 in North Dakota from Bismarck to Fargo was closed Saturday evening, along with Interstate 29 from Grand Forks to the South Dakota border.