The people of Bismarck-Mandan got lucky.
What was expected to be a massive winter storm overnight Wednesday left just trace amounts of snow in the area.
Jeff Schild, an meteorologist with the National Weather Service in Bismarck, said his office was still gathering snow reports on Thursday morning, but some towns and counties have recorded anywhere from 1 inch to 16 inches of snow that fell overnight Wednesday.
According to a local storm report, Morton County got just an inch of snow, while other cities in eastern North Dakota saw far more. McIntosh County saw 16 inches.
"We were — it depends on how you look at it — on the fortunate side," Schild said.
Schild said, though Bismarck-Mandan got lucky, some towns east of Bismarck in rural Burleigh County, such as Sterling and Moffit, had "significant snow reports" that were still trickling in on Thursday.
South central and western North Dakota did have high winds overnight Wednesday, ranging from about 50 mph to 60 mph, Schild said. At the Bismarck Municipal Airport, the highest wind gust was 50 mph, he said.
The highest wind gusts near Bismarck-Mandan was observed in Medina, which recorded 62 mph gusts, according to Schild.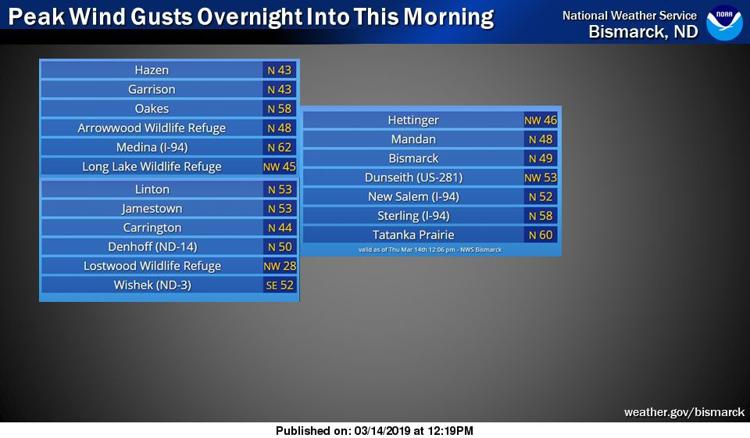 Weather conditions eased up Thursday morning, while eastern North Dakota continued to get battered.
North Dakota Highway Patrol Sgt. Wade Kadrmas said he thinks drivers heeded warnings about driving overnight Wednesday into Thursday.
"It's been worst out east," he said, including low visibility due to high winds and blowing snow.
Interstate 94 from Bismarck to Fargo remained closed Thursday afternoon, as well as Interstate 29 from Fargo to the Canadian border.
Kadrmas said he's aware of some motorists who got stuck overnight Wednesday on I-94 in eastern North Dakota. There were some vehicles left on the roadway, he said, noting "it's going to take a while for tow truck companies to be able to go out there and pull them out."
In Bismarck-Mandan, there have been some property crashes, as well as some vehicles in the ditch on I-94 west Thursday morning, according to Kadrmas.
"I think that's what's catching people off guard a lot. The roads may seem good, but then when we get that blowing snow that's wet and sticks, that's what's causing those icy roads," Kadrmas said.
Schild said no other major winter storms are expected for the weekend and into next week. High temperatures will be in the lower to mid-30s, and may hit 40 degrees in the middle of next week.