Last week, Kim Eckroth, a teacher at Legacy High School, and a group of students gathered in a circle to discuss their teaching philosophy statements.
These statements reflect their beliefs and values as a teacher. Though the students are not yet teachers, they're learning what it takes through a new course offered at Bismarck Public Schools.
The school district started offering an introduction to teaching course this year as a way to entice students to enter the teaching profession.
The exploratory course is similar to other classes the district offers at the Career Academy and Technical Center, including in health careers, welding and aviation — professions that are in high demand.
But the district also recognized there's a need for more teachers, as evident by the nationwide shortage, according to Dale Hoerauf, director of the center. In North Dakota, there's a critical shortage of teachers in all content areas.
Hoerauf said 37 students signed up for the introduction to teaching course this year, which is offered at Legacy High School and Century High School. He said the district is also working with higher education institutions to soon offer dual credit courses in education.
A bill recently signed by Gov. Doug Burgum will also create an "education pathway" for students interested in the teaching profession, in which they can qualify for a $6,000 scholarship. 
Hoerauf said the state Legislature previously created the scholarship to get more students in blue collar jobs. The problem was, education didn't fit under career and technical education, thus the need for the bill, which was introduced by Sen. Nicole Poolman, R-Bismarck, who also teaches the introduction to teaching course at Century.
"The whole point is, if there's such a need for teachers, why wouldn't we do that same thing?" Hoerauf said.
Eckroth, who has been teaching for 18 years, said the course is an opportunity for students to get experience in teaching.
"I didn't see (teaching experience) until I was a sophomore, junior in college," she said. "I had friends drop out in college because they said teaching isn't for them. These kids are going to know now, 'Is this for me or this not for me?'"
The course was offered this year to students in ninth grade through 12th grade, but next year it will be limited to students in 10th grade and above, according to Eckroth.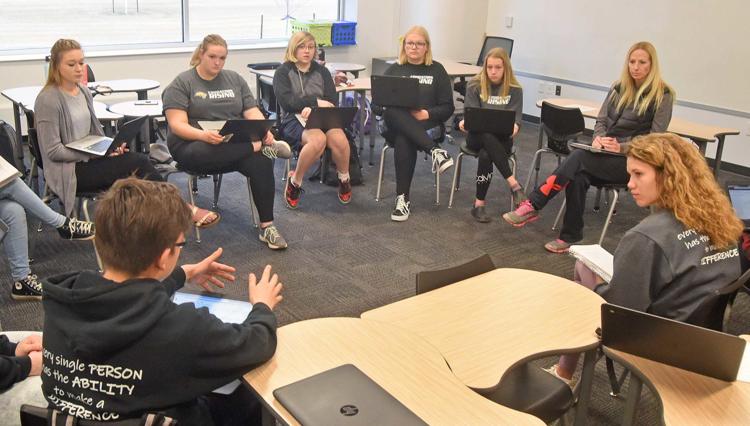 The students meet three days a week for the class and spend about an hour or two each week shadowing a teacher in the district.
Earlier this year, the students visited different classrooms to find out what type of teaching they would enjoy, and then selected one teacher to shadow for a total of nine weeks.
"They're building relations with these little kids, they're going to their music programs. These kids know them when they walk in; it's incredible," Eckroth said.
This year, Eckroth brought in teaching panels to answer the students' questions, and the students have learned how to build lesson plans and wrote research papers.
This course is a first in North Dakota, according to district officials. Nationally, there's a program called Educators Rising that offers similar curriculum to schools.
For some students, the course has helped them decide that teaching is not for them. For Zoe Kyes, a sophomore at Legacy, the course solidified her longstanding goal to become a teacher.
"I think this whole experience really helps you see what you want to do with your future," she said. "I still want to teach, and it's made me want to teach more."
Hoerauf said 20 students have enrolled in the course for the upcoming school year.
Last week, Eckroth's students debated a question posed to them while formulating their teaching philosophies: is teaching an art or a science? The students then asked Eckroth.
"It's both," she said. "We are here to teach, we are here to challenge kids, but you're here to help these get through life — to learn to persevere, grit resilience ... that's why we're here: to make a difference."