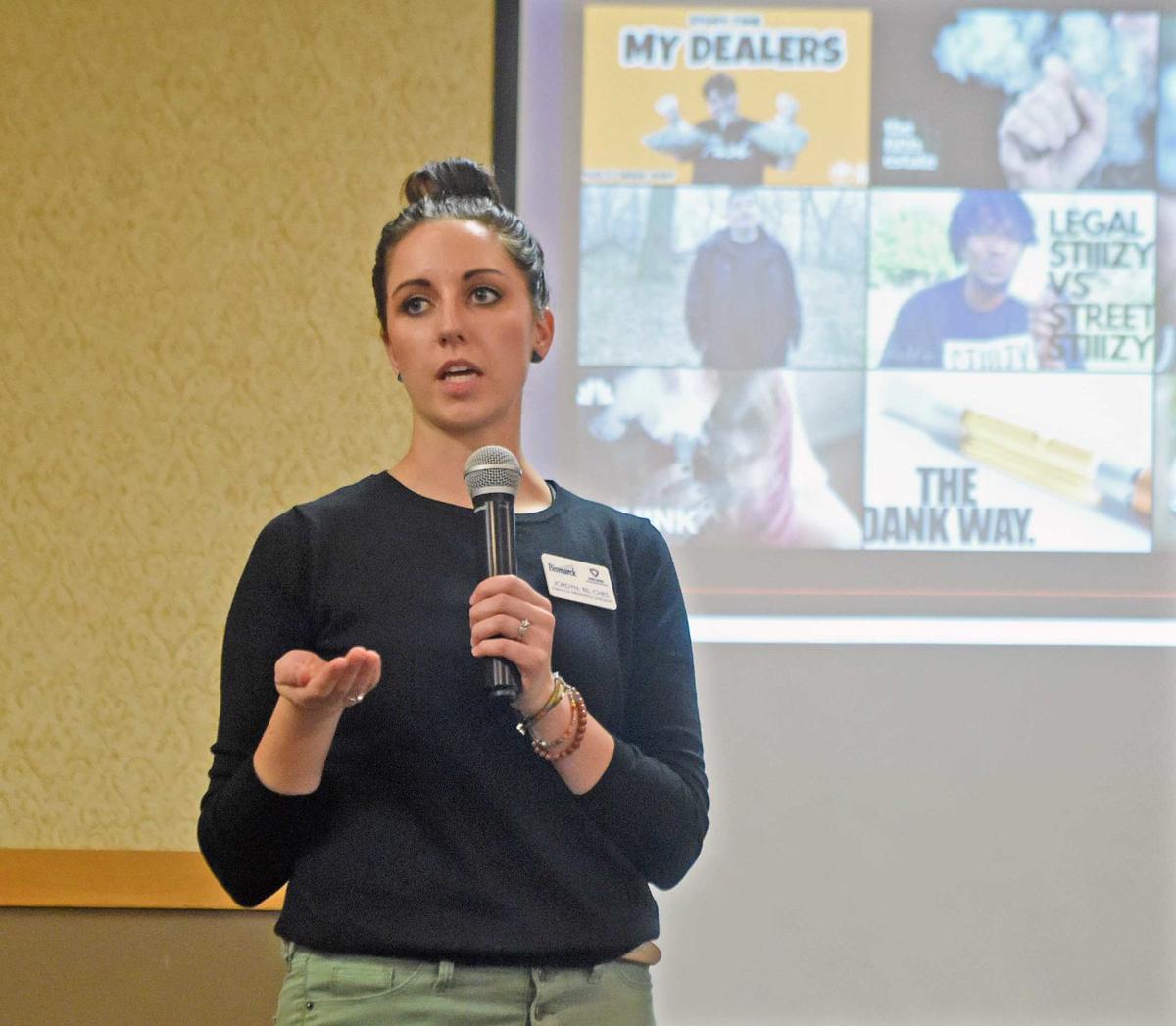 Vaping is an epidemic among North Dakota's youth. 
"In the past year alone, vaping by high schoolers has increased 78%," said Jordan Schaefbauer, a tobacco prevention specialist with Bismarck-Burleigh Public Health. "This is a huge issue in our state. It's not just in our state, its not just in our community, but it is all over the United States."
The nearly hourlong session on vaping at the fall conference for the North Dakota Association for Lifelong Learning drew about 50 concerned educators to the Ramada Inn in Bismarck. They work in adult learning and alternative education centers across the state, like Bismarck's South Central High School.
The presentation touched nearly all aspects of youth vaping, giving a basic rundown on what vaping is to the various types of devices students are using and the behavior that goes along with nicotine addiction.
Schaefbauer and fellow presenter Josh Brown, a resource officer for Bismarck Public Schools, said part of the problem is the perception that vaping is safer than traditional cigarettes.
"Safer does not always mean safe," Schaefbauer said.
Both Brown and Schaefbauer believe that flavors like cotton candy and other fruity flavors are targeted directly at youth, not adults who are trying to quit smoking like the companies who make them claim.
Schaefbauer said 63% of Juul users do not know that there is nicotine in the product. 
Juul, a popular e-cigarette that looks like a USB drive, holds 72% of the e-cigarette market share and has been associated with the explosion in popularity of vaping among youth.
You have free articles remaining.
Brown said he's been catching students using the Juul in class by hiding the device in pocket sleeves or in the strings of hoodies. He believes kids are drawn to the brand name of the Juul, likening it to the craze around Air Jordan sneakers. 
"It's just the cooler thing," Brown said.
Brown, president of the North Dakota Association of School Resource Officers, said that based on what he and other resource officers around the state are seeing in schools, vaping is a bigger epidemic in schools than cigarettes ever were. He said for every 10 e-cigarette devices he confiscates, he might find one pack of cigarettes.
More than 20% of North Dakota high schoolers say they used a vape within the last 30 days, according to the 2017 youth risk behavior survey. In the Bismarck-Mandan area, the percentage jumped slightly to 22.9%.
In the same survey, 12.6% of high schoolers said they smoked a cigarette within the last 30 days. 
Schaefbauer said after the presentation that she's been getting more speaking requests lately due to increased media attention on vaping-related severe lung illness.
"It's in the limelight right now," Schaefbauer said.
The North Dakota State Department of Health has confirmed one case of severe vaping-related lung illness and six probable cases still under investigation.
As of Thursday evening, 530 cases of lung injury associated with vaping have been confirmed across 38 states and one U.S. territory, according to the Center for Disease Control. Seven deaths have occurred as a result of vape-related illness.
North Dakota health officials say the state is working with the U.S. Centers for Disease Control and Prevention as the agency continues to investigate the vaping illness cases.