On Saturday, the University of Mary will graduate its first student in its engineering program.
The program, which began enrolling students in 2016, was created in response to a soaring demand for engineers in the western North Dakota oil patch, as well as interest from students.
In addition to graduating the first student in the program, U-Mary will also break ground Monday on a new multimillion-dollar School of Engineering.
The school will be located at the old university dining hall, which was replaced by the Lumen Vitae University Center. The dining hall is part of the original campus, built when the university was called Mary College.
"Generations of University of Mary students, graduates and alumni have enjoyed this space, and now it will be thoughtfully repurposed into a world class center for the preparation of engineers," Monsignor James Shea, president of the university, said at a groundbreaking ceremony Thursday.
The engineering program currently has about 90 students, and, in the fall, hopes to enroll about 120 students.
"The demand for engineers, not just here in our region, but from all over the country has been magnificent," Shea said.
Michael Gorder, a senior, started in the engineering program three years ago when there was only one engineering professor — now there are 10 teaching faculty members.
"Even though the process wasn't easy, I really enjoyed the challenge of being the first engineering graduate to go through the program," Gorder said Thursday.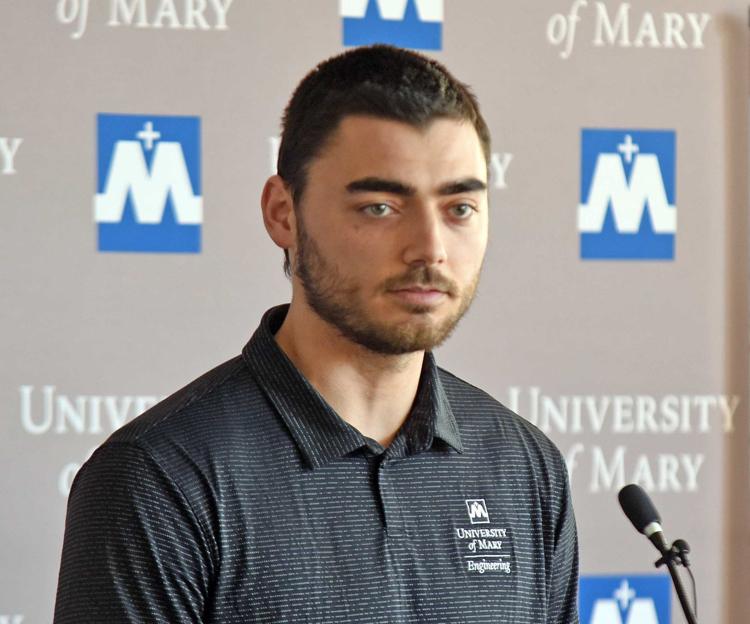 As a student, Gorder interned with the city of Mandan, as well as with Moore Engineering in Bismarck, which is where he got a job at after graduation.
University officials plan to have the construction completed on the School of Engineering by fall of 2020. So far, they've raised $10 million for the school, and need another $2 million to complete the construction. A total of $15 million is the final goal for the project.
Among those who donated to the School of Engineering is the Dakota Access Pipeline developer, Energy Transfer Partners, which donated $3 million toward construction, as well as another $2 million to go toward a U-Mary workforce development initiative.
Chris Curia, executive vice president of human resources for Energy Transfer Partners, said at the groundbreaking ceremony that the company donated to the university due to the need for more qualified engineers in the oil and gas industry.
"Why do we support this program? There's a tremendous need for engineers all across the country, not just our industry," Curia said.
University officials also released the results of their workforce study, which will be used to determine workforce development needs and create new education and training programs.
Brian Opp, a workforce development strategist for U-Mary, said they learned more has to be done to retain workers in North Dakota, as well as existence of a "skills gap" in regards to "soft skills," such as communication and writing, and "professional skills," including project management.
"We were able to dig deeper and gain a deeper understanding of those challenges and how they may apply to education, or, in other words, what can we do about it as higher education," Opp said Thursday.
The report aims to identify potential education and training programs the university could develop.