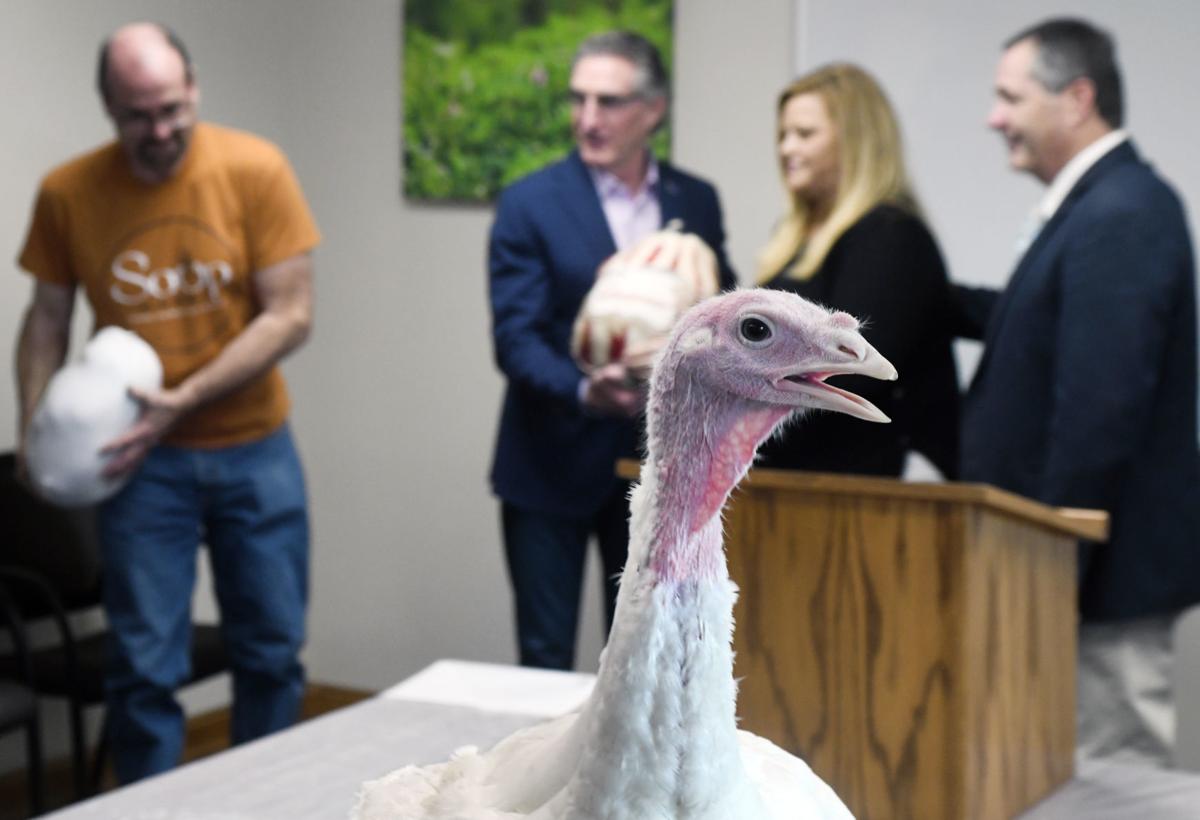 If turkeys could cast a vote, Gov. Doug Burgum on Monday might have secured one in his favor for 2020.
The governor pardoned Lilly, an 18-week-old, 18-pound turkey organically raised by North Dakota Turkey Federation President Dave Rude on his farm near Tolna. The group donated 24 frozen turkeys to the Abused Adult Resource Center and Heaven's Helpers Soup Cafe in Bismarck for those in need over Thanksgiving.
"By the authority vested in me by the state of North Dakota, I hereby grant that Lilly receives a relaxing turkey Thanksgiving back on the farm," Burgum said as the bird eyed reporters brandishing cameras and walked around on a covered table. "And Lilly, may you live long and healthy and may you have lots of gobbling without being gobbled."
The governor, who is running for reelection with Lt. Gov. Brent Sanford, praised the annual tradition in recognizing North Dakota turkey producers -- nine farms that produce more than 1 million turkeys annually.
"And I believe that you're looking at the only one that's actually ridden an elevator today, to get here to the sixth floor of the Capitol," Burgum said in a room of the state Department of Agriculture offices.
Agriculture Commissioner Doug Goehring expressed hope "to build" on the state's poultry industry, which he said supports local communities.
You have free articles remaining.
"For us as a state to have this opportunity, to actually have a turkey pardon, not very many states get that," Goehring said. "I know there are a few, but we're going to take full advantage of it."
Rude acknowledged the industry is small in North Dakota but said "we feel we do our part in trying to help our state and feed people."
Abused Adult Resource Center Executive Director Michelle Erickson and Heaven's Helpers Soup Cafe Executive Director Mark Meier each accepted a frozen turkey.
"Our shelters are generally full. Right now I think we have 16 women and 10 kids in our shelter, so this donated turkey is going to be a great help for Thanksgiving this year," Erickson said.
Meier said the cafe serves 250 to 350 people a day, six days a week. The cafe recently expanded its services to include a wheelchair-accessible shower, laundry room and computers, available in December.
"We go through a lot of soup. We go through a lot of sandwiches. We go through a lot of food on the salad bar, so we could not do this without the community and their support," Meier said.
Governor's turkey pardons in North Dakota date to at least 2006, when Gov. John Hoeven requested live turkeys for the donation presentation.
Turkey pardons are a longer tradition with U.S. presidents. President Donald Trump will pardon a turkey on Tuesday.