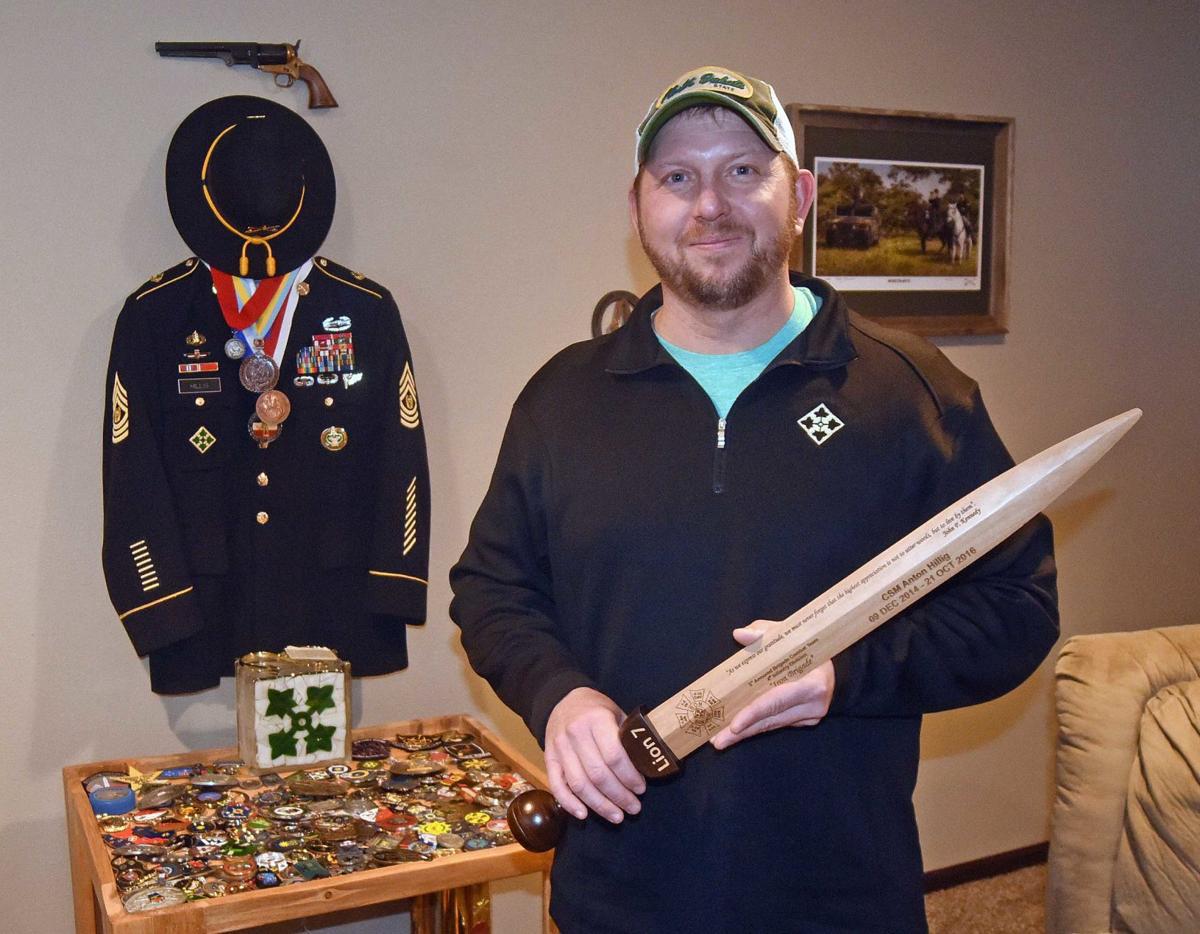 At the end of his 26-year career in the U.S. Army, Anton "Tony" Hillig was responsible for 30,000 troops as a rear division command sergeant major and had received a plethora of military accolades over the course of seven overseas deployments.
Hillig served in Afghanistan, Bosnia, Haiti, Jordan and Kuwait, along with three tours of duty in Iraq. 
He recently retired back to Bismarck without having suffered any permanent physical injuries, but those years of service to his country did come with a cost: He and his wife, Sandi, both 46, have spent more than half of their married lives apart, by Tony's estimate.
With seven deployments, each 12-18 months long, he is considered a "heavily deployed" soldier, according to military experts. The demands of military life meant Tony has spent more birthdays, anniversaries and Christmases apart from his wife over the past quarter century than he has with her.
So as they transition to life after the military, they're excited to do something many Americans take for granted: spend quality time with loved ones while eating Thanksgiving turkey.
Though Sandi knew there would be separation in their lives when the couple married in June 1994, the time apart never got any easier for her. Tony's first deployment came in 2005 to Iraq as the initial invasion after 9/11 into the Middle Eastern country subsided and the U.S. began a counterinsurgency effort against nonstate militants.
"In my personal opinion, it got more difficult as they (the deployments) went on because that first deployment, it was what he had trained for. He trained for 10 years to do this, so there was an anticipation of 'OK, I get to use what we've been doing,'" Sandi said.
"For me it was 'All right, this is a big challenge, we can do this,'" she said. "He came back after a year and we were like 'Oh, now we know what it's like to be apart for a year.'"
Sandi would visit family when she could. But a medical condition that led to a collapsed lung while on a flight 14 years ago to visit her sister for Thanksgiving meant she could never fly again, making what had already been a tough time away from her loved ones even more difficult to navigate.
During Tony's first deployment, an entire division of about 30,000 troops deployed, leaving behind a large community of spouses going through a similar experience. Sandi picked up more duties on base by volunteering time with the United Service Organizations, a nonprofit that provides live entertainment to members of the armed forces, and helping other military spouses. Sandi said they would all get together to celebrate life events since they couldn't do that with their loved ones.
Tony said holidays would "sneak up on you" during deployment but military leadership did a good job of recognizing holidays, even in an active combat zone.
"They try their best to ensure that there's a remembrance somehow. It might not be a big turkey, but it could be a turkey MRE (meal ready to eat)," he said. "There's a small celebration to remind us there's a holiday that we're celebrating in conjunction with our families that we're separated by miles with."
Cellphones and service weren't as available as they are now, so during Tony's earlier deployments each soldier would get two minutes on a satellite phone to call loved ones on Thanksgiving and Christmas.
"That was special early on. Knowing that you're going to get that phone call back home was -- you just really look forward to that," he said.
Now the couple will have plenty of time to spend with each other as they move into the next chapter of their lives.
They'll be spending this Thanksgiving at Tony's parents' home in Bismarck. They are both from Bismarck, having graduated from Century High School in 1991 as high school sweethearts, but they've lived much of their married lives on military bases across the country, most recently at Fort Carson, Colo.
As Tony plays pinochle at the local Elks club and searches for a job in the area in which he feels he can make an impact on "real people," both he and his wife have been generous with their time, volunteering with several organizations.
Their time together was once a scarce commodity that came in bits and pieces, days and weeks. Now, they will have all the time in the world to give to the community -- and to each other.
"We're still just trying to figure this life out," Sandi said. "It still doesn't seem real. It's a whole different life for us."