To Nikki Bushaw, it's important for children to put down their iPads and get outside and get dirty.
In April, Bushaw started a new kind of class in Bismarck called Tinkergarten, which allows students to go outside and become one with nature, learn self reliance, creativity and problem-solving skills.
Bushaw said she sought out this type of outdoor learning for her own children, and she thinks more parents are, too, especially with the prevalence of technology.
The classes, which are held once a week, typically over a 10-week period, run in the spring, summer and fall seasons. The classes take place at local parks and include expert-designed curriculum geared toward children from 18 months to 8 years of age.
During a Tinkergarten class earlier this week, kids cooked up mud cakes and hung artwork by trees in Sertoma Park as part of a birthday party for Mother Nature.
Each class has five parts: an opening activity and song, circle time to discuss the lesson for the day, a main activity, clean-up time and snack time.
During a class earlier this week, Bushaw, a Tinkergarten leader, asked the children what else was needed for the birthday party, and the children said: presents.
She told the children to collect whatever presents they think Mother Nature would like, such as fallen twigs and branches, which they could place into gift bags. Some kids went and gathered the presents, while others stuck around and dug in the mud and mixed mud cakes.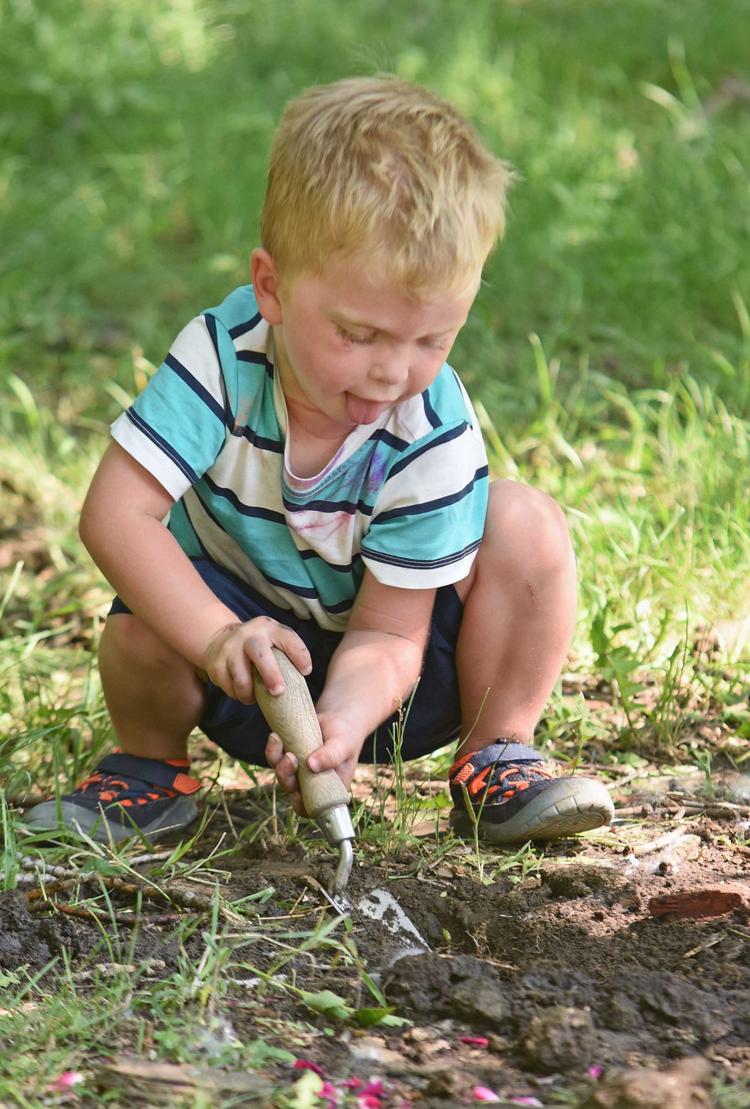 Beth Heyne, another Tinkergarten leader based in Bismarck, said the classes aim to get children engaged in the environment through sensory integration and to get them to socialize with their peers and not so much with their parents, who are "guides."
"We want (parents) to really just help their kids have a sense of wonder and awe for nature and just to … really think and engage and challenge themselves a little bit with free-thinking," said Heyne, who is a preschool teacher at Shiloh Christian School.
Bethany Kerzman watched as her daughter, Cora, 5, arranged pink flower petals in her mud cake. Kerzman signed up her daughter and two sons, Thatcher, 3, and Judah, 1, for Tinkergarten classes after searching for forest preschools, which aren't offered in Bismarck.
Kerzman homeschools her children, and she said Tinkergarten was a great way to get her and her children outside together.
"I really prefer them to be outside doing stuff like this," she said, as Juda handed her a stick he said looked like a horse.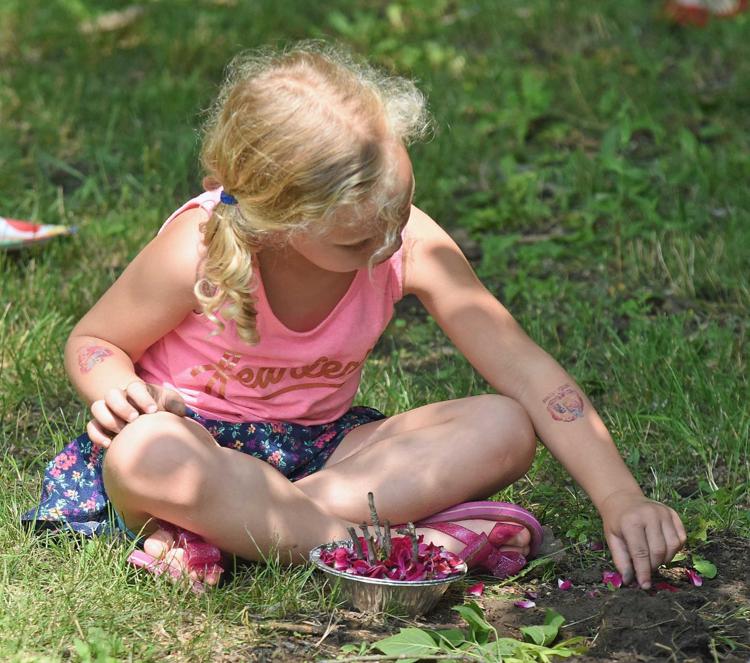 For Ben Ehreth, Tinkergarten is a "good excuse" to just be outside with his 2-year-old daughter, Madelyn.
"It's pretty hands-on. It's generally playing in the dirt and mud and getting their hands on the grass and the trees and the bugs," Ehreth said, adding he noticed his daughter has gained more independence.
Brianna Weisbeck, a Tinkergarten teacher in Bismarck, said the classes' main acitivities focus on problem solving.
"We give them a set-up of an activity, materials and ways to solve their own problems. It really helps them learn to think on their own," said Weisbeck, who is a stay-at-home mom.
Bushaw said some parents have noticed differences in their children after the classes. During her last summer class this past week, parents told her their children were playing outside and at home differently, and they're bringing home some of the Tinkergarten activities. One parent commented that he son is far more creative.
"I think it's been really impactful, and parents see that especially at the end of the season," she said.