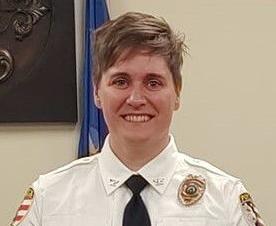 It isn't clear whether a Burleigh County prosecutor whose actions led to the firing of a Bismarck police officer acted completely within her authority, the North Dakota Supreme Court has ruled.
Justices on Thursday sent a defamation lawsuit filed by former police Sgt. Robyn Krile against prosecutor Julie Lawyer back to state district court, instructing the lower court judge who had dismissed the case last September to sort out what the justices deemed to be unsettled issues.
Krile is now the police chief in Lincoln. Lawyer is now the county state's attorney. Attorneys for both in statements to the Tribune said they were pleased with the portions of the high court's ruling that went their way.
Lawyer was an assistant state's attorney in 2017 when she reviewed Krile's personnel file and concluded based on two letters of reprimand, several performance evaluations and her own research that Krile was not a credible witness in court. Krile was later fired.
Krile filed an unsuccessful discrimination complaint with the state Department of Labor and Human Rights and then sued the city and former Police Chief Dan Donlin in federal court in January 2019, seeking money damages for pain and suffering, lost pay and other reasons. A jury trial is set next January in that case.
Krile sued Lawyer in state court in March 2019. She alleged that Lawyer defamed her by providing information to Donlin, the labor department, the licensing Peace Officer Standards and Training Board, and the city of Lincoln.
Lawyer countered that any disclosures she made or was accused of making were under the scope of her official duties or were otherwise "privileged communications" protected by law. She asked that the case be dismissed, and Southeast District Judge Troy LeFevre last fall ruled in her favor. Krile appealed.
The Supreme Court ruled in Lawyer's favor as far as information given to the labor department. Justices said it's unclear whether communications to Donlin and the licensing board were proper, and that the matter of disclosures to a Lincoln official hadn't even been addressed by the lower court. They ordered LeFevre to sort out those three matters.
Krile attorney Lynn Boughey told the Tribune in a statement that "We are very pleased that the North Dakota Supreme Court has recognized that prosecutors are not above the law.
"Prosecutors have absolute immunity in regards to actions in actual court cases, but when they step outside that realm they need to be held accountable," he said.
Boughey noted that the licensing board in 2017 dismissed a misconduct case against Krile, and she kept her peace officer license. She was hired in Lincoln in late 2018 and became chief last November.
"Prosecutors should not be judge, jury, and executioner when it comes to whether a police officer loses his or her job, or whether police officers are able to continue in their profession," Boughey said.
However, the Supreme Court justices indicated in their ruling that Lawyer's interactions with Donlin and the licensing board might have been proper, but that it either wasn't appropriate for them to decide or there wasn't enough information on which to base a decision. They also noted that "there may be little evidence to support Krile's claims."
Randall Bakke, an attorney for Lawyer, in a statement to the Tribune said "We will file another motion for dismissal of the remaining claims at the appropriate time. We are pleased that the North Dakota Supreme Court dismissed most of the lawsuit claims."
Be the first to know
Get local news delivered to your inbox!