As Sister Thomas Welder's status and recognition rose, the sisters of her monastery knew they would be among the last to leave an event.
That's because her life was about relationships, and it was rare for her to be in public without recognizing, or being recognized by someone she knew, Sister Nicole Kunze said during a funeral Monday.
"She was energized by being with others," Kunze said.
That story, along with others shared during the service at the University of Mary, illustrated the impact Welder had on the lives of many.
The longtime former president of the University of Mary died last week at her home south of Bismarck. Welder, 80, had recently been diagnosed with kidney cancer.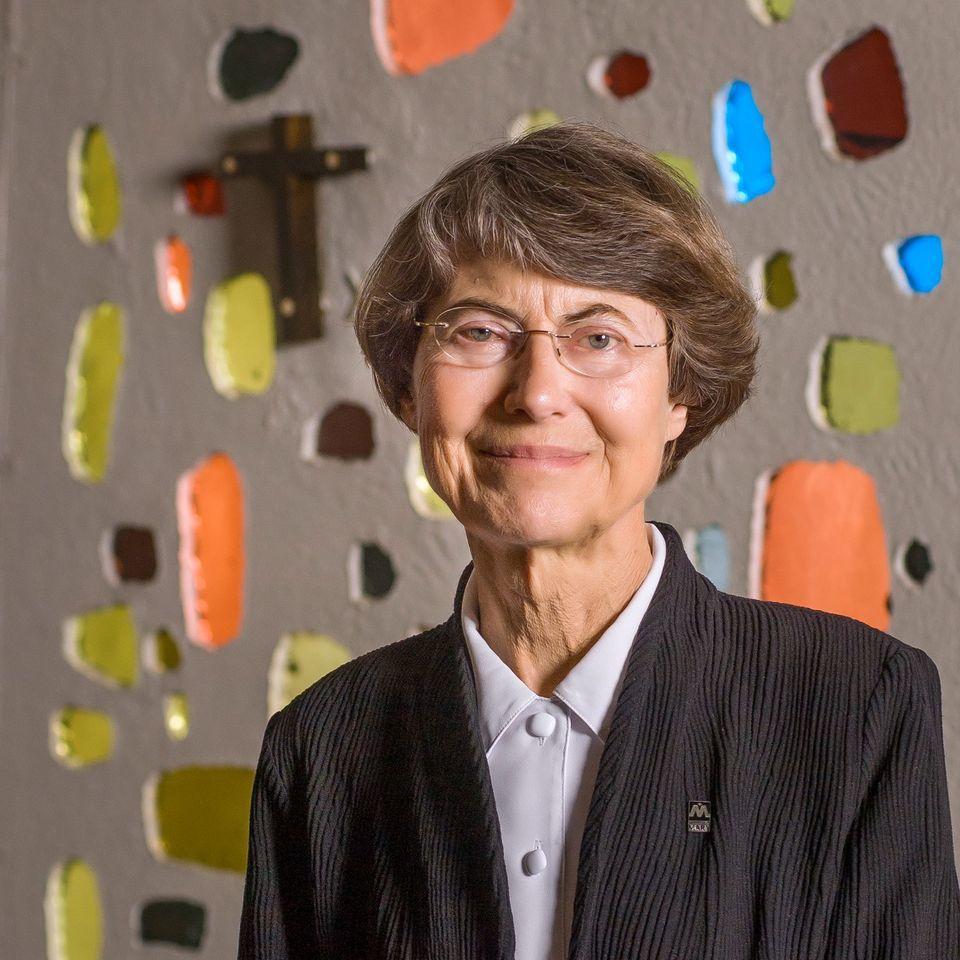 A member of the Benedictine Sisters of Annunciation Monastery, Welder served as the fifth president of the University of Mary for 31 years and oversaw the college's considerable growth in both academics and sports during her tenure. She is considered one of North Dakota's most influential female leaders and was awarded the state's top honor, the Theodore Roosevelt Rough Rider Award, in 2004.
Welder's death triggered an outpouring of loving messages last week from members of the Bismarck community and people across the region. Her funeral was a somber celebration of the nun whose life touched many people and was admired by many more.
"The pain we feel today at losing Thomas is nothing compared to the joy of having known her," said Kunze, prioress of the monastery, echoing what had been said by many over the past week.
Presiding over the funeral was current University of Mary President Monsignor James Shea, who called Welder "a true servant leader."
"She was an ambassador of God's presence," he said. 
Shea grew emotional as he spoke about Welder's counsel and guidance to him when he succeeded her as president upon her retirement in 2009.
"In her shadow, for me, it was all light," he said as he delivered the homily. "No one can replace Sister Thomas."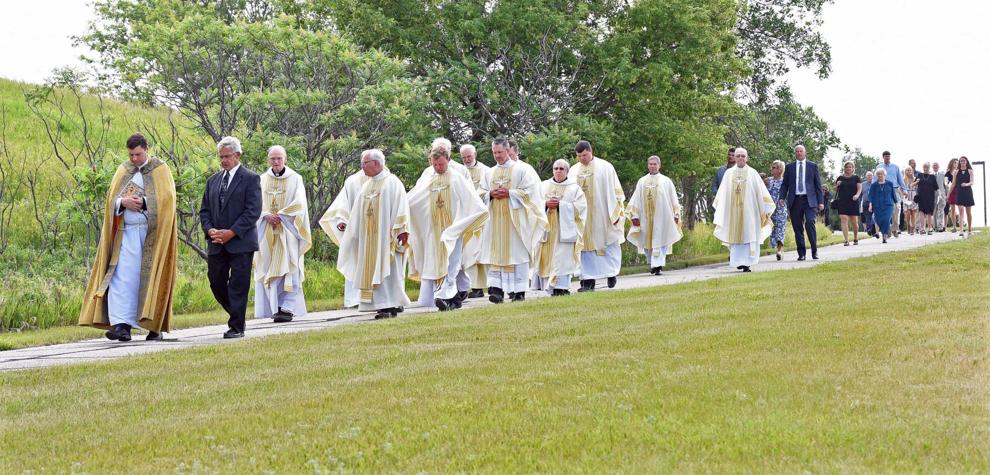 Bishop David Kagan of the Diocese of Bismarck delivered the final commendation.
"In peace, let us now take our sister to her place of rest," he said.
Welder was buried immediately afterward in the nearby Monastery Cemetery on the west bluff next to the Benedictine Center for Servant Leadership, overlooking the Missouri River.
Hundreds of people attended visitation at the Our Lady of Annunciation Chapel at the University of Mary campus on Sunday, sharing prayers and stories during a vigil service and evening prayer.
Among those in attendance Sunday was Gov. Doug Burgum, who worked with Welder when he was 29 in the late 1980s and early 1990s on Vision 2000, a statewide economic development initiative. He was visibly emotional as he spoke about "one of our truly most remarkable citizens" who "touched so many hearts."
"I had a chance to observe firsthand the powerful depths of her humility, her quiet approach and her incisive wisdom," Burgum said. "It wasn't just remarkable her intelligence, but also her insights into human nature and her productive and capable and inspirational leadership, which has shown in everything she's touched."
During a visitation before the funeral Monday, U.S. Sen. Kevin Cramer, former Gov. Ed Schafer and their wives read passages from the Bible.
Attendance at the funeral was restricted to family and close friends due to the coronavirus pandemic. About 500 people attended in person and thousands more watched a livestream made available for the public, according to a university spokesman.
Her life
Welder was born Diane Marie in Linton in 1940 and moved to Bismarck with her family at age 2. She attended Cathedral School and St. Mary's Central High School. She decided to become a nun when she was 19 years old, she told the Tribune in 2008, and she became a member of the Benedictine Sisters of Annunciation Monastery.
Welder attended the College of St. Benedict, graduated from the College of St. Scholastica, and earned a master's degree in music from Northwestern University.
She started her career at what was then Mary College in 1963, teaching music. She became the school's fifth president in 1978, and shepherded the college to university status in 1986. She retired in July 2009, continuing to serve the school as president emerita. During her tenure, the college grew from an enrollment of 1,000 to 2,862, and it also moved up a level in athletic competition to NCAA Division II.
Welder was an active participant on boards and in community organizations, including serving on the boards of CHI St. Alexius Health, MDU Resources Group Inc. and the Missouri Slope Areawide United Way.
The Greater North Dakota Association gave Welder its Greater North Dakotan Award in October 2002, and then-Gov. John Hoeven in May 2004 bestowed on her the Theodore Roosevelt Rough Rider Award.
Welder was inducted into the Scandinavian-American Hall of Fame in Minot in 2007 and received the Missouri Slope Areawide United Way's 2007 Bismarck-Mandan Lifetime of Caring Award. The University of Mary library is named in her honor.
Welder suffered from chronic kidney failure, a condition that runs in her family. She received a kidney transplant in 2001. In 2005, she learned that due to a virus she would need a second transplant. One planned in 2007 could not be performed, and she underwent regular dialysis until a second transplant in 2011.
In lieu of flowers, memorial donations can be made to Annunciation Monastery or the university's Sister Thomas Welder Scholarship Fund at www.umary.edu/SisterThomas. They also can be mailed to the Office of Mission Advancement in care of the Sister Thomas Welder Scholarship Fund at 7500 University Drive, Bismarck, N.D., 58504.