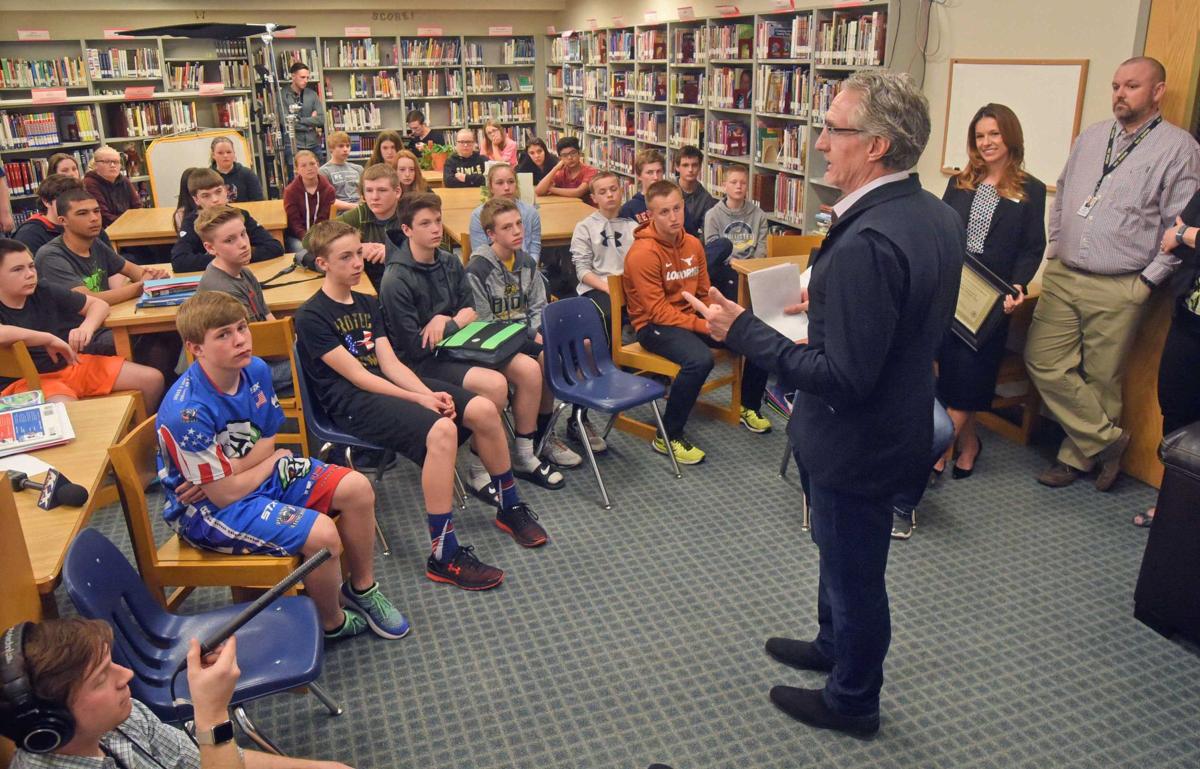 A teacher at Simle Middle School gave his students a unique class assignment: Devise a project that involves technology and helps the community.
Earlier this school year, Ryan Townsend's science students were building tiny, solar-powered cars when an opportunity to apply for a grant through the electronics company Samsung came across his desk. He and his class decided they could design a solar-powered charging station to be placed somewhere in the community for homeless people to charge their phones.
The idea behind it was that everyone has a phone — no longer a luxury, rather a necessity, especially for a person looking for a job.
"We'd like to be able to provide electricity so that everybody who needs it, can have it," Townsend said.
Townsend's class met with experts, such as an astronomer and electrician, and designed a model charging station. Their idea earned them the distinction as the state finalist in Samsung's Solve for Tomorrow Contest, which aims to encourage students to use STEM — science, technology, engineering and math — skills and help those in their communities.
The students and Townsend were also awarded $25,000 in laptops and other electronics for the entire school to use. Townsend said they hope to construct a prototype station by the end of the school year and place it in a yet-to-be-determined location in the city.
On Tuesday, Townsend's class was visited by the State Superintendent Kirsten Baesler and Gov. Doug Burgum, who both commended the students for their project.
Baesler and Burgum also presented an innovation award to Townsend and his class.
"You have demonstrated, in a very unique way, that will now be shared with people all across the state and all across the nation, about what our young people can dream about, what they think about and how they learn," Baesler told the class during an award ceremony in the Simle library.
Burgum told the students the skills they've learned in this class will translate into the real world.
"That rapid prototyping, that problem solving, is exactly the way all the cool innovative projects in the world are being built today in any country," Burgum said.
Principal Russ Riehl said this is the second year the school has offered STEM classes to its sixth-, seventh- and eighth-graders. He said there are too many kids who want to sign up for the class and not enough space. Three-hundred students enrolled in the STEM classes this year, all of which are taught by Townsend.
"I'm excited about what this class can become," said Townsend, adding that he hopes to make this project permanent for his eighth-grade classes.
Townsend's students told state officials they enjoyed the class and the project because it allowed them to be creative and learn how to problem solve on their own.
"There are no instructions on what we do, we just make it and, hopefully, it works," one student told Burgum.
Austin Schaaf, 14, said he signed up for the class because he wanted to find something that interested him. In seventh grade, while looking for classes to take in eighth grade, his parents told him about the STEM class, which aligned with his interests.
"I like putting things together," said Schaaf, who wants to pursue a career in art or engineering.
Students told Burgum and Baesler they learned a lot in the class and would like to see more like it, using lessons that are applicable to the real world and class projects that help the community.
"This is so much more than STEM class and solar power; I think you guys are learning lessons that will carry you a long way," Townsend said to his students.
Baesler said more projects like this could be done after a bill was signed by Burgum last week, Senate Bill 2186. The legislation, dubbed the "education innovation" bill, allows school districts to apply to do similar educational projects, as well as share creative education practices among schools.
Burgum held a ceremonial signing of SB2186 Tuesday afternoon at the state Capitol. The bill goes into effect Aug. 1.
"If we were going to have the best education system in the world, it starts one classroom at a time," Burgum said Tuesday at Simle, referencing his first State of the State address, in which he called on reforming education.