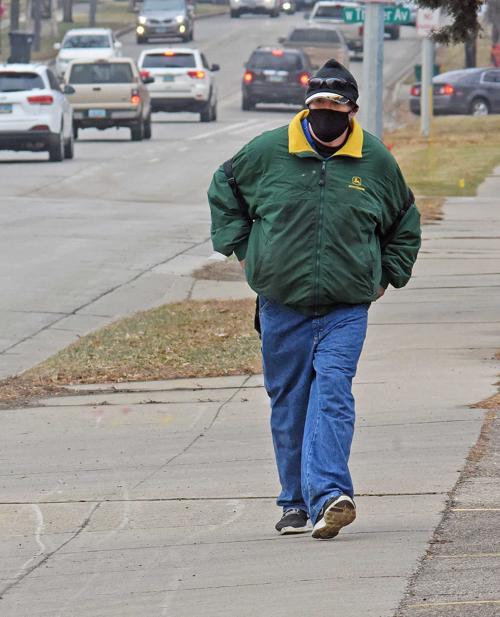 Several North Dakota county sheriffs have made it clear they won't enforce a new statewide mask mandate but instead will work to make people aware of it.
That kind of discretion in law enforcement isn't new and appears to be in line with what Gov. Doug Burgum handed down late Friday in new measures, a University of North Dakota law professor says. The measures including a mask mandate from Interim State Health Officer Dirk Wilke are in place through Dec. 13. Violations bring an infraction, punishable by a fine of up to $1,000.
Burgum, who advocated personal responsibility for months while refraining from a mask mandate, encouraged law enforcement and public health agencies to "prioritize education" and provide warnings, but reserve "penalties for the most egregious violations that put public health at risk."
Coinciding with the health officer's mask mandate, Burgum issued an executive order limiting capacity for bars, restaurants and event venues and suspending K-12 and community sports and extracurricular activities. The governor "authorized and directed" all local, county and state law enforcement to enforce his executive order's provisions.
Education over enforcement
The Bismarck Police Department will respond to calls about noncompliance but won't be actively looking for people or businesses that might be in violation of the mandate, Police Chief Dave Draovitch said.
"I understand that some do not agree with this executive order, and others are grateful for it," Draovitch said, adding that people need "to respect others and their viewpoints."
The chief said his department understands the seriousness of the pandemic, especially to older people and those with underlying health conditions.
Bismarck police will respond to calls "with respect and courtesy, educate on the executive order when possible, and as a last resort, issue a citation if this new executive order is broken," Draovitch said.
Burleigh County Sheriff Kelly Leben said he was "hit from every direction" on Monday as citizens asked for more information on the mandate and his department's stance.
Education of the public will be part of the enforcement equation, but he's also taking steps to make sure his department is prepared.
Leben on Monday morning met with county prosecutors to form a plan for enforcement, if it's needed. Deputies know how to handle the enforcement of infractions because most have been in place for some time, the sheriff said.
"This is unique because it's during a pandemic," Leben said. "We've never been here before."
Leben has directed his deputies to "use good judgment and discretion" until he can put together more specific instructions for them.
"We try to resolve every situation but at some point enforcement may become necessary," Leben said. "We want to make sure the deputies know what the parameters are."
Sheriffs of Bowman, Hettinger and Stark counties in southwestern North Dakota issued statements over the weekend that they won't enforce the mandate, but they urged people to consider others and to respect businesses. Sheriffs are elected by county voters.
"We will not be enforcing the mandates as they have been put out. We will, however, encourage the public to try to be as safe as possible, respect each other," Stark County Sheriff Corey Lee said in a video statement. His office will educate businesses and residents and evaluate how to best respond on a case-by-case basis. 
Hettinger County Sheriff Sarah Warner said in a statement that "We trust that our citizens are capable of taking the necessary steps to protect themselves and others based upon their own unique circumstances." The governor's request to prioritize education and reserve penalties for egregious offenses "has always been the mission" of her office, she said.
The Cass County Sheriff's Office said it "will provide education and assist in working through the situation in the best order of public safety," if called to a violation. 
Tioga City Commission President Tim Sundhagen, the city's police commissioner, said Tioga police won't "be going around looking for violators of the governor's mandate."
"If a business owner wants face masks in their store, put a sign on your door. I will gladly respect your business and put a mask on," he said. "It's just like 'no shoes, no shirt, no service.' That's not a law. That's a request by the store owner, so you respect them where you don't go in there.' ... In my belief, it's not government's position to force that." 
How to enforce?
The North Dakota Sheriffs & Deputies Association and the North Dakota Chiefs of Police Association wrote to the governor on Thursday, suggesting an infraction to enforce a penalty, should a statewide mask mandate come down.
"With an infraction, no arrest is made," the letter said. "The individual is cited and will appear in court on a date scheduled. This method would provide for a penalty while also keeping officer safety at the forefront."
Sheriffs & Deputies Association Executive Director Donnell Preskey Hushka said the associations "had no indication" a statewide mask mandate would come. The letter was "a proactive stance," she said.
"As far as what each county does as a result of this (mandate), it's really up to that county and that sheriff as far as how they enforce it," she said. "(Sheriffs) are elected. They are accountable to the people in that county."
Law enforcement discretion is "quite normal" and "makes perfect sense" when it comes to enforcement, said UND School of Law Associate Professor Steve Morrison, who teaches criminal law and criminal procedure.
If sheriffs and police enforced every violation of code, officers would be overwhelmed and "we would all be in jail because we all commit infractions all the time," he said.
"Now if there was somebody here in Grand Forks who just loved hanging out at the Altru emergency room and would go in there five times a day and consistently refuse to wear a mask, maybe somebody like that should be ticketed or perhaps even arrested, but that runs quite in line with what the governor is saying," Morrison said.
Critics of mask mandates have said such orders violate constitutional rights. Morrison said that idea is an "anti-government stance" that "rings hollow with me."
"If a mask mandate violates my constitutional rights, then I should be able to walk around town entirely nude and any law that requires me to cover up is also unconstitutional," he said. "But of course that's not true because we have laws to create a society that maximizes peace and safety for everybody."
Morrison called it "unfortunate" that the governor relied so long on personal responsibility for people to don masks "when all evidence is that nobody is taking that personal responsibility."
"When you have a situation in which the vast majority of the population doesn't do what's necessary to ensure public safety, that's where the law may have to step in," he said. "We do this with drunk driving. Enough people drive drunk regardless of the fact that it's dangerous and so the law has to be there to, frankly, coerce them to do the thing that is in the interest of public safety."