The number of babies born at Sanford Health in Bismarck has doubled since 2009.
The hospital is also treating more "high risk" babies, including those born with alcohol and drug dependencies, exacerbating the need for more space, according to Randi Schaeffer, executive director of the hospital's women's and children's programs.
In response to the growth, Sanford plans to expand its neonatal intensive care unit and Birth Center.
"We've grown out of our space," Schaeffer said Tuesday at a news conference.
In 2016, Mark and Claudia Thompson, of Bismarck, donated $500,000 to Sanford for NICU renovations. Their donation was matched through an endowment campaign, for a total of $1 million.
The NICU will be moved to the sixth floor of the hospital's downtown building, adjacent from the Children's Hospital. It will be 12,000 square-feet — twice the size of the current NICU —  with 24 beds, including 18 private rooms.
The new Family Birth Center will have a "modern yet cozy" environment for new parents, while the NICU will feature special lighting for babies born with alcohol and drug dependencies, according to Schaeffer.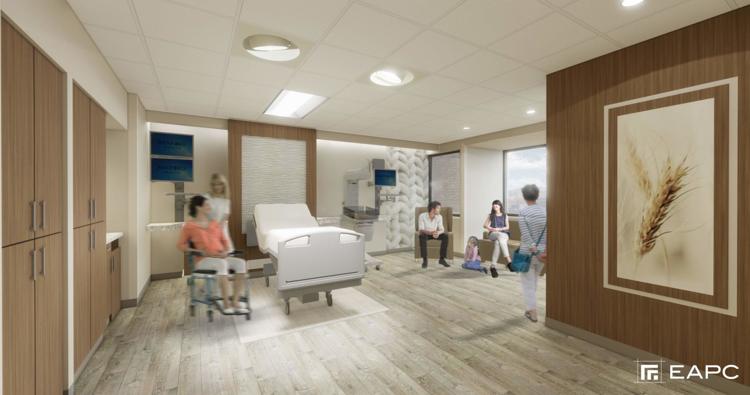 "This project is well-deserved and long waited for," said Michael LeBeau, president of the hospital. "Our growth has been phenomenal."
The number of births at Sanford has increased from 721 in 2009 to 1,366 in 2018, according to data from Sanford.
Births at Sanford Health in Bismarck
| Year | Births |
| --- | --- |
| 2009 | 721 |
| 2010 | 684 |
| 2011 | 748 |
| 2012 | 883 |
| 2013 | 938 |
| 2014 | 1059 |
| 2015 | 1089 |
| 2016 | 1216 |
| 2017 | 1286 |
| 2018 | 1366 |
Due to the record number of births, the additional space is warranted, said obstetrics and gynecologist Dr. Megan Miller.
"Having a baby in the NICU is a very, very hard thing, and I can't be more excited for my patients to get that privacy that they've always needed," Miller said, of the NICU's private rooms.
The NICU is scheduled to be completed by the end of next year, while the new Family Birth Center is expected to open in the spring of 2021.