BEULAH — Up until a week before fall classes were set to start, Beulah Public School District had an opening for a high school English teacher.
The district filled one of its two English teacher openings this summer but then didn't get a single applicant for the other one, according to Superintendent Travis Jordan.
Luckily, a week before classes started last month, someone applied for the other vacancy and was hired. Now, Jordan just has to fill an opening for a home economics teacher.
Teacher shortages aren't a new issue in North Dakota and aren't unique to the state. Recent studies say the shortage is getting worse nationwide, with the supply of teachers not keeping up with demand. Local districts and states are finding creative ways to fill open teaching positions.
In North Dakota, some districts are even turning to foreign countries.
Looking to Southeast Asia
White Shield, New Town and Parshall have employed teachers from the Philippines in hard-to-fill positions such as special education, according to Becky Pitkin, head of the North Dakota Education Standards and Practices Board, which licenses teachers.
White Shield Superintendent Wayne Fox had eight teacher openings at the end of last school year and started to look at his options. He reached out to the New Town superintendent to find out how that district did it, and later used the placement agency International Expert Resources to start the process.
"I just knew we weren't going to be able to fill any of these positions," Fox said, adding that even with extensive advertising, he wasn't able to get qualified applicants.
Fox said he interviewed teachers from the Philippines via Skype and selected eight teachers whom he considered to be good fits for his school. The teachers, who arrived in White Shield in July, all are highly qualified, with master's degrees and backgrounds in special education. Five were hired as classroom teachers and three as special ed staff.
"The students are really liking them, and it's going well," Fox said.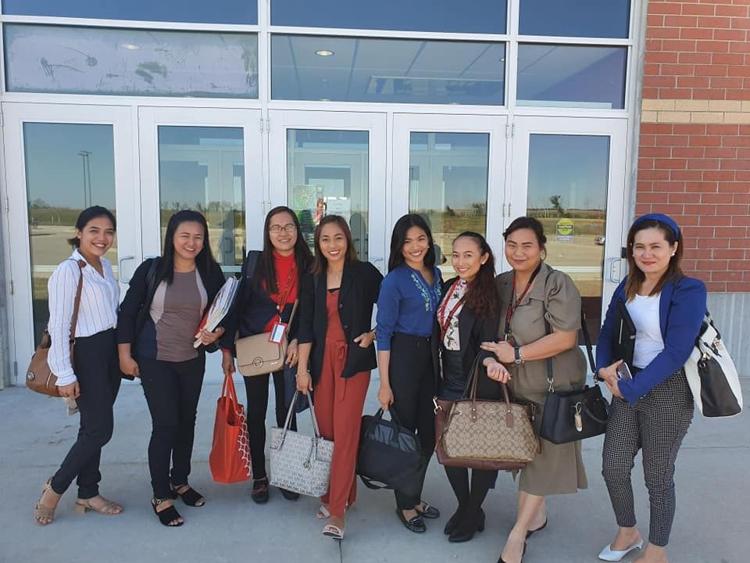 The teachers obtained J-1 visas, which are used in work exchange programs. They're allowed to teach in White Shield for up to three years. After that, Fox said, he'll likely continue to utilize the program.
"It's kind of hard. As a superintendent, you look down the road, and I've advertised a lot (for teaching openings). As I look at the surrounding communities … that are utilizing this as well, they're keeping it going by bringing in these teachers to help with the teacher shortage," he said.
Princess Monteverede is one of the eight teachers from the Philippines who came to White Shield this year. She previously taught third-graders in the Quezon province in the Philippines for eight years.
Monteverede said she decided to come to White Shield to not only share her teaching experience in the Philippines but also learn about teaching in White Shield.
"It's an advantage for us to be here, to learn other things and explore," she said.
Jordan, the Beulah superintendent, said his district hasn't turned to teachers in foreign countries to fill teacher openings, but that other rural districts are considering this because they're especially hard-hit by the teacher shortage. This year, Wolford Public School District, a small district in northeast North Dakota, closed in part due to a lack of qualified applicants for open teaching positions.
"It's getting tougher and tougher to find people that want to come into the profession," Jordan said, noting that teaching is an increasingly demanding job coupled with low pay.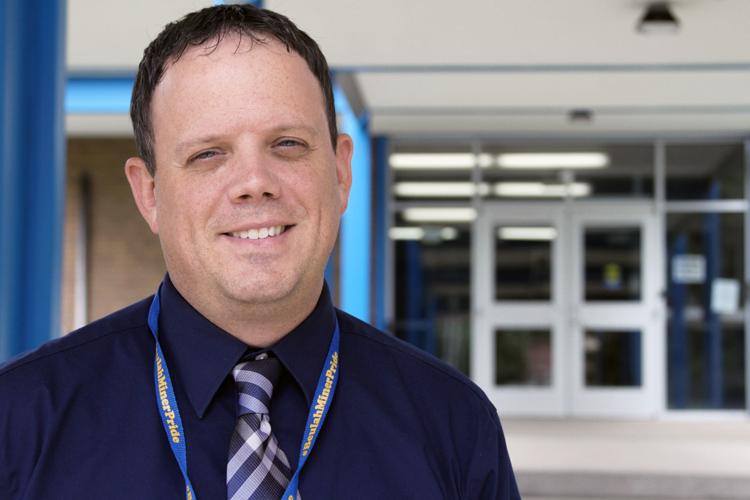 By the numbers
North Dakota public school districts each fall report the number of teacher openings they have. The deadline to report this year is Sept. 19, so it's not yet known how many positions are unfilled.
Last school year, districts reported 145 teacher vacancies out of roughly 11,200 positions, according to data from the state Department of Public Instruction. This is an increase from a decade ago, when there were about 40 openings.
Still, State Superintendent Kirsten Baesler said the number of unfilled positions has improved since when she was first elected in 2012 and since the state's latest oil boom — when teachers were leaving the classrooms for other "lucrative opportunities" in the oil industry.
"In North Dakota, that has gotten better because our energy sector has stabilized and because our Legislature has taken action to provide some alternative pathways (to teaching)," she said.
Baesler said she is "waiting to see" what the final numbers are this fall in light of state legislation that passed this year to help alleviate the shortage, including one bill to allow school boards to hire so-called "community experts" to teach in noncore subject areas without a teaching license. For example, a banker could apply for a teacher license to teach a mathematics class.
You have free articles remaining.
"This (teacher shortage) is not an issue that's going away; it's a national issue," Baesler said, adding that the state needs to be "creative" in attracting young people into the teaching profession.
Loan forgiveness goes away
Though state lawmakers passed a couple of bills this past session to help with the teacher shortage, it's possible one bill they passed could do more harm. Lawmakers repealed the state teacher loan forgiveness program, despite the program being viewed by many as a way to mitigate the teacher shortage.
This year, 267 teachers were awarded $1.27 million under the teacher loan forgiveness program, according to Brenda Zastoupil, director of financial aid for the North Dakota University System.
The Legislature established the program in 2001. It initially offered $1,000 per year for up to five years to teachers who teach in shortage areas.
In 2017, lawmakers revised the program to allow districts to apply for up to two teachers to each receive loan forgiveness amounting to $3,000 to $6,500 per year for up to four years.
Rep. Mark Owens, R-Grand Forks, chairman of the House Education Committee, said legislators heard about issues with the program, including districts not being able to choose which two teachers should receive loan forgiveness because all teachers qualified under the program and there wasn't enough money to go around.
Owens said lawmakers this year asked principals and superintendents for a solution to the funding shortfall, but they didn't hear anything. Instead, lawmakers approved a bill to phase out the teacher loan forgiveness program over the next three years, so those who were promised money will continue to receive it.
"What we really need to do ... is raise teachers' salaries so that then we can entice people to come to North Dakota to teach," Owens said.
Jordan said he used the teacher loan forgiveness program to try to persuade teachers to come to Beulah or to stay.
"It hurts," he said of the program being canceled. "College is not getting any cheaper, and teachers are not making a lot more money."
Brandt Dick, superintendent of Underwood Public School District, agrees.
"We did utilize that (program) and I was sad to see that leave, because it was a tool to not only recruit teachers but to retain the teachers you have," said Dick, who has one opening for a special ed teacher.
Both Jordan and Dick said they hope lawmakers will approve an alternative to the program next session.
Baesler said she's "disappointed" the teacher loan forgiveness program was discontinued and that her department had fielded "a lot of calls" from people who are unhappy the program was canceled.
"Other states have similar teacher loan forgiveness programs, so I worry it could draw some of our North Dakota teachers away," she said, adding that it's "too soon to speculate" about whether the move could make the teacher shortage worse.
Finding shortage solutions
Baesler said lawmakers and state officials need to come together to find solutions to the shortage.
"I think everyone — legislators, ESPB, the Department of Public Instruction, school districts, our teacher prep colleges — we have been really working together to try to find solutions," she said.
Pitkin, executive director of the state teacher licensing board, said her agency also is looking at what steps it can take to alleviate the shortage, including exploring additional ways to let people with teacher licenses teach out-of-field.
The effectiveness of the so-called "community expert" bill remains to be seen. Pitkin said late last month only one person — a musician in Berthold — had applied and received a teacher license under the provisions set forth in the bill.
Pitkin said she's hearing more conversations among lawmakers and state officials about the teacher shortage.
One potential solution is to get students interested in teaching when they're young, such as Bismarck Public Schools and Fargo Public Schools both offering dual college credit career exploration courses in education to encourage students to study teaching upon graduation.
"That would be the ticket, if we could get more kids to go into teaching," Pitkin said.
The number of students graduating from the state's public institutions with degrees in education has increased from a decade ago. In 2008, a total of 894 bachelor's degrees in education were awarded, compared to 1,039 in 2018, according to data from the North Dakota University System.
Still, one issue state officials have to grapple with is getting graduates to stay in North Dakota and teach. According to a 2017 study, the University System found only about half of education majors were working full-time in North Dakota five years after graduating.