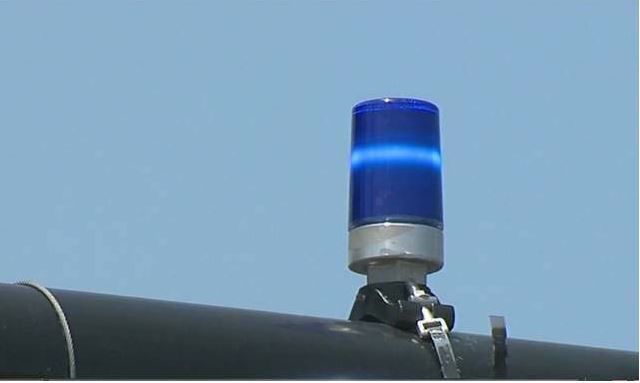 Bismarck traffic police have issued more citations for red light violations since the installation last year of confirmation lights, those blue lights on the top or bottom of traffic signals. They're now launching a program to better monitor the effectiveness of the new tool.
Confirmation lights are wired to the traffic lights and turn on when the signal turns red. Traffic police can see the lights from any angle, making it easier to know when someone runs a red light.
The department's traffic section had been asking for the lights for years, "particularly on State Street because we got a lot of complaints there," Lt. Jeff Solemsaas said.
"We have to be able to show the light turned red and then (a motorist) entered the intersection," Solemsaas said. "If (officers) are not sure, they're not going to write that ticket."
Installation of the lights started in late July 2018 and was completed in late fall as part of an upgrade that included better pedestrian signals. The lights are at 109 intersections, with as many as eight per intersection. Each cost $500. Lights on top of a traffic signal help police tell if someone ran the light in the through lane. Lights on the bottom monitor left turns.
"Officers like them a lot," Solemsaas said. "I'm happy with them."
Since installation, police have written 223 red light citations, compared with 206 in the same time frame the previous year. Not all of the stops since installation are because of the confirmation lights, but the lights have contributed, Solemsaas said.
Their effectiveness will be more closely monitored under the terms of a $5,000 grant from the Department of Transportation. The money will be used to pay officers to work as part of a team on their day off. A spotter will relay information to other team members, who in turn will make the traffic stops and issue citations. As part of the grant, Solemsaas will be required to turn in an analysis of the number of intersections that are targeted and an equal number used as controls.
"It should be a good way to judge their effectiveness," he said.
The special enforcement patrols will start this week and continue through the summer. Traffic police also monitor intersections as part of their regular shift. The fine for running a red light is $20. It could go to $40 in August if approved by the city commission.
"It's not about gaining any revenue," Solemsaas said. "When you run a red light, you put yourself at risk and others. Is it really worth the risk to do that?"
The lights ran into one issue this winter: winter. The long cold spell in February took its toll on the LED bulbs. A search for better replacement bulbs is underway.
Solemsaas said the department responds to about 10 accidents a day, many of which are the result of people being distracted.
"This is a reminder that you have to pay attention," he said.
Be the first to know
Get local news delivered to your inbox!