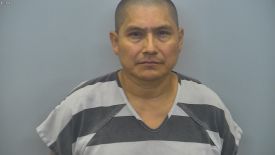 The case of a Bismarck man accused of forcing himself on a woman in September was delayed Monday while he seeks an attorney.
You have free articles remaining.
Aaron Nolasco, 52, communicated with South Central District Judge Thomas Schneider through an interpreter. Schneider and Assistant Burleigh County State's Attorney Karlei Neufeld agreed that any further court proceedings should be delayed until Nolasco had legal representation.
Nolasco is charged with gross sexual imposition for allegedly pushing his way into a woman's apartment and forcing himself on her, according to a police affidavit. He denied the allegations and told police the woman pulled him into the apartment.
Nolasco is being held in the Burleigh Morton Detention Center on $500,000 bail. The center's website shows he also is being held for Immigration and Customs Enforcement for being in the country illegally.