Tim Klose is already laying plans for next year's garden at the North Dakota State Penitentiary.
"We're planning for an even bigger harvest next year," the 60-year-old inmate said while walking around rows of cabbage and carrots, rhubarb and radishes, all within a fenced area of the prison in Bismarck.
This year's garden was made possible through grant dollars from the Bush Foundation allocated by the Consensus Council. Harvesting began in early July with radishes, then moving into carrots and tomatoes, Klose said. They harvest something about once a week.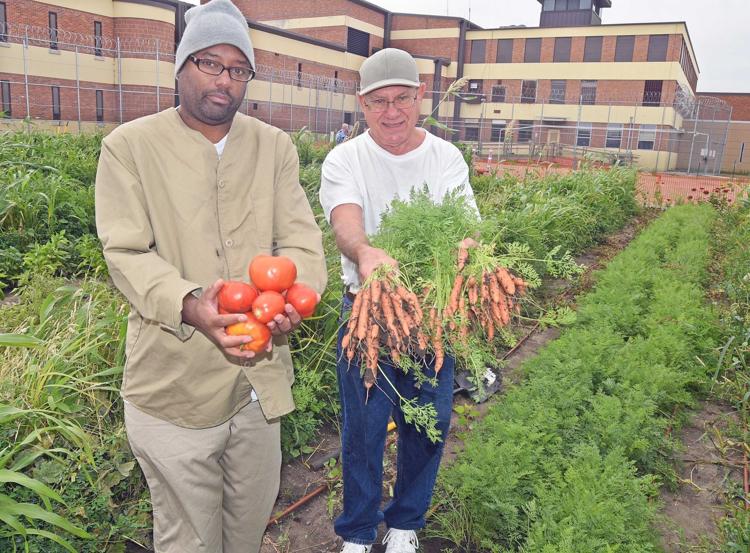 Chris Vernon has been one of three inmates tending the garden. He and Klose each said they like the solitude found when tending the crops, which include beans, peas, cucumbers, squash, peppers, strawberries and flowers to draw pollinators.
"It's been an experience. I would do this at home now," Vernon said as he snacked on peas fresh from the garden.
With no previous gardening experience, Vernon said he thought the garden would be taller than its knee-level height.
"As time went on, it got more easy because I got more limber," he said, laughing.
Mandy Slag, whose practicum for her master's degree of public health at the University of North Dakota involves the garden, said the garden yields tangible results for the inmates who tend it, such as growing something with their own hands then donating the produce to those in need.
"This is an amazing, amazing garden," Slag said Monday, looking out over the flourishing plot on a chilly morning. "This is public health at its best."
You have free articles remaining.
She said she will give a presentation to prison staff about the garden and its impact.
"Hopefully, the presentation will show it's a worthwhile project," she said.
So far the garden has generated about 110 pounds of produce donated to food pantries in Bismarck, including Welcome House, Heaven's Helpers Soup Cafe, Ministry on the Margins and Ruth Meiers Hospitality House.
"We want to grow things they don't always get," Klose said.
As for next year, Klose said the garden could double in size, adding three more crew members while staying cheaper due to initial costs already covered. He's also looking at reworking the cover crops, improving the soil, expanding drip lines and adding crops, such as asparagus and legumes.
"I really enjoy doing it. I spend as much time working over here as I can. It's nice to be productive in here. It's nice to have something to use your time on," Klose said.
The future of the garden depends on grant funding, but "hopefully" it will continue, Michelle Linster, spokeswoman for the state Department of Corrections and Rehabilitation, said.
Klose and Vernon said the garden has been popular with birds, butterflies, ladybugs and other insects. Next week they may pull onions, with cantaloupes and squash to come soon after that.
"It's a lot of work. A lot of work. But peaceful," Vernon said.