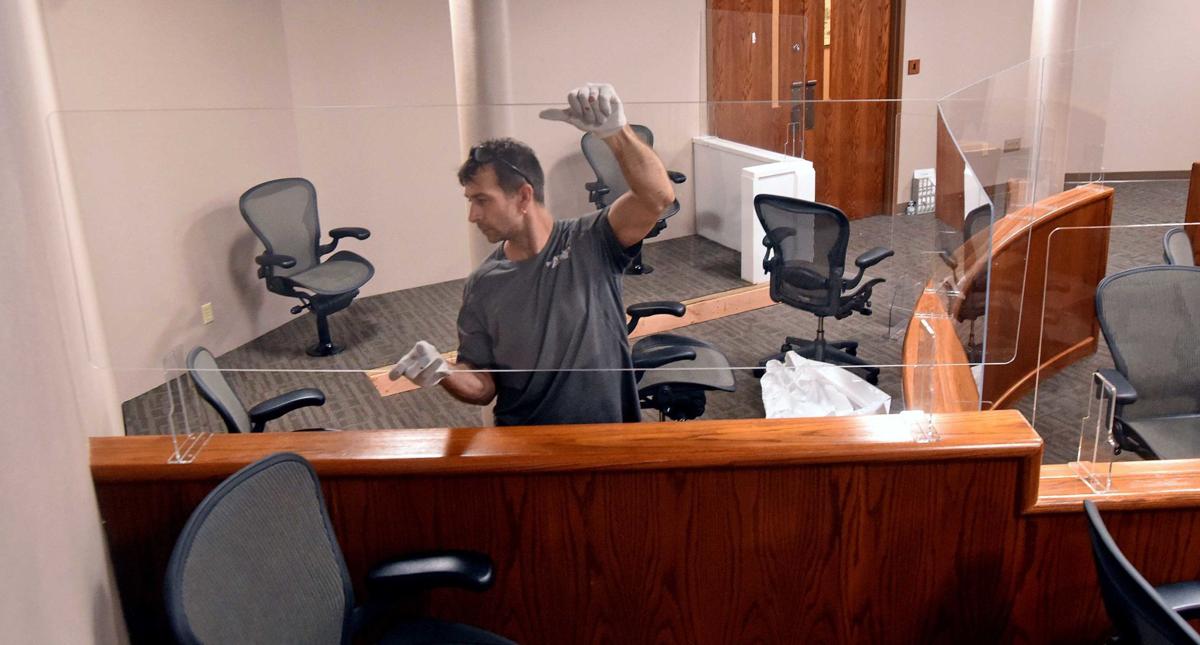 A number of changes are being implemented as courthouses in the South Central District eye a July 14 resumption of jury trials, and all are being done with the safety of the public and potential jurors in mind.
The precautions include some physical changes that will be noticeable, such as the installation of Plexiglas barriers in areas where social distancing is difficult. Other changes will be more about scheduling and managing traffic, a task not easily accomplished in a building with space limitations.
"No courthouse is built to keep people 6 feet apart," said Judge Bruce Romanick, presiding judge of the district.
There are 1,243 jury trials scheduled in the next year, said court administrator Donna Wunderlich. The district annually handles about 6,000 criminal cases and 6,600 civil cases.
"It's important to have meaningful events scheduled in each case to keep cases moving and keep parties communicating," Wunderlich said.
The North Dakota Supreme Court suspended jury trials in March as the COVID-19 pandemic gained momentum. Officials have given considerable thought to the changes needed for restart. Since the halt in jury trials "we've had a lot of time to think about it," Romanick said.
Potential jurors in the past were brought to a courtroom in groups of 40 or 50, Romanick said. That number will be divided into smaller groups of 10 or 12. While one group is going through the selection process, a second will be in another courtroom and brought in when the first is dismissed. Jurors who are selected for a trial will likely occupy the area of a courtroom usually reserved for the public, as jury boxes won't allow for 6-foot spacing. They will stay in the courtroom for deliberations instead of going to a smaller jury room. The rest of the people in the courtroom will leave, essentially turning the courtroom into a socially distanced jury room. The jury room can still be used in misdemeanor trials, which have six jurors.
"It will probably take double the time," Romanick said of jury selection. "The first week we might find out what works best and adjust, but we want to keep people safe."
The hold on jury trials has changed the way clients and defense attorneys communicate, said Justin Balzer, supervising attorney at the Bismarck-Mandan Public Defender office. Meetings with clients in custody at Burleigh Morton Detention Center are done through glass barriers and with sanitizing safeguards. It's been harder to meet with clients who weren't in custody because staff at the office worked remotely for a time due to the pandemic.
"Sometimes it's easier to get an appointment a couple weeks ahead of time than reach them on the phone," Balzer said.
The crunch of the backlog could be felt several months after the restart and into 2021, Balzer said. It hasn't pushed more people to seek plea agreements but has increased the waiting time for those who can't afford bond. He sees the need to start handling cases and when defense attorneys bring clients to the courthouse "we have to balance safety concerns with clients' rights," he said.
"We're waiting to see how it works," he said.
Workers will sanitize the courthouse daily, Wunderlich said. Potential jurors and the public will be screened at the main entrance to make sure they are healthy before they enter. Hand sanitizer, gloves and masks will be available to jurors, and they will be asked not to touch any surfaces, documents or objects that have not been sanitized, Wunderlich said.
It's unclear how long it might be before the district can be considered caught up because officials don't know how long social distancing guidelines will be in place, Wunderlich said.
Officials will send potential jurors a questionnaire which will address age, contact with others, travel and other issues, Romanick said. People over age 60 can request to be excused and the court will defer their service.
Some of the people awaiting trial are in jail. They need to be sentenced if found guilty and released if they're not guilty, the judge said.
The state "seems to be doing pretty well" in its efforts to slow the spread of the coronavirus, Romanick said, adding that the court system is being cautious because "we don't want to be the start of anything."
"We have to get trials going," Romanick said. "We're trying to make it as safe as possible for everyone coming to the courthouse in all counties."