A pastor delivered a message of hope on Tuesday to friends and family of the four people killed last week at a Mandan business.
The Rev. Jared Lee spoke to about 600 people gathered at Bismarck Community Church to celebrate the lives of Robert Fakler, Bill and Lois Cobb and Adam Fuehrer, friends and co-workers at RJR Maintenance and Management.
Lee acknowledged the tragedy of the April 1 deaths, calling the homicides "a horrible injustice, an unfair and completely wicked act."
"Robert, Bill, Lois and Adam were victims of violence. It's OK to say this. And it's not only OK, I think it's essential," Lee said. "I think we need to call it what it is. We don't need to sugarcoat the truth, that we name evil evil, that we say with all of our conviction and all of our souls, 'This should not have happened.'"
The families requested no media attend the memorial service. Lee posted audio of his message on the church's YouTube channel to share it with the broader community.
Lee said in an interview that, while the families are suffering the most, the community also is affected.
"I want to address the needs of the community as well," he said.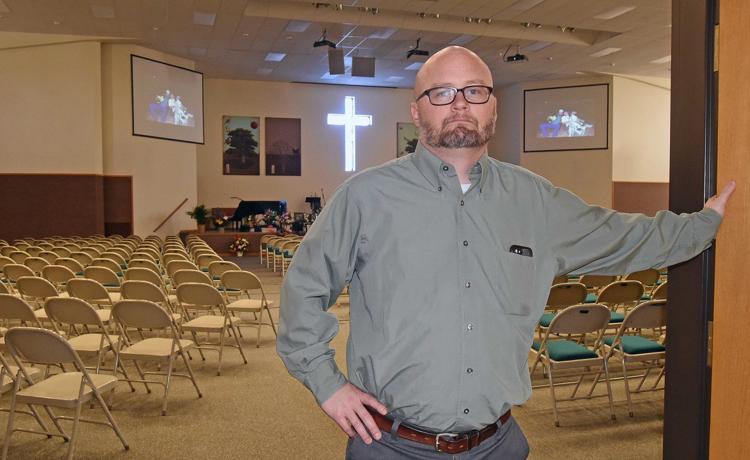 Lee cautioned that tragedy has the potential to bring out the worst in people.
"We could become angry and bitter. We could become mean and angry at the world. ... We could numb ourselves," Lee said.
He encouraged people grieving to look for the glimpses of hope God offers.
Lee also emphasized that God is shown to be a God of justice, "that he will not long tolerate the wickedness that we perpetrate against one another."
Lee said he's grateful justice is beginning to happen, with police making an arrest last week, but added that "God's justice is bigger than even our own."
Fakler, 52, was co-owner of RJR Maintenance and Management, where Bill Cobb, 50, Lois Cobb, 45, and Fuehrer, 42, worked.
Police arrested Chad Trolon Isaak, 44, a Washburn chiropractor and RJR renter, last week in connection with the killings. He is charged with four counts of felony murder. No motive is known.
RJR closed on Tuesday so the close-knit employees could attend the service. Friends and family gathered at the business for fellowship after the service.
Lee stressed that it's important to grieve, and he prayed for families of the four victims to be surrounded by people who love them.
"Weep and feel the sorrow. Mourn. It is right to mourn, it would be wrong not to," Lee said. "But we can do that with hope because we know that is not the end of the story."
Be the first to know
Get local news delivered to your inbox!