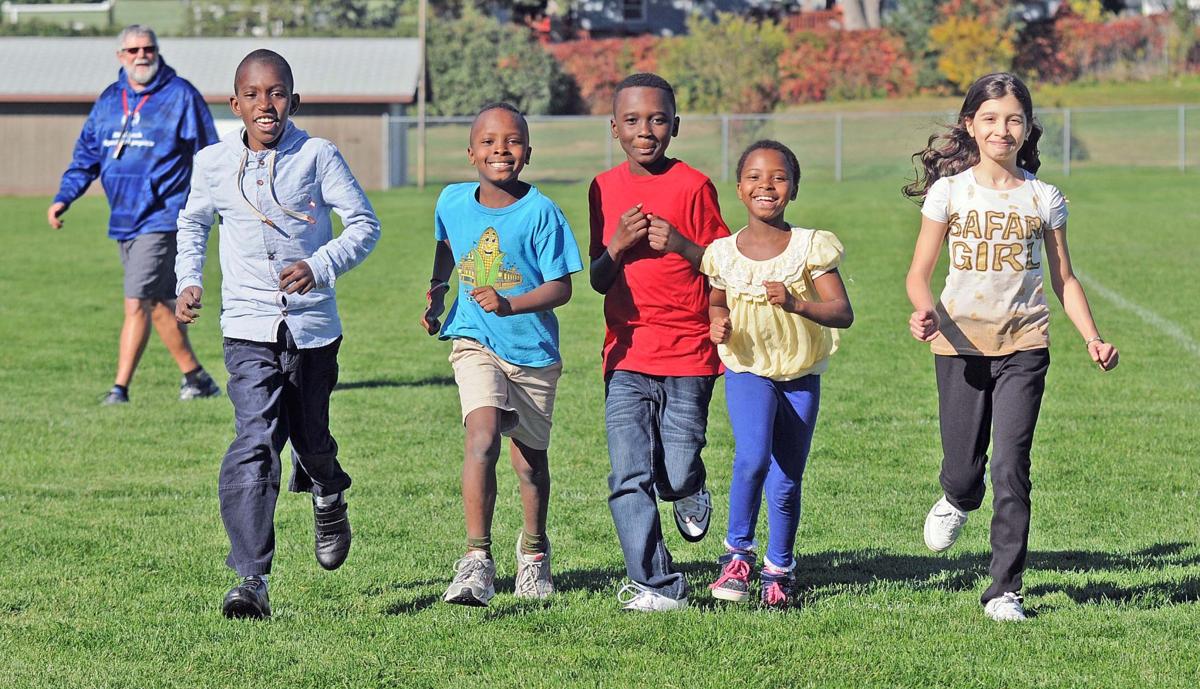 A teacher at Bismarck Public Schools' Welcome Center has started bringing students learning English as a second language into a community athletic program to help them hone their communication skills.
The Bismarck Parks and Recreation program invites refugee and immigrant elementary-schoolers who are still learning English at the Welcome Center, located at Hughes Education Center, to participate in cross-country running events with other local kids.
Physical education teacher Kurt Weinberg, who's active in the parks program, said this gives the students opportunities to communicate with one another and with others in the community. "It's a total immersion thing," he said.
Participating in their first run today are third-graders Rabona Butoto and Rose Bukuru, both of Democratic Republic of Congo; and fifth-graders Djiby Diallo of Senegal, Davidson Desir of Haiti, and Zahraa Naser of Iraq. All five will compete at 3:45 p.m. at Tom O'Leary Golf Course. 
Weinberg, who started teaching physical education classes at the Welcome Center this year, said he hopes the kids will build their confidence and interact with others.
The five students planning to run today are among the 191 enrolled in the English-language learners program in Bismarck, according to Wendy Sanderson, a coordinator for the program. That's a 50-student increase from last year, she said.
The ELL students, speaking a total of 29 languages, come from all over the world, including Mexico, Puerto Rico, China and Afghanistan. 
Those in the program have a Level 1 English proficiency, Sanderson said. Many students graduate from the program within 12 weeks. For some, it takes a year.
Upon graduation from the ELL program, the students are placed in their neighborhood schools.
"We try to put them in as quick as we can because we don't want them to be isolated in this building," Sanderson said.
Ten percent of the students come from refugee organizations, such as Lutheran Social Services, and the rest immigrate with their families, she said.
Outside the Welcome Center on Monday, Sanderson asked the five kids: Do you guys like running? She made a fast running motion with her hands close to her sides.
Yes! They all proclaimed.
Sanderson said she and others teachers in the ELL program will, at first, communicate with the students using hand gestures and pictures.
Last week, Weinberg approached Sanderson and said he thought there was a group of kids at the Welcome Center who would be good runners.
"I thought that would be great," she said. "I would just love to see these kids involved in sports."
Several skilled runners have come out of the ELL program, Sanderson said, including a former student from Kenya who ran cross-country for St. Mary's Central High School years ago. He went on to run in college in Oregon, and Sanderson said she has kept his photos from every time he appeared in a newspaper.
Numerous other Bismarck Public School teachers are becoming more adaptive and inclusive of immigrant and refugee students, according to Sanderson.
"They have to because we have so much more," she said.
Be the first to know
Get local news delivered to your inbox!