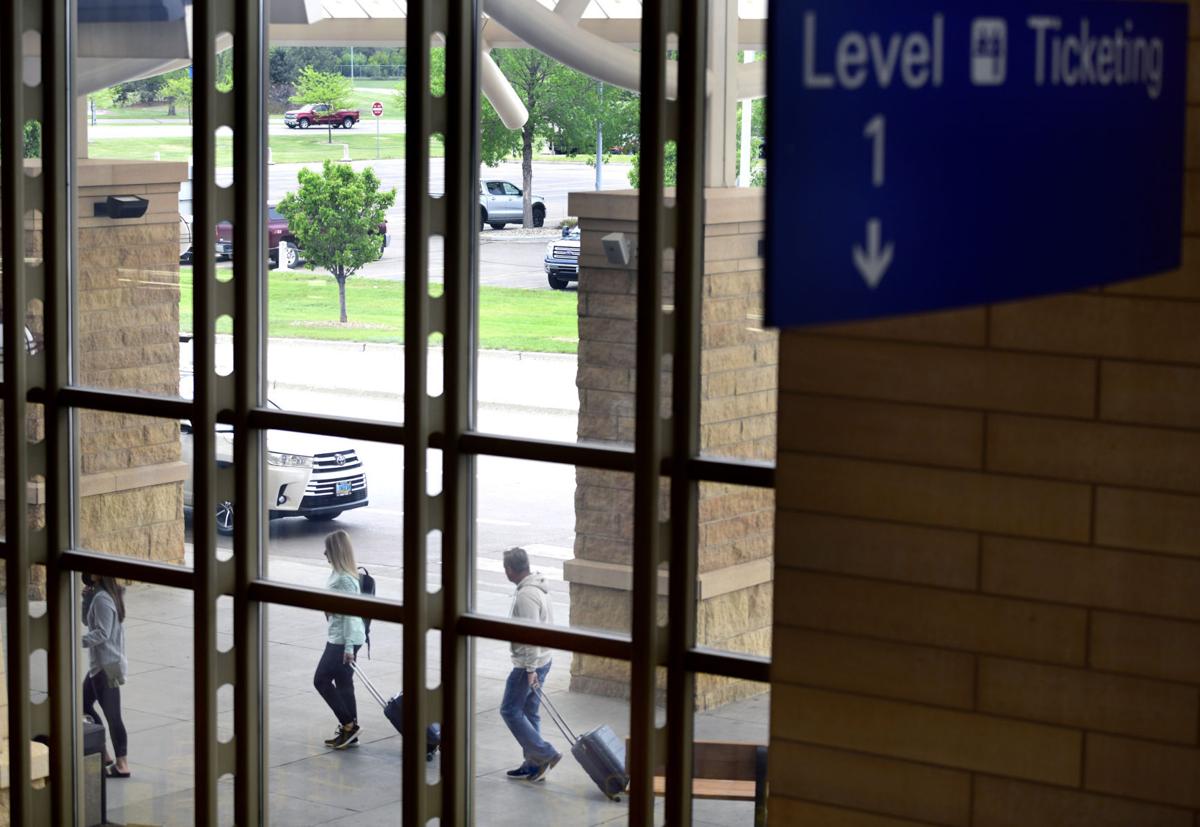 People aren't catching flights out of Bismarck as often as they did before the coronavirus pandemic, but traffic is increasing and the airport is poised to be busy over the Memorial Day holiday.
Airport Director Greg Haug walked through the boarding area midweek and was surprised by the number of faces.
"There were more people in there like an hour ago than I've seen in a long time," he said Wednesday afternoon.
Memorial Day typically marks the start of the summer travel season, which is expected to look dramatically different this year compared to last now that many Americans have been vaccinated against COVID-19 and states are lifting pandemic-related restrictions.
Travel out of the Bismarck airport was down 37% in April compared to the same month in 2019, but it was up from the start of this year.
The airport hit rock bottom a little over a year ago -- just 16 passengers boarded planes one day in April 2020. Before the pandemic, as many as 1,400 departed Bismarck daily.
As the airline industry recovers, business-related travel appears to be rebounding the slowest. Families, however, are going on vacations -- sometimes even planning more trips than usual because they were limited last year, Haug said.
"They're ready to travel," he said. "There's a lot of pent-up demand. I think we're going to see that throughout the summer."
Some families are choosing to splurge, according to AAA.
"It looks like people are going to be traveling further," AAA North Dakota spokesman Gene LaDoucer said. "They are going to be taking advantage of higher levels of amenities because they haven't spent on vacations in a while. We are seeing people upgrading their hotel rooms and upgrading the resorts they're staying in."
AAA estimates 56% more Midwesterners will travel this Memorial Day compared to last year. Although plane travel is up considerably, the majority of travelers are expected to take trips by car.
They will pay significantly more at the pump than they would have last year as the demand for gasoline returns. Oil prices have reached pre-pandemic levels after collapsing dramatically in spring 2020.
Statewide, gasoline was selling for an average of $2.84 per gallon Thursday, according to AAA. It was 5 cents per gallon higher in Bismarck. A year ago this weekend, the fuel was more than a dollar per gallon cheaper.
"Leading up to Memorial Day is generally when we see the highest prices of the year," LaDoucer said. "After Memorial Day, we generally see prices stabilize and often move slowly downward through the summer months. I anticipate that we're at or very near the high for the year unless the price of oil should happen to take off."
A variety of factors contribute to high fuel prices around Memorial Day -- many people travel, refineries are finishing up maintenance and gas stations begin selling pricier summer blend gasoline that's formulated to prevent smog.
Some gas stations in popular destinations could run low on fuel supplies this weekend, LaDoucer said, adding that he does not anticipate that to be a problem in North Dakota. Many truck drivers have been furloughed during the pandemic, and there's a driver shortage that could cause fuel delivery delays in some areas, he said.
It's unclear when travel will match pre-pandemic levels. The Bismarck Airport is expecting about two-thirds as many travelers in 2021 as it had in 2019, Haug said.
"We can't wait for things to get back to normal," he said. "We're anxious for that."