Just a few blocks from the North Dakota Capitol, Arrowhead Cleaners sees more than a few extra suits during the legislative session. 
It's a $10,000 bump in dry cleaning, according to supervisor Tara Morast.
"Every two years, it's a boost for us, " she said. 
From January through April of odd-numbered years, Bismarck sees a sustained period of economic activity attributable to people in town for the session. Legislators, lobbyists and other stakeholders stay in hotels, eat in restaurants, drink at bars and contribute an unknown yet important quantity to the local economy.
First-quarter taxable sales for Bismarck have steadily increased since 1999, about doubling to today. But population growth and other economic factors mask the session's impact within those numbers.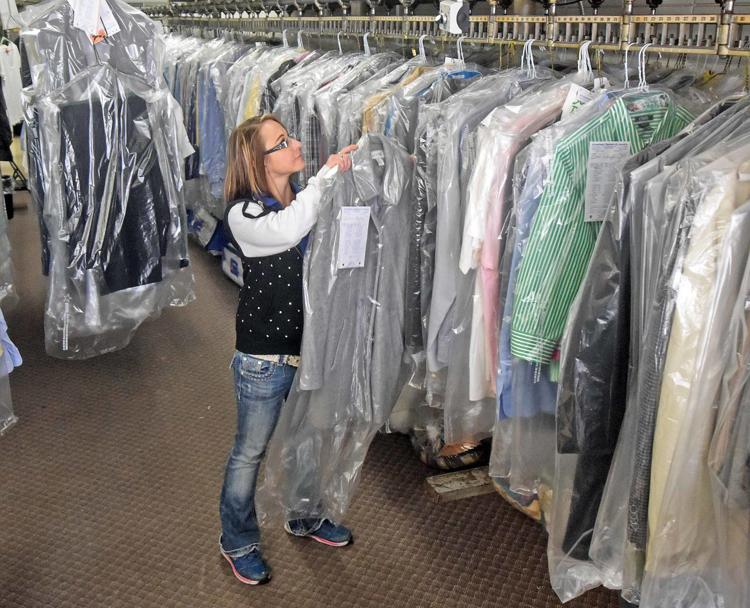 "What I would say anecdotally is I think the session is a contributing factor, and I think it's a significant contributing factor," said Brian Ritter, president of the Bismarck Mandan Chamber EDC. 
Home, sweet home
Ritter and North Dakota State Tax Commissioner Ryan Rauschenberger each said they've done no specific study of Bismarck's economic impact from legislative sessions. But there are places to look. 
Hotels. Restaurants. Bars. Plane boardings. Dry cleaning. Gasoline.
"I do think that if you look at year over year, you definitely have extra cash circulating in Bismarck during the session," Rauschenberger said. 
Hotels are a hot spot. Sheri Grossman, executive director of the Bismarck-Mandan Convention & Visitors Bureau, said occupancy was up 12.3 percent and lodging tax revenue was up 11.3 percent in January 2019 compared to January 2018, according to the Smith Travel Report.
But there's more than the session going on.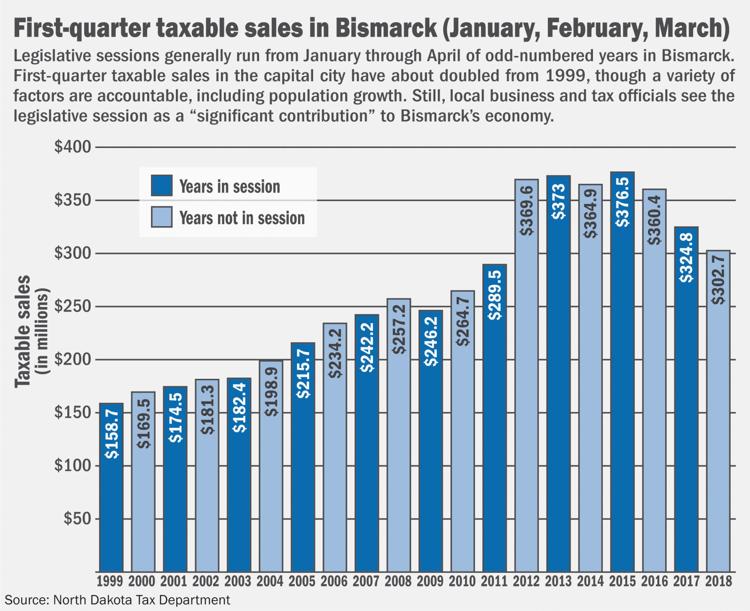 "It's a great time for state associations to hold their annual meetings and conventions here at that time," Grossman said. 
According to figures from Legislative Council, about 43 percent of lawmakers from outside Bismarck-Mandan stayed in hotels in 2017. About 57 percent rented private homes. Twenty-one lawmakers in 2017 didn't receive lodging reimbursements as they live locally. 
Legislative lodging reimbursements from the 2017 session totaled more than $811,000, including estimates of $358,000 for hotels, $423,000 for private rentals and $29,000 in organizational session lodging. 
Lawmakers may receive up to $1,682 per month for lodging reimbursement.
This session, Rep. Steve Vetter, R-Grand Forks, rented a home from a snowbird couple. There are trade-offs with hotels and home rentals, he said, such as a security deposit. 
"But at the same time, I've got a heated garage," Vetter said. 
His District 18 colleague, Rep. Corey Mock, D-Grand Forks, is staying in a hotel for the first time as he and his wife, Jeannie, are expecting their second child in April.
"It just seemed like the easiest accommodations for the session," said Mock, who's previously rented homes with other legislators. 
Lunchtime
Lawmakers have about an hour every day to eat lunch. Most, along with lobbyists, state employees and officials and others visiting the Legislature, buy a meal from the Capitol Cafe on the capitol tower's ground floor. 
That session-time revenue accounts for about 30 percent of the cafeteria's business in a two-year cycle. 
Facility management director John Boyle said the cafe sees about $1.26 million over a biennium, including about $704,000 in a session year's sales, with about $380,000 to $400,000 raked in during the session months. 
A non-session year sees about $560,000, he added. 
"You've got a captive audience because (lawmakers) have got generally less than an hour to eat," Ritter said. 
Hitting the town
Bismarck restaurateurs say the session brings an added bump to their establishments — about 10 percent to the Blarney Stone Pub, anecdotally speaking, said co-owner Jim Poolman, a former lawmaker.
The Blarney Stone sends invitations to legislators at the beginning of the session and sees a "positive" impact, Poolman said. 
But it's hard to say who's all here for the session.
"We don't tag them with a legislative label when they walk in the door," Poolman said. 
Dale Zimmerman, owner of Peacock Alley and 40 Steak & Seafood, said his restaurants have been a place of tradition among legislators, lobbyists and politicians to "break bread and discuss the politics of the day." 
Monday through Thursday dinners increased about 20 percent from the session, according to Zimmerman. Now "it's all gone," which he attributes to passage of Measure 1, which added anti-corruption language to the state Constitution, restricting lobbyists and gifts, among other anti-corruption aims. 
Even though Measure 1's gift prohibition isn't effective until January 2021, Zimmerman said the fall in business has been "devastating." 
"The repercussions have happened immediately because the rules are about as clear as mud," Zimmerman said. "And the legislators themselves, the lobbyists themselves are unsure of what they are allowed to do and not allowed to do." 
Ritter said he hasn't heard similar concerns from Chamber EDC members, but, "What I would say is that I believe there is still a lot of uncertainty amongst both lobbyists and legislators regarding what's permissible and what's not as a result of the passage of Measure 1."
Jody Weigel, a clerk at Arrowhead Cleaners, was a cocktail waitress 30 years ago at the former Ramada Inn, now the closing Kelly Inn. She said lawmakers like to hit the town. 
"They all feel they need to socialize to get their point across," she said.