When Adam Steen first learned of Anthony Bourdain's death, he said he thought it was an internet hoax.
"He was always somebody I thought we were going to have forever," the University of Mary sous chef said of the celebrity chef and traveling host of "No Reservations" and "Parts Unknown."
CNN reported Bourdain died June 8 by suicide in France. He was 61.
Steen and his friends, John Ward and Aaron Bank, said Bourdain was an inspiration to them and their generation of chefs and cooks. Ward and Bank met him at a book signing in Minneapolis about 10 years ago, where they said they were impressed with his accessibility, sense of humor and down-to-earth demeanor.
"I read 'Kitchen Confidential,' and I was sort of enchanted by the rough-and-tumble life of the chef and just the whole aesthetic of cooking and everything else," Ward said. "That's what kind of got me involved in restaurants."
Bank, now the executive chef at U-Mary after working all over the country, saw Bourdain again at a larger event about five years ago, but it wasn't as intimate as the book signing where they took photos together and joked as Bourdain signed Ward's book.
"John asked him to sign his book 'To the best sous chef ever,' and he ended up saying 'You're pushing your luck,'" Bank said. "His sense of humor was great."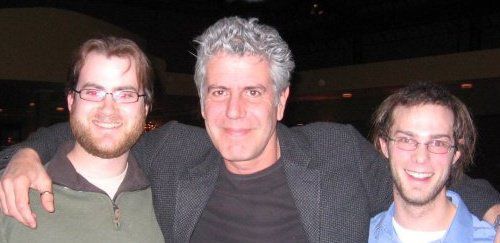 Steen said Bourdain's personality and "lust for experience" resonated with him. After reading his books and watching his shows, he said he was inspired to bring a better level of food to Bismarck after returning from culinary school in Las Vegas. 
"I don't think anybody had quite as much impact on people in general, let alone people in the industry, as he did," Steen said. "I don't think anybody quite got to his level. We're unlikely to see it again for a while."
Ward, who worked about five years in the food industry, is now an attorney. Nights, weekends and long hours of the chef life weren't quite compatible with starting a family, he said. But he got to meet his hero in Bourdain.
"He thought it was really neat that we were there and we were line cooks and chefs and sous chefs and kitchen managers," Ward said. "He still seemed to have a real appreciation that we actually worked in the industry."
He also said he respected Bourdain for defending Grand Forks Herald columnist Marilyn Hagerty against online bullies after her Olive Garden review went viral in 2012. 
Bank said Bourdain's death brings to light issues of mental health that are often stigmatized.
"It's horrible, but it's something that has to get talked about and brought up," he said.
But Bourdain left behind more than a TV show, he added.
"He went to places that nobody would think to go," Bank said. "What he did for bridging cultures — I think that was just his legacy, more than food."