As a medical marijuana review panel evaluates applications for medical marijuana dispensaries in Bismarck and Fargo, little is known about the two medical marijuana manufacturing facilities in the state.
A Tribune open records request uncovered the location of the proposed medical marijuana manufacturing facility in Bismarck.
Pure Dakota LLC was selected to proceed with obtaining state registration as the Bismarck manufacturing facility. Last month, the city approved a building alteration permit for the facility, 7428 Yukon Dr., in Bismarck.
Dave Meyer, a registered agent for Pure Dakota LLC, did not return messages seeking comment.
The state's medical marijuana law prevents any information about medical marijuana growing facilities and dispensaries from being released to the public, including names and locations. Some legislators say this protects manufacturing facilities from unwanted attention and aligns with the applications process in other states with medical marijuana programs.
Sen. Rich Wardner, R-Dickinson, said lawmakers debated whether applications should be open to the press when crafting the state's medical marijuana law. The Department of Health and the Attorney General's office also provided some guidance on the issue, he said.
Wardner said the privacy protects applicants and "saves a lot of problems" in regard to safety and security of the manufacturing facilities, which will hold as many as 1,000 marijuana plants.
"I really don't have a problem with (the confidentiality). It's not a big deal," said the Senate majority leader.
In May, the state Department of Health announced that a review panel selected Pure Dakota LLC and Grassroots Cannabis, of Fargo, to move forward with the registration process to become manufacturing facilities.
Jason Wahl, director of the Department of Health's medical marijuana division, said the entities gave permission to release their company names and cities, which, otherwise, would have remained confidential.
"It's confidential information, and we would not have been able to provide it," Wahl said.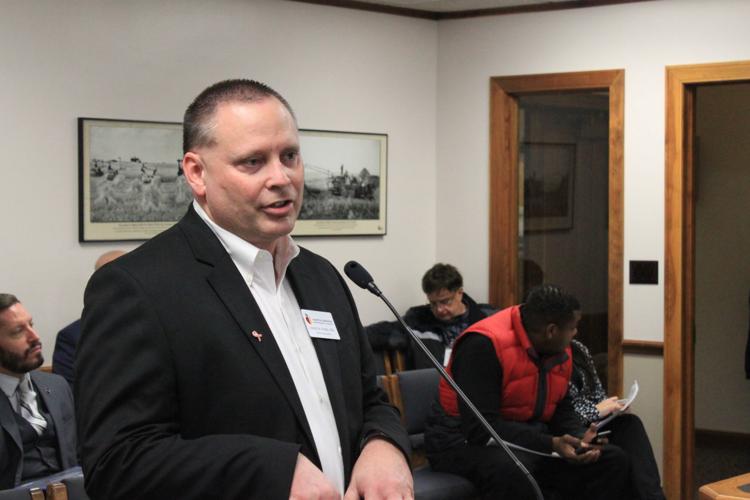 Sen. Joan Heckaman, D-New Rockford, said she couldn't recall why the confidentiality section was put in the medical marijuana law, but said she believed it came from the Attorney General or a law enforcement agency involved during the process of crafting the law.
Heckaman, the Senate minority leader, said she "wouldn't have a problem" with the applications being open to the public, but presumed the confidentiality piece was there for good reason.
Lawmakers found that shielding information about growers and dispensaries was important as they looked at medical marijuana legislation in other states, according to Wardner.
"When you get a loaf of bread, you don't know which farmer raised it," he said. "I don't think (the confidentiality) has any bearing on this whole thing, because the health department is going to make sure that it's checked and have a quality control party there to make sure that the product is right."
Evaluating applicants
Nineteen applied to open the manufacturing facilities, but 10 of the applications were not evaluated because they were found to be incomplete, according to Wahl. A review panel consisting of seven members selected by the Department of Health conducted a blind review of nine applications for the manufacturing facilities.
In Morton County, the location of a proposed growing facility was known after the Morton County Commission adopted a zoning ordinance for growing facilities and dispensaries. In April, a public hearing was held for a special use permit for a proposed growing facility near St. Anthony, but it was ultimately denied.
However, Bismarck did not adopt such an ordinance. City planner Kim Lee said the only requirement for manufacturing facilities is that they have the proper industrial zoning, which Pure Dakota LLC has.
Panel members' scoring sheets reveal a variety of applicants applied, but the proposed Bismarck and Fargo facilities each received significantly higher scores.
It's not clear what Meyer's role will be with Pure Dakota LLC, what experience he has in the medical marijuana industry or with whom he may be working.
Panel members' comments on the scoring sheets shed some light on the two facilities:
For "Applicant R," the Bismarck facility, one review panel member noted that the applicant had a "broad variety of experience," and "industry experience with both (North Dakota) and non (North Dakota) natives."
A review panel member noted that in "Applicant B," the Fargo facility, those involved with the facility were "very experienced in industry and profitability."
The description of work for the Pure Dakota building permit states the permit is for a "buildout (Phase 1)." It also lists Ron Knutson, a Bismarck developer, and Meyer as the owners of the facility.
Knutson said he sold the facility and another building right next to it to Meyer under a contract for deed. Knutson said Meyer is going to pay him over three years for the buildings, but he is not involved with the business.
Pure Dakota and Grassroots Cannabis have not yet received registration certificates, as the entities continue renovation and construction work necessary to meet the requirements for certification, according to Wahl.
More reviews
In addition to the two manufacturing facilities, there will be eight dispensaries throughout the state.
On Friday, another review panel will meet to go over dispensary applications for the Bismarck and Fargo regions. The division of medical marijuana received 19 applications.
Wahl said Friday's meeting is open to the public, however the open portion of it will be limited. Panel members open the meeting and "in effect go into executive session right away to discuss the applications, since all information in the applications is confidential under state law."
Tribes and medical marijuana
A roundtable discussion on medical marijuana and North Dakota tribes involvement in the program was held last week at the United Tribes Technical College Tribal Leaders Summit in Bismarck.
Anita Blue, executive director of tribal planning and economic development for the Turtle Mountain Band of Chippewa Indians, said she coordinated the discussion "to open the door" for conversations about how tribes can become involved in the state's medical marijuana program.
Blue said she became interested in medical marijuana as a form of treatment after she was diagnosed with breast cancer in 2016. She was also interested in learning how the medical marijuana program could serve as an economic development opportunity for her tribe.
Unlike oil-rich Three Affiliated Tribes, Blue said her tribe doesn't have resources to boost its economy.
"We've been dependent on federal funds, and there has to come a time where we can help ourselves build our own foundation and get programs that we can plan," she said.
Blue said she reached out to her contacts with other tribes in the state to see what others were doing with medical marijuana, and she found that they didn't know exactly what they could do.
Tribes are under federal jurisdiction and marijuana is still illegal under federal law. Blue said this has caused confusion.
At the roundtable, Blue brought in Wahl to answer questions. Wahl said the Department of Health has researched the issue and found that, in other states, tribes have worked with their respective U.S. attorneys to set up medical marijuana-type programs.
"In other states, there are marijuana dispensaries and grow facilities that are on sovereign lands. It appears that those are set up through compacts with the states," said Wahl, adding that the Department of Health would not have the authority to enter into an agreement with the tribes.
Blue said she had previously reached out to the office of U.S. Attorney Chris Myers, but did not receive any direction. Myers was out of the office and unable to comment on Friday.
Blue said she will take back the information she learned to her tribe and discuss options and conduct more research. Whether the tribe would consider starting a program would be up to the tribal council, she said.
"(The tribes do) want to know more. They're hungry for more information ... So, bringing people to the table is what we needed to do," she said, adding that she plans to hold a conference later this fall with the tribes to discuss the topic.