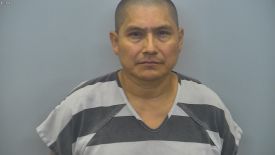 A man who police say forced himself on an older woman with mental and physical limitations fits the description the woman gave, including having an abdominal scar, a Bismarck police detective testified Monday.
Aaron Nolasco, 52, was arrested in September after police responded to a report of a sexual assault. Police Detective Joseph Olson testified that the woman told police Nolasco pushed his way into her apartment and forced himself on her. Her description of the man included a surgical scar that Olson said Nolasco voluntarily showed him during an interview.
A nurse who examined the woman told police her injuries were consistent with sexual assault, Olson said. Nolasco admitted he had sex with the woman but said she had forced herself on him, Olson said. Nolasco told investigators he did not want to have sex with her but couldn't leave because he was scared, Olson testified.
Defense attorney William Thomason questioned Olson about whether the woman had referred to the alleged incident as "sexual harassment." 
South Central District Judge Bruce Romanick found probable cause to move the case to trial. He set a trial date of March 11. Nolasco is being held in the Burleigh Morton Detention Center in lieu of $500,000 bail. He also is being held for Immigration and Customs Enforcement for being in the country illegally, according to the detention center's website.
Be the first to know
Get local news delivered to your inbox!