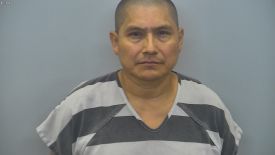 A man listed in court documents as living in Bismarck is being held in the Burleigh Morton Detention Center on a charge of gross sexual imposition and for being in the country illegally.
Bismarck police on Friday arrested Aaron Nolasco, 52, for allegedly forcing himself on a woman at her Washington Street apartment on Wednesday, according to a police affidavit. Nolasco pushed his way into her apartment when she opened it slightly after hearing a knock, police allege. Nolasco denied the allegations and told police the woman pulled him into the apartment by his shirt, the affidavit says.
The detention center's website shows that Nolasco also is being held for U.S. Immigration and Customs Enforcement.
Nolasco made his initial appearance in South Central District Court on Monday. Judge Douglas Bahr set his bail at $500,000 cash. Court documents do not list an attorney for him or say what country he is from.
Be the first to know
Get local news delivered to your inbox!