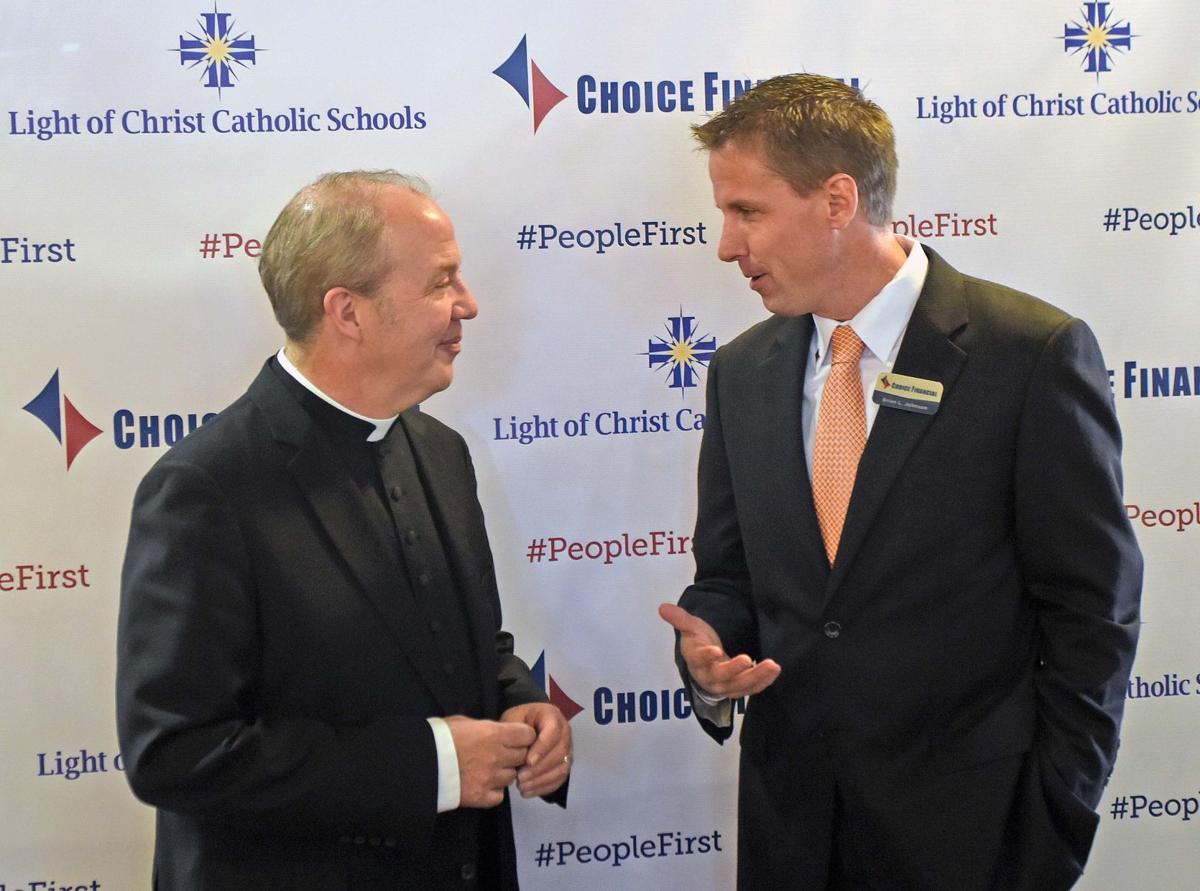 Learning the complexities of money management, budgeting and loans can be scary for high school students. Too often, students lack knowledge of personal finance and fiscal responsibility.
A financial education center is set to open at the new St. Mary's Central High School in fall 2019. On Thursday, officials at Light of Christ schools and the head of Choice Financial announced the construction of the new center, which aims to improve financial literacy and foster business skills among students in the Light of Christ Catholic School system. 
Choice Financial donated $2 million to Light of Christ schools as part of the school system's campaign for the new high school. To date, the campaign has garnered $23.1 million in donations, according to a news release from Light of Christ schools.
Half of Choice Financial's donation will go toward scholarship and tuition reimbursement to help families enroll their children at St. Mary's, according to Brian Johnson, president and CEO of Choice Financial. The other half of the donation will build this center, which will be called the Choice Financial Business Center. At the new facility, Choice Financial employees will volunteer their time to teach students about financial literacy.
"We want to be there for the children at an early age to help teach them on how to manage their money, how to invest their money, how to be responsible with their money and build a healthy financial future," Johnson said.
"We're extremely proud that (our employees) want to be there with their time, their energy and their efforts, to be part of the learning process and to make this project and partnership a successful one — and hopefully a model for other people to look at," he said.
The center will also promote a financial literacy program and business curriculum for students of all grades throughout the Light of Christ system, according to Gerald Vetter, president of Light of Christ schools. Internships and jobs will also be part of the program as well. Students at the new high school will operate a food truck, which was also donated, at local events to learn entrepreneurial skills.
"To find a school that has a business center is unusual, so we like the unusual," Vetter said. "I think this is a bold step in the future to providing a very dynamic business curriculum, but not just for high schools students, throughout the system."
Madison Baumgartner, a senior at St. Mary's and president of the school's chapter of Future Business Leaders of America, said she's excited for the new center for financial education, which will serve as the home for all business-centered academics, as well as the opportunity to improve personal finance education at the school.
"Personal finance or financial literacy teaches lessons on credit cards and loans. This is so useful for upcoming college students such as myself that will be on their own in the future," Baumgartner said.