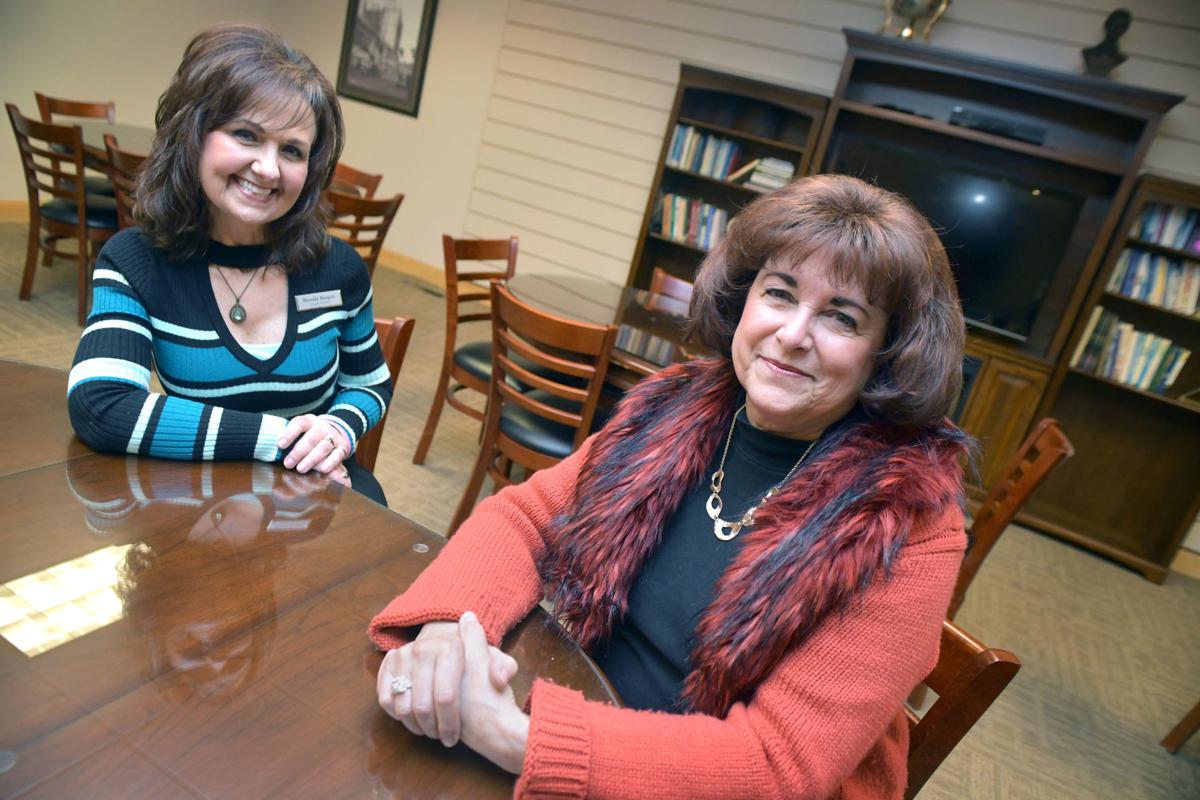 It was about a month after the death of his wife, Donnie, when Don Lucas of Bismarck started on a journey of sorts.
He wasn't alone, but somehow he was lonesome. He wasn't lost, but then again he didn't seem to know where he was.
"I didn't know what to do with my life," Lucas, 88, said. "You have this vacant feeling."
It was a call and a visit from Brenda Bergan that started Lucas on a new path. Bergan is the aftercare coordinator at Eastgate/Parkway Funeral Service and oversees a program known as LOTUS, which is Looking Onward to Understanding and Serenity. It's a local grief support program started in 1993 by her predecessor, Carleen Hennenfent.
For Lucas, the decision to start attending was aided by experience. He had a network of friends, a group with which he and his wife had dined, camped and socialized. He knew how important those relationships were. LOTUS meetings took it to another level for him.
"As soon as I got there, I realized this was entirely different," he said.
It took much longer, about a year, for Rose Johnson to start attending LOTUS meetings. Her husband, Bob, died in November 2016. He was 60. He'd fought three types of cancer and was trying to get strong enough start rehabilitation as he recovered from his second brain surgery. The Johnsons were planning their retirement, hoping to get some health scares behind them and enjoy life. After a brain scan, the Johnsons were told he had only about a month to live.
"Never in my wildest dreams did I think this was going to be my story," Johnson said.
Bergan contacted her after his death, but Johnson wasn't ready to attend LOTUS. She was going to visit relatives. She was busy.
"I thought I could get through it by myself," Johnson said.
Bergan mailed her information, too, but Johnson had other plans and forgot about the program. She attended one session in March 2017 and kept thinking the heartbreak and numbness she felt would get better once she was a year past her husband's death.
"The second year is much harder," she said.
She decided to try LOTUS again and attended the women's group. After that session, she went home and put every session for the year on her calendar. She made it a priority and still attends. Participants at LOTUS have their own stories, but they share the similar thoughts, fears and emotions, according to Johnson.
"That, in itself, is healing," she said.
Hennenfent and Bergan are quick to point out they're not counselors. They are, or were in Hennenfent's case, facilitators who have lived through experiences similar to what those in their groups have experienced. For Hennenfent, it was the death of an infant son and later the death of her husband. For Bergan, it was the loss of her son to suicide when he was 16. Today, 25-plus years after Hennenfent started it, Bergan continues adding to the hundreds of people who have been helped in some way by the program.
Hennenfent was "about 40" when she went back to school and became a licensed funeral director. She went to work for Bob Eastgate, of Eastgate Funeral Service, and part of her duties included follow-up visits and a grief support group. That group consisted of about 10 women. Men, she said, would come once and quit. She has a reputation among attendees as being quite persuasive and started LOTUS by "begging" four men to attend. It became her best group, with 10 or 12 men in attendance at each session.
"It's the perfect setting," she said.
Hennenfent aimed to do more than help people get by. She designed the program to provide grief education, an understanding of feelings and a place where a person could see that others were feeling the same things. Participants can come as often as they like and for as long as they like. There is a group for men, another for women and a third for men, women and children. LOTUS is an Eastgate Funeral Service program but is free and open to anyone who is struggling with grief. Eastgate said Hennenfent and Bergan have different strengths but their passion and commitment to the program make it a success.
"You pick good people to get the job done, then get out of the way and let them do it," he said.
Some LOTUS attendees have formed spinoffs, such as the coffee group Lucas and Harvey Jackson look forward to every Tuesday. Jackson, 79, started attending the men's group in 2013 after the death of his wife, Barbara. They'd been married 49 1/2 years, but didn't have a big circle of friends. He said he knew he had to get out, and LOTUS has provided that opportunity.
"The biggest thing is you're able to talk there and you couldn't other places," Jackson said. "You could say whatever you want."
After the loss of her son, Bergan said she dove into her grief. Meanwhile, it took her daughter, 13 at the time, nine years to face it. It's an example of what Bergan calls walking a circle around grief. People might look to upcoming events as a possible point for when they'll feel better. They go through the motions of life, laughing without joy. It's also a time when some turn to alcohol or drugs.
"They have no idea what happens to their body when they're grieving," she said.
That's why she sees the group setting as beneficial. Being able to talk with others in a similar situation, as Jackson found, is an opportunity to heal. Bergan refers to herself as a "heart smart educator," one who's suffered a loss and has an understanding of how the people in her groups are feeling.
"I don't believe any book can tell you what your heart feels when you're going through a loss," Bergan said.
Hennenfent also used her firsthand knowledge to the benefit of LOTUS attendees, but she said she couldn't help when Bergan started Sounds of Silence (SOS), a support group for those who have lost a loved one to suicide. Their experiences were different, and Hennenfent didn't feel she should try to act as a facilitator. She sat in for several years but knew Bergan had that experience and should lead the group.
"She owned it, but she didn't wear it like a coat," Hennenfent said.
Hennenfent also understood the importance of the relationship between the facilitator and the group. When it was time for her to leave LOTUS, she told Eastgate it was Bergan or nobody. Attendance dropped off after Hennenfent left, but Bergan has rebuilt. She leads, but the group is where the power lies. Bergan's role is that of educator, helping people understand there are many types of grief and giving them coping mechanisms. The group benefits through the sharing of feelings, experiences and progress.
Hennenfent retired in 2014. She recently finished a book titled "Incomplete." She draws on her years of experience and relays the stories of people who have suffered a loss. It will be available soon. Bergan, 55, has no thoughts of retiring. She said the rewards of her job outweigh the stress and she enjoys what she does.
"When I'm there, they have 100 percent of me," Bergan said. "When I leave, I pray for the group and then let go. I rarely lose sleep over it."
From September to May the LOTUS groups meet on the second and fourth Tuesday of each month, men at 10 a.m., women at 1 p.m., combined group at 7 p.m. During the summer, meetings are held on the fourth Tuesday at 1 p.m. and 7 p.m. for both men and women.
Be the first to know
Get local news delivered to your inbox!