Webbster had a long day of training ahead of him Wednesday. A 4 a.m. call to investigate an actual apartment fire made it even longer, but the yellow Labrador was up to the task.
"It won't be a problem whatsoever," said his handler, Shane Weltikol, Mandan Fire Department captain and fire investigator.
Four-year-old Webbster is trained to detect chemicals that might have been used to start a fire. He and Weltikol are one of 19 teams from eight states and Canada going through training and recertification in Bismarck and Mandan this week, part of the State Farm Arson Dog program. A different site is chosen each year.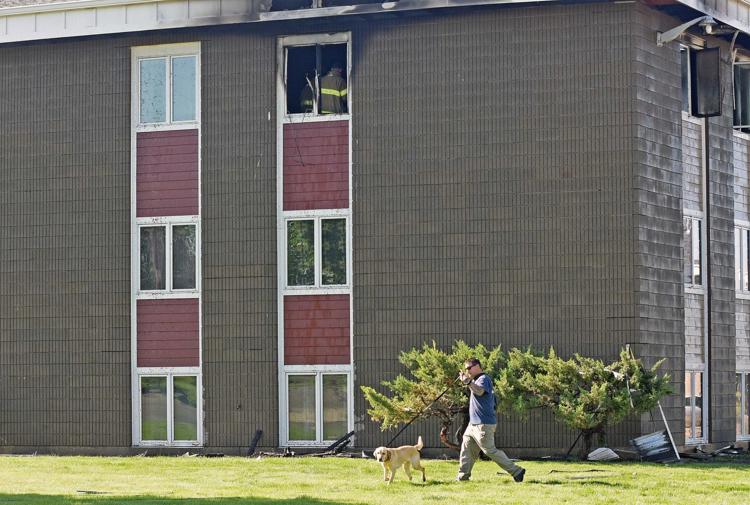 The State Farm insurance company provides funding for the acquisition and training of the canines and handlers. Departments submit applications to participate, and about a dozen teams per year complete the training. This year, that number went up to 16. The cost is about $25,000 per dog.
An arson dog is the best tool a community can have, as they approach each investigation the same way, Program Coordinator Heather Paul said.
"The dog wants to find where there may be evidence and be fed," she said.
Once a dog and handler have completed training, the dog lives with the handler until retirement. Weltikol has worked with Webbster since 2017. They are the only certified team in North Dakota. The early start on Wednesday to work at the apartment fire scene won't hinder Webbster, as training and work are the same thing to him, Weltikol said.
"When I put on my food pouch on and he does his thing, he knows exactly what to do and how to do it regardless of the situation that we're in," Weltikol said.
The annual certification is regulated by the Maine Criminal Justice Academy. It's important because anything a dog does at a crime scene has to be allowed as evidence.
"It keeps him court-admissible," Weltikol said. "It gives us a standard."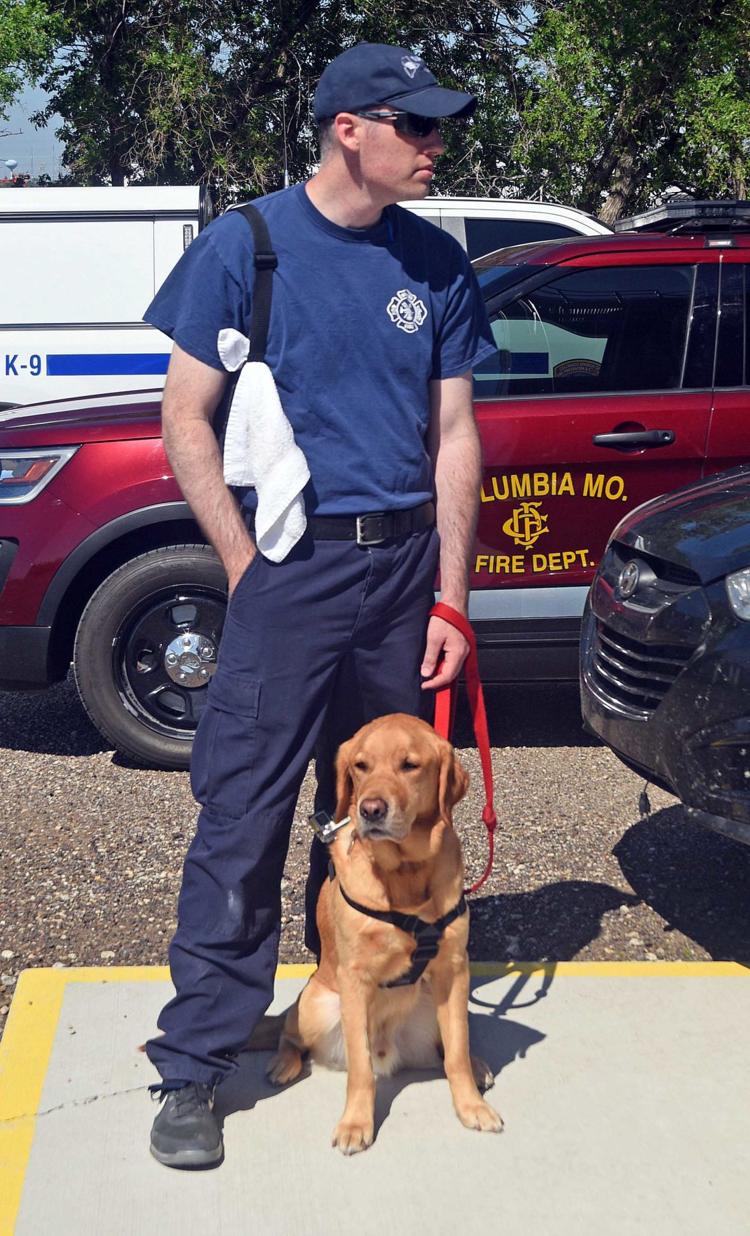 The dogs, all Labradors or Labrador mixes, on Wednesday morning were going through exercises at the Bismarck Fire Department's training tower on Miriam Avenue. Each was taking a trip through the tower's main floor, where chemicals had been deposited at several locations. Jason Maki of Cloquet, Minn., and Wish, a 7½-year-old female, completed the course in a few minutes.
"She did fine," Maki said. Wish made an initial sweep of the hallway and rooms and then she went to work, Maki said.
Paul Gallagher, dog trainer for the program since its inception in 1993, said the testing was going well. Only a few minor problems had been sniffed out.
"I'll have them fixed by the end of the day," he said.
Labradors are preferred in the program for their sense of smell and hunting ability, said Dan Roberts of Council Bluffs, Iowa. Their temperament is a plus. Roberts and Gibson, 5, make frequent visits to schools for fire safety and prevention presentations. Gibson is a great public relations tool, he said, as the kids get time to pet him. Gibson lives with Roberts and his family, which includes children ages 11 years and 17 months.
"The baby loves him," he said.
The program has funded about 400 teams in 45 states; Washington, D.C.; and three Canadian provinces since its inception.
The certification continues through Thursday. In addition to Weltikol and Webbster, teams came from California, Texas, Pennsylvania, Colorado, Nebraska, Minnesota, Iowa and Canada.