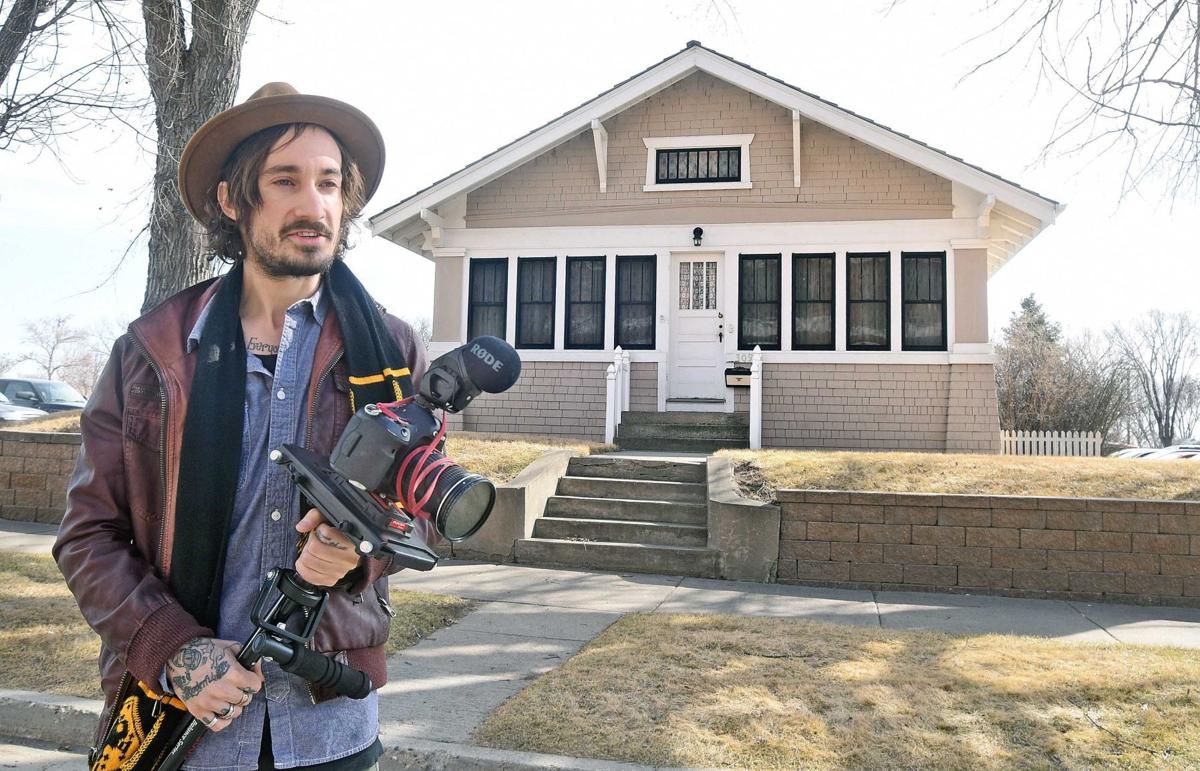 It was a seemingly normal Sunday morning when Sam Sprynczynatyk started having chest pain.
He described the pain to his girlfriend, Medora Frei, as like someone was grabbing at his chest.
Minutes later the pain got much worse, and he started experiencing numbness in his arm — an indication of a heart attack. Frei immediately called 911 and began chest compressions until emergency personnel arrived and took him to the hospital.
Sprynczynatyk, 30, is a local filmmaker, known for his documentary, "Uncle Albert," which is about a man who lived in a house in the CHI St. Alexius Health parking lot. He's in the midst of filming another documentary about farm animals.
Sprynczynatyk had two major heart attacks on June 10. He's currently recovering one day at a time. On Saturday, he had both his feeding and breathing tubes removed and is now able to talk.
"It's been crazy," Frei said Monday, sitting at the bedside of Sprynczynatyk's room in CHI St. Alexius Health's intensive care unit. "The fact that something like that can happen in 13 minutes, where you wake up on a Sunday morning and all of a sudden 13 minutes later he's not doing great, is horrifying and scary, but I'm glad he's here."
On Monday, Sprynczynatyk was tired, but in good spirits, joking with family members and carrying on conversations.
After arriving at the hospital on June 10, his family was told he might not make it. He had a second heart attack after he was transferred to the ICU, and, that same day, underwent an emergency surgery in which a stent was placed to open an artery in his heart.
You have free articles remaining.
It turns out, unbeknownst to him, Sprynczynatyk has a condition called atherosclerosis, in which plaque built up inside his arteries, according to his family. After surgery, doctors cooled his body to try to preserve brain function, temporarily paralyzing him. He was in a coma for a week and two days.
Doctors started to slowly warm up his body. He had multiple organ failures, but, so far, everything is improving, Frei said. His liver function is back to normal, and his kidneys are slowly getting there. Each day, there have been small improvements.
Sprynczynatyk may need other surgeries, including a possible kidney transplant and a device for his heart. He's getting nutrition from an IV, but Frei said she's hopeful within the next few days he can start eating again.
"He is obviously already a miracle. Every step of the way they've told us he won't be able to do this or this, and every single time he's fought through," Frei said. "He's not quite out of the woods yet, but a million times better."
Sprynczynatyk's family is grateful for the help he has received from friends and community members. An online art auction raised funds for his medical expenses, and there's a GoFundMe collecting donations.
"Just the amount of support from the community is insane," said his sister, Annitsa Sprynczynatyk. "Everybody that Sam has met has come by. It's been so humbling to see the support, and that's just a testament to Sam."
Frei said Sprynczynatyk is eager to get back to working on his documentary, "Kindred Creatures," which has been shot at animal sanctuaries across the Midwest that are homes to rescue pigs, sheep, goats, chickens and roosters.
"He's excited to start recovery and hopefully get back to doing everything that he loves," she said.