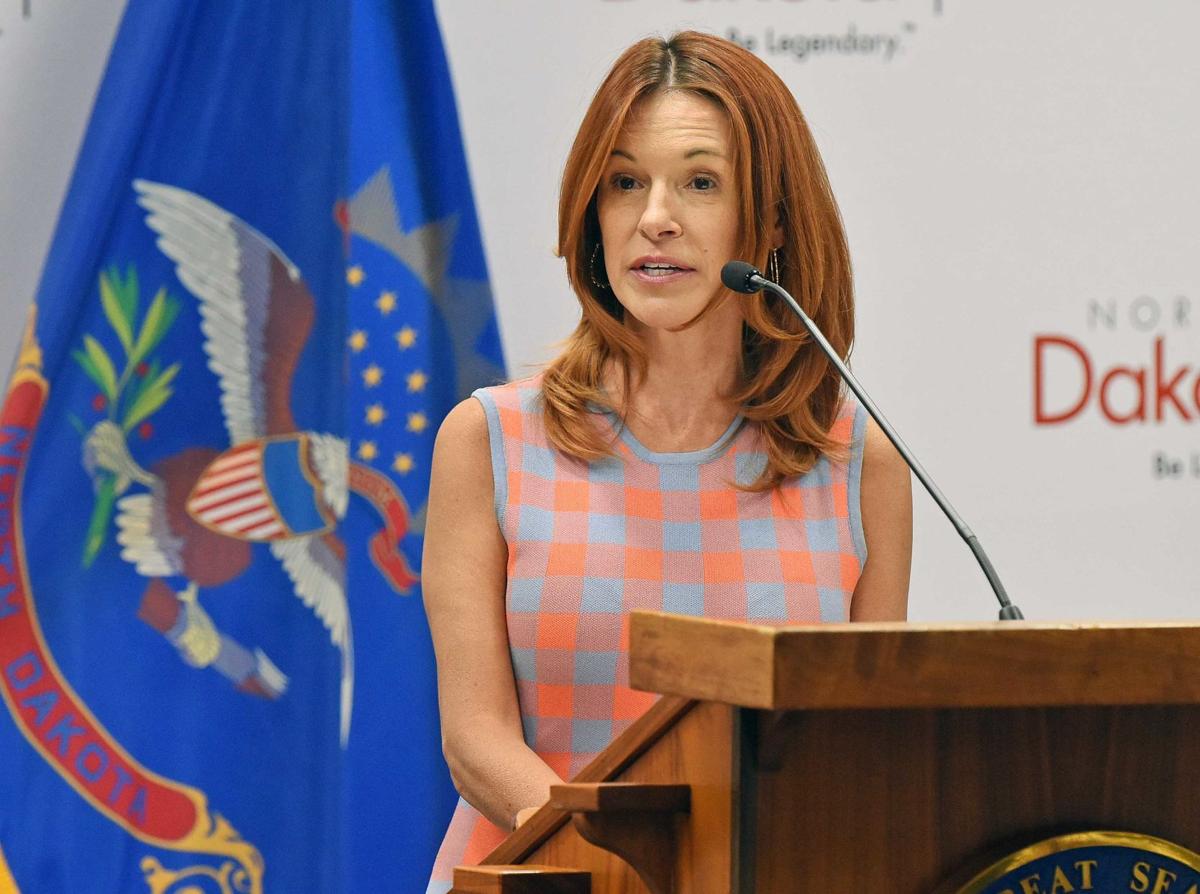 North Dakota's local school boards and public health units will work together on plans for reopening K-12 schools for the 2020-21 school year, state officials said Tuesday.
Gov. Doug Burgum and State Superintendent Kirsten Baesler unveiled new, categorized guidance for North Dakota's 175 school districts. School boards, working in consultation with local public health units, faculty, families and others, must write and approve building-specific health and safety plans and updated distance learning plans prior to starting school. State officials will not sign off on the plans.
Baesler said the guidance offers a community-centric approach to returning to schools, which have been open for summer uses since June 1. Burgum closed schools on March 15 to onsite instruction due to the emerging coronavirus pandemic, moving the state's 121,000 K-12 students to virtual instruction amid what he called "uncharted territory."
Now schools move into "new territory" this fall, he and Baesler said.
"School boards and administrators will be making difficult decisions to ensure the health and well-being of their communities and limit the spread of COVID-19 while fulfilling their overall mission of educating students," Baesler said in a news conference. "They are in the best position to make the dozens and dozens of judgment calls that will be necessary every day and changing as the days go on."
Learning can be conducted in person, virtually or in a hybrid.
The health and safety plans must identify a COVID-19 response team or coordinator, outline isolation and quarantine procedures for staff and students and visitors, and detail a process of rapid notification for families about COVID-19 exposure. Schools also must create social distancing protocols.
School districts' distance learning plans, approved last spring by Burgum and Baesler, also must be updated for the 2020-21 year.
Burgum pointed to the ranging prevalence of COVID-19 throughout North Dakota's 53 counties, including 29 counties that have had 10 or fewer cases.
Adams County, home to Hettinger, has reported zero cases. Golden Valley County reported its first case on Tuesday. Cass County, home to North Dakota's largest city of Fargo and a hot spot for the virus, has had more than 2,500 cases.
"This guidance provides the framework, but we're going to be partnered and we believe in local control and we believe in the importance of flexible decision-making as we go forward," Burgum said.
School boards, which set district calendars, are able to revamp schools' start dates, Baesler said. Schools must meet a certain number of hours of student instruction between July 1 and June 30 each year, she said. 
Bismarck Public Schools' and Mandan Public Schools' first days of classes are set for Aug. 26 and Aug. 20, respectively.
Rethinking the return to classrooms will be more challenging than last spring's jump to online learning, Burgum said -- with daily interactions ranging from students moving between class periods to standing in line for lunch and eating together.
"We flicked the light switch off in the spring. That was easy," the governor said. "Flicking it back on in the fall, we're not just turning it on to the same thing we were. Just like every business has had to, just like every agency in the state of North Dakota has had to, is that K-12 schools have to think about how are they going to deliver education in those buildings in a way that allows them to stay open."
720 active cases
North Dakota's Department of Health on Tuesday reported the state's 88th COVID-19 death.
The Cass County woman in her 80s had underlying health conditions, according to state health officials who also reported 55 new coronavirus diagnoses in 17 counties from 2,427 new test results.
Burleigh County added seven new cases. Neighboring Morton County added four. Eleven new cases were diagnosed in Cass County. Williams County added the most new diagnoses Tuesday, with 15.
North Dakota has 720 active coronavirus cases, out of 4,493 total since the start of the pandemic. Thirty-two people were reported Tuesday as newly recovered.
North Dakota has 42 COVID-19 patients hospitalized in 16 counties, eight of which have a total of 11 patients in intensive care, Burgum said. The state is using less than 2% of its hospital bed capacity, with plans in place for a "surge capacity" of thousands more beds if necessary.
"We are barely scratching the surface on hospitalization," Burgum said.
Burleigh County has had 469 cases and leads the state in active cases, at 184, down four from Monday. Morton County has had 139 cases, 41 of which are active, up three from Monday. Morton has logged two deaths; Burleigh has had none.
State officials are monitoring Burleigh and Morton counties for emergence as a hot spot and could establish a coronavirus task force as was done to address Cass County, which has logged 73 of the state's 88 coronavirus deaths. The county that's home to Fargo has 146 active cases out of 2,503 total.
Bismarck-Burleigh Public Health conducted another mass testing event Tuesday at the Bismarck Event Center. Director Renae Moch said the agency had 250 testing kits from the state Department of Health, which were exhausted. The agency has requested 800 testing kits for a testing event next week, potentially with extended hours.
"The number of cases are increasing in Burleigh County, and I think we're seeing a lot more people that came through today that were sick, experiencing symptoms or identified themselves as close contacts to positive cases," Moch said.
State and private labs have handled more than 235,400 coronavirus tests of more than 125,000 people, many of whom have been tested more than once.
Most people who get COVID-19 recover, experiencing only mild or moderate symptoms such as fever and cough. Others, especially the elderly and people with existing health problems, can experience more severe illness, including pneumonia. The vast majority of people recover.
Other matters
The governor urged families to update their immunizations, citing lagging weekly doses administered last spring compared to the same period in 2019, due to to the emerging pandemic.
State law requires K-12 students' immunizations be up to date. Those requirements won't be loosened or delayed, Burgum said. Immunizations must be up to date by Oct. 1, or schools must exclude the child.
North Dakota also has distributed about $930 million of its $1.25 billion in federal CARES Act coronavirus aid.
The Wood House Restaurant in Bismarck on Tuesday announced its temporary closure due to multiple staff who had contact with an outside person who tested positive for COVID-19.
At least two other local establishments -- the Sports Page bar and the Butterhorn restaurant -- also temporarily closed after testing staff for coronavirus. The Butterhorn was set to reopen Tuesday night after all tests came back negative.
Burgum said contact tracing has linked recent coronavirus clusters in North Dakota to sources including parties, sports teams socializing, an out-of-state funeral and a large July 4 party at a private home. Other clusters have stemmed from child care centers, bars and a bank, he said.
He urged anyone gathering in groups to practice social distancing and to meet outside to avoid confined spaces.
"This is about making sure that we don't get complacent in North Dakota and we can, again, avoid becoming, falling into the situation that other states are with rapidly rising rates," Burgum said. 
Concerned about COVID-19?
Sign up now to get the most recent coronavirus headlines and other important local and national news sent to your email inbox daily.