One of the pulsing nerves of the state Capitol building is tucked away on the ground floor between a legislative locker room and men's restroom. Its occupants work at a large roundtable, microphones still attached from the days when it was a committee hearing room. They fit in well at the capitol: business attire, cell phones in hand and a subtle expression of stress, cynicism and amusement.
This is the lobbyists' room.
They're a jovial bunch, seated around their makeshift workspace. There is obvious camaraderie between them, which could be a result of a general public distrust of their profession.
The biggest misconception, they say?
"That we run around and give money to legislators to get our bills passed," said Scott Meske, a lobbyist with public affairs firm Laventure.
Ethics commission concerns
The Secretary of State's office does not keep track of how many registered lobbyists there are because they say it changes too quickly, but according to those in the lobbyists' room, there are roughly 20 who are there every day.
At a news conference last month, Senate Majority Leader Rich Wardner, R-Dickinson, said he had concerns about legislation that aims to limit influencers of the political process, such as lobbyists. The legislation comes as a result of last year's ballot Measure 1, which amended the state constitution to set more guidelines about legislative ethics.
Wardner cited wording in Measure 1 which "could be construed" to mean that if a citizen who comes to the Capitol to testify on behalf of themselves spends more than $201 in the process, that person would be classified as a lobbyist, creating more hoops to jump through.
Sen. Tim Mathern, D-Fargo, who drafted the Senate legislation in question, disputed this assertion.
"That's campaign language," Mathern said. "That's not the case at all."
The only section of Measure 1 that explicitly mentions this dollar amount requires the legislature to issue "public disclosure of the ultimate and true source of funds spent in any medium, in an amount greater than two hundred dollars ... to lobby or otherwise influence state government action."
Mathern said the ethics commission is designed to be flexible in cases such as distinguishing private citizens and lobbyists.
"There is a measured step-by-step process to dispel and take care of issues like this," he said, adding that warnings about potential problems for citizens "are more posturing than they are facts."
A lobbyist's purpose
Lobbyists themselves feel they are often misrepresented, especially in public talks about ethics. Meske said his profession's primary goal is to be a translator between his clients and lawmakers.
"Even the biggest industries here in the state — (agriculture) and oil, gas — we're really here for education, to help people understand what it means to pass this bill," Meske said. "This is what it means to the industry, this is what it means to your citizens, this is what it means to your county."
Measure 1 explicitly bans lobbyists themselves from directly donating money to legislators' campaigns. Meske said that while this could have happened in North Dakota, he has seldom seen it and has not done it himself.
"It doesn't work here," Meske said. "It just never has."
Many lawmakers say they rely on the information and perspective lobbyists give them, particularly because they do not have staff.
"I've got one desk with one drawer," said Sen. Judy Lee, R-West Fargo.
Lee, chair of the Senate Human Services Committee, said lobbyists have been invaluable to her when making decisions about complicated fields like medicine.
"We are definitely not smarter than the rest of the population," Lee said. The difference between lawmakers and everyday citizens, she said, is their access to information through sources such as lobbyists.
Rep. Corey Mock, D-Grand Forks, agreed that lobbyists are an important "asset" to the democratic process, but said legislators could run into trouble if they do not cast a wide net when researching an issue.
"People can over-rely on one source," Mock said. "There are individuals who use lobbyists in excess."
A typical day for the busiest lobbyists, according to Meske, begins with a cup of coffee in the Capitol cafeteria. There, he is able to speak with lawmakers and other lobbyists about upcoming bills. Lobbyists confer with each other quite a bit, as a large part of their job involves understanding different angles on an issue.
"When you go into a hearing and a citizen comes up to testify, 'This bill is bad,' you'll see questions come up from the committee that say, 'What about this?' 'What about this?' and if you haven't looked at all sides of the issue, you're only going to know your side and sometimes that's not going to get your message across," Meske said.
Democracy in action
As the session roars on, legislators are bombarded with information. A lot of that information may come in the form of nitty-gritty numbers and facts from lobbyists, but the more memorable testimony is often communicated in clean, old-fashioned storytelling from citizens affected by legislation.
One such citizen is Rebecca Moorhead, who came to the Capitol last month to testify on a bill related to medical marijuana. A survivor of an assault, Moorhead said she struggles with nerve pain that makes it difficult to work and care for her children.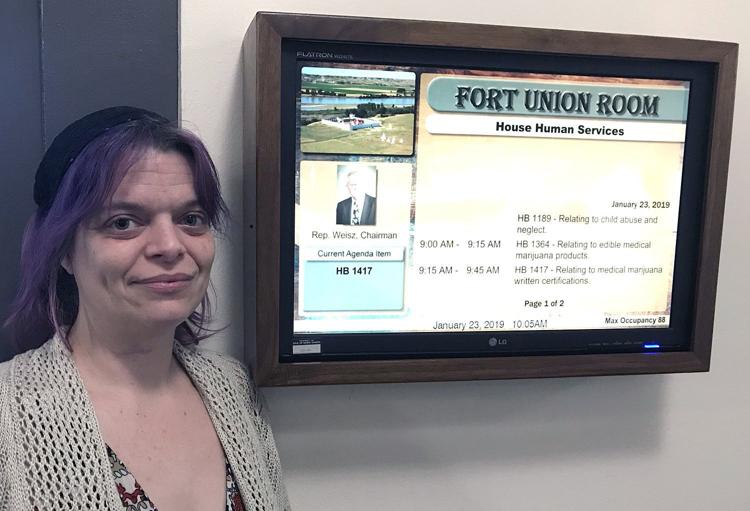 Moorhead only had to travel an hour to testify, but said she did have to shuffle a few appointments around to accommodate the time. Her travel expenses likely did not surpass $201, but in a state as large as North Dakota, a citizen as passionate about her issue as Moorhead might easily spend that figure.
Telling her story to the committee was cathartic, Moorhead said.
"I was very nervous, and I cried, but I feel a lot better because I was able to get my voice out there and be heard," she said.