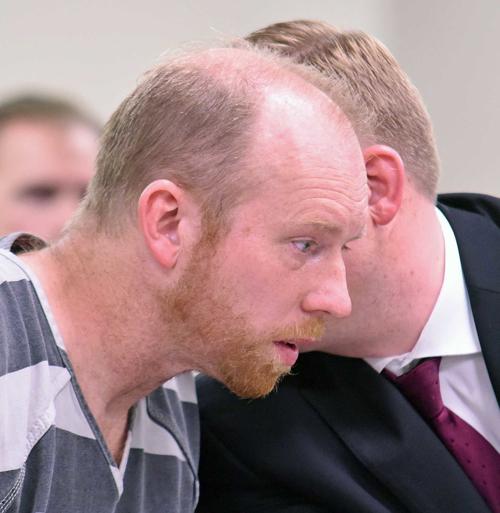 The judge in the case of a man accused of killing four people in Mandan wants some time to consider the defense attorney's motion to withdraw but said at a Wednesday hearing it appears that's the only decision he can make.
That could delay a trial scheduled to start in about a month.
Robert Quick, attorney for Chad Isaak, asked last week in court documents to withdraw from the case after being informed that Isaak had filed a disciplinary complaint against him. The contents of the informal complaint made to a committee of the state Disciplinary Board aren't public.
Isaak, 46, of Washburn, is accused of killing RJR Maintenance and Management co-owner Robert Fakler, 52; and employees Adam Fuehrer, 42; and William Cobb, 50, and Lois Cobb, 45, who were married. Police have not established a motive for the killings that occurred April 1, 2019.
The existence of a complaint created a conflict of interest for Quick, who said he is ethically obligated to withdraw under such circumstances.
"My hands were a little bit tied," he said during Wednesday's court hearing. "It's not something I wish to do on the eve of the trial after being involved for two years."
Isaak's trial is scheduled to start June 7. He could face life in prison without parole if convicted.
Quick's motion to withdraw would include all the attorneys at Vogel Law Firm, who were acting as secondary counsel. That's something Isaak said wasn't clear to him when he filed the complaint. He told South Central District Judge David Reich he would consider representing himself but wanted the return of all the documents he'd shared with attorneys since he was charged.
Isaak has the right to represent himself, Reich said, but the judge added that it would be "a very risky proposition."
The complaint would still be pending even if Isaak were to state on the record that he wanted to withdraw it. Proceeding with the trial could raise post-conviction issues, according to Assistant Morton County State's Attorney Gabrielle Goter.
"Either way you turn there are grave possible consequences," she said.
The Inquiry Committee West -- the board that considers such complaints -- won't meet until September.
Reich said he would rule on the matter by the end of the week.
"I haven't seen anything that would cause me to not grant your motion," the judge told Quick.
Quick said an attorney taking on the case could need three or four months to prepare for trial.  
Separately, the prosecution is asking Reich to allow evidence they say shows Isaak planned and prepared to carry out the killings.
Goter earlier this week filed a motion to introduce video surveillance evidence that allegedly shows Isaak traveled to and from the RJR building in the early morning hours of March 25, 2019, a week before the killings. His actions took place "at approximately the same time, in the same order, and in the same fashion, as his actions on April 1, 2019," Goter said.
She is asking Reich for a pretrial ruling anticipating the defense might argue the evidence represents a prior crime separate from the killings and is inadmissible, arguments she said are "meritless." The evidence would be used to show Isaak's plan and preparation; isn't unfair, confusing, or misleading; won't delay the trial; and its introduction is within the state's rules of evidence and would meet requirements set by the state Supreme Court, the brief maintains.