The North Dakota Department of Transportation along with the North Dakota Highway Patrol have closed Interstate 94 from Bismarck to Fargo because of slippery road conditions and zero visibility. Motorists are not allowed to travel on the road because of life-threatening conditions. State officials warn that the interstate will remain closed throughout the night.
As a result of the closure, commercial parking at a Mandan truck stop was becoming limited by 2 p.m. today. State officials were recommending that truckers stay in Dickinson.
At 9:15 a.m., Highway 2 from Devils Lake to Grand Forks also was closed. Earlier, at 5 a.m., Interstate 29 was closed from Fargo to the Canadian border.
Previous to the interstate closure, a Volvo truck, driven by Roberto Cortez, 59, of Highland, Calif., rear-ended a NDDOT snowplow, driven by Jesse Nelson, 37, of Bismarck, on Interstate 94, 6 miles west of Mandan. The collision took place at 9:12 a.m. this morning during a no-travel advisory. Neither driver was injured.
In Bismarck, garbage collections have been canceled. The state Department of Human Services has closed all offices throughout the state. However, the West Central Human Service Center in Bismarck will open at noon.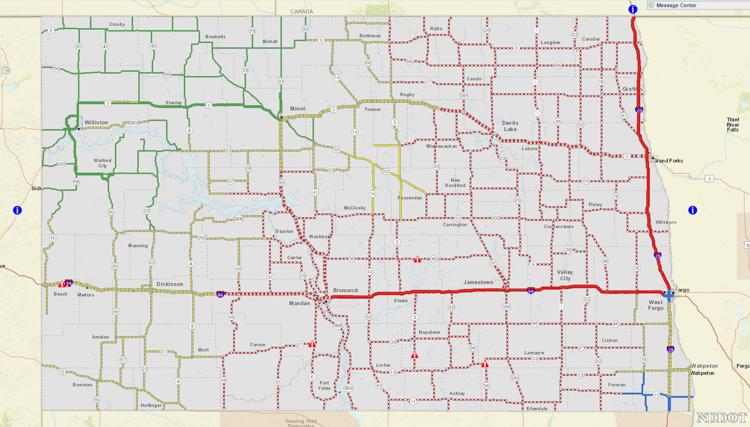 Additional advisories 
• A no travel advisory is in effect for all areas of south central and northeastern North Dakota because of blowing snow, high winds, icy roads, and areas of near zero visibility creating hazardous driving conditions. Cities included in the no travel advisory include Bismarck, Jamestown, Valley City, Grand Forks, Devils Lake and surrounding areas. A no travel advisory means conditions are such that motorists should not travel in these areas.
• A travel alert remains in effect for southwestern and southeastern North Dakota because of slippery roads and reduced visibility. Cities in included in the alert are Dickinson, Bowman, Fargo, Wahpeton and surrounding areas.
Motorists who drive past a road closure device may be fined up to $250.
On the move
The weather is moving further into the Midwest after causing widespread power outages in Colorado, where a blizzard forced the cancellation of hundreds of flights and wreaked havoc on roadways. Wednesday's blizzard cut power to tens of thousands of homes and businesses, caused hundreds of flights to be canceled and wreaked havoc on roadways. A wind gust clocked in at 97 mph in Colorado Springs.
The storm also contributed to the death of Corporal Daniel Groves, a Colorado State Patrol officer who was hit and killed by a car as he was helping another driver who slid off Interstate 76 near Denver. National Guard troops were using specialized vehicles with tank-like treads to rescue stranded drivers in Colorado in the wake of the late-winter storm.
Heavy rain has caused flooding in southern and eastern South Dakota, with water covering some roads and highways. Rain and melting snow have caused similar conditions in Iowa.
Blizzards, floods and a tornado were reported across more than 25 states, stretching from the northern Rockies to Texas and beyond.
-- The Associated Press contributed to this article.