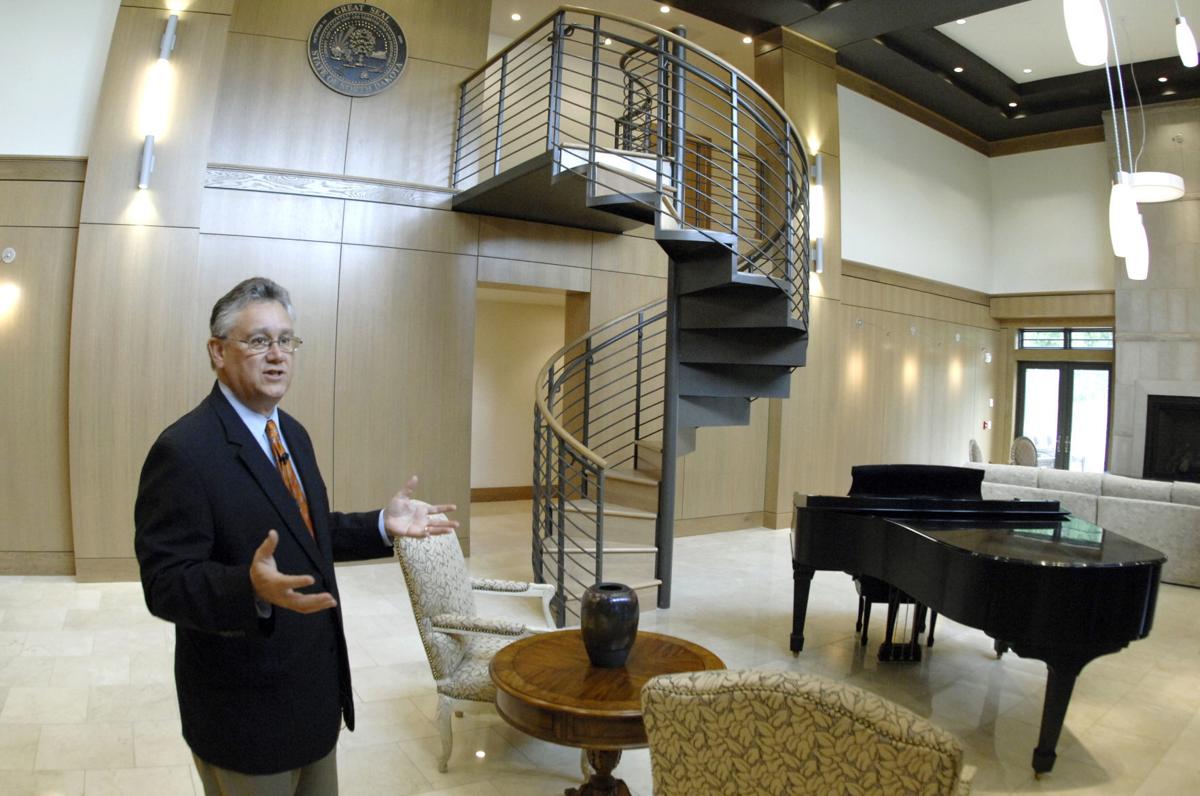 Gov. Doug Burgum's home is due for a little reinventing of its own.
The 13,700-square-foot governor's residence completed in 2018 on the North Dakota Capitol Grounds has noisy reverberations in its formal event space. And the home's lower-level kitchen requires better ventilation of pervasive cooking aromas.
Facility Management Director John Boyle last week informed the Legislative Procedure and Arrangements Committee of the problems, which will be remedied with money from a state building fund. Burgum and first lady Kathryn Burgum moved into the home in March 2018. The previous governor's residence was demolished soon afterward.
"If you have a home built -- it looks great, the whole thing -- but until you move in it and start living in it, you don't realize that there are some quirks that need to be addressed," Boyle told the Tribune. "There's things you just don't think of."
He said a $7,000-$8,000 wireless sound system was installed earlier this year in the space used for entertaining. Sound-absorbing acoustical panels are set to be installed on the ceiling and walls by the end of October, costing as much as $70,000 if contracted, or about $40,000 if done by Facility Management.
"The material cost is quite high," Boyle said. The acoustic problem arose after state lawmakers brought it to Boyle's attention following a reception. The bouncing noise is due to the room's hard surfaces. Boyle learned of the kitchen aromas on his own.
"When you're upstairs in their private living area, you can smell them cooking in the lower level, and that's what we're trying to fix," he said.
A commercial ventilation system with two outside mechanical units is planned to be installed to bring in more fresh air and extract smoke and smells. Current ventilation is "not enough to accommodate the uses that we have for that kitchen," Boyle said. 
A consultant will do a redesign to accommodate the ventilation work to fit within a recurring $250,000 appropriation of the Capitol Grounds Planning Commission that will cover all of the improvements. Boyle told legislative leaders that $140,000 of that has been committed thus far. He hopes to see a compatible redesign for improved ventilation by the end of July.
The home's problems have been known for at least a year. Boyle said it took time to design improvements and receive approval.
The 2015 Legislature budgeted $5 million for the new governor's residence, including $1 million in donations. The Friends of the Residence raised $887,000. Co-chairpersons of the Friends' fundraising committee say they're proud of the effort.
"I feel pretty good about what we did," Rep. Pamela Anderson, D-Fargo, said.
"We had, what I would say, is dozens and dozens of generous North Dakotans who put their personal money, business money up to make sure that we had a showplace for North Dakota, what I would call a proper greeting card for visitors to the Capitol and to Bismarck," said Jim Poolman, a Republican former state representative and insurance commissioner.
Boyle said the fundraising efforts were "outstanding work," but at least $90,000 of kitchen equipment ultimately wasn't purchased due to the fundraising shortfall. Facility Management brought over freezers, refrigerators and the oven from the previous governor's residence, instead of installing a walk-in refrigerator and freezer and an upgraded oven and stove.
Governor's spokesman Mike Nowatzki said Burgum is satisfied with the new home.
Be the first to know
Get local news delivered to your inbox!