The home is unassuming — white siding, green trim.
Sitting on the corner of Fourth Street and Teton Avenue is the Bismarck Dream House. It has played host to dozens of families since it was raffled off in 1948, making the Saunders family and others' dreams of home ownership come true.
"I am still in a dither," Gertrude Saunders told the Tribune in September 1948. "It is too good to be true. I have to pinch myself to be sure it isn't all a dream. It's all so wonderful."
Gov. Fred Aandahl drew the winning ticket — 362414 — at the close of the first North Dakota State Conservation Show, an event held to educate the public on natural resource conservation measures. The giveaway was meant to drum up publicity for the six-day event in the Capital City.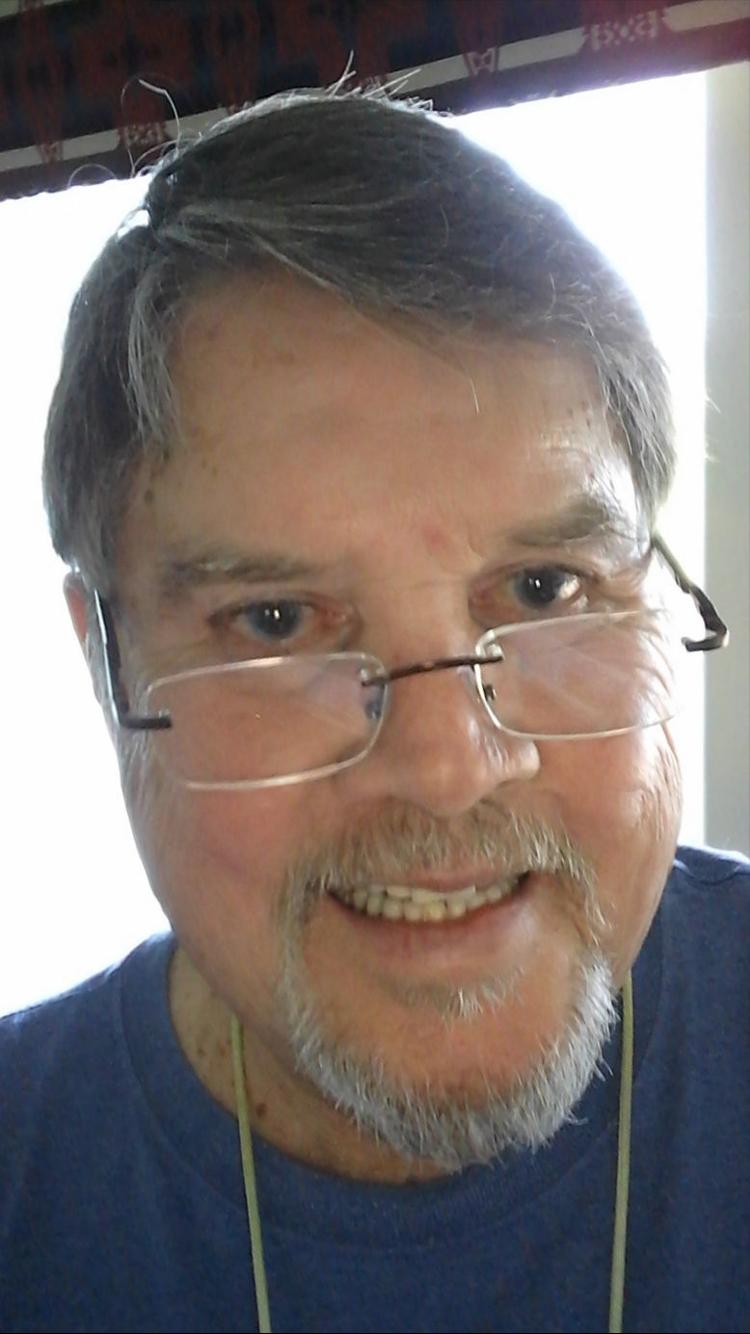 "I remember the day they moved the house; it was a big deal, at least in my family," said Mike Saunders, the last living Saunders child, who was age 2 when his parents won the home.
But the real dream came when the Saunders opened the door, he said.
"Once you got inside, it was fully furnished," Mike Saunders said. "It had the most modern things."
There was a washer, a dryer and a range.
"You even had dishes," Mike Saunders said, as well as sets of fine silver, all items far above the income level of his father, a government worker.
The Saunders and their three children had been living in one of the Wingfoots for government employees as Fred Saunders was a supply officer for the U.S. Bureau of Reclamation during construction of the Garrison Dam. The prefabricated homes made by Goodyear Tire and Rubber Co. had become popular after World War II as soldiers nationwide returned to a housing shortage. That shortage was still alive and well three years later in Bismarck.
The Saunders hadn't owned a home before. The family had been moving around the country "at a pretty good clip" — Cincinnati, Denver, Heart Mountain, Wyo., Billings, Mont., and upstate New York, where Mike Saunders was born.
"We were the new kids on the block a lot," he said.
The Dream House was prebuilt on a lot near the municipal swimming pool with plans to move it wherever the winner chose. Labor was donated by the local trades and merchants donated household articles. Mike Saunders said the public was allowed to traipse through the home to view the progress as it was being built.
Event organizers also made an impression by dumping raffle tickets for the home out of planes over every North Dakota town.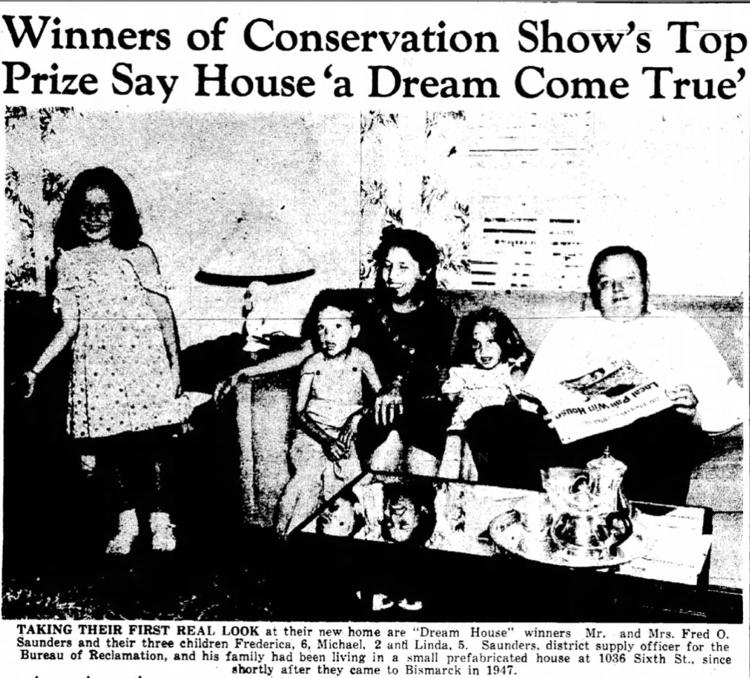 "Bismarck is in for an aerial bombardment next Friday," the Tribune reported July 26, 1948. "Weather permitting, airplanes will fly over the city at intervals throughout the day to drop tickets to the Dream House. Between 25,000 and 50,000 tickets will be distributed."
Helium-filled balloons were released from the work site, landing in Washburn, Braddock, Linton and even Zeeland, where a farmer found it in a hay field. KFYR aired a daily radio show, with Cal Culver hosting, from the site, giving away tickets. And Bismarck Association of Commerce went from town to town on a tour, in addition to arranging the home donations.
"Everybody I knew had tickets," Mike Saunders said. Later, he and his sisters had argued over who had gathered up the winner.
Aspiring home owners
The drawing took place at 1 p.m. on a platform at the corner of Main Avenue and Third Street.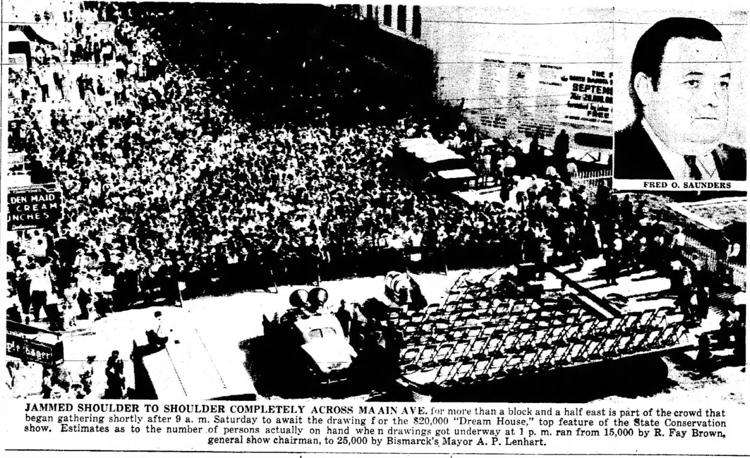 "This morning John, Rosaline, Herbert and I went to Mandan and Bismarck. I wanted to win the dream house but I didn't win," Rose Frohlich wrote in her diary that day. "Mr. and Mrs. Saunders won the house and there were from 20,000 to 30,000 people there. We bought Venetian blinds for the kitchen and some plastic curtains and then after supper John put up the blinds and I sewed the curtains and then we put them up."
"She really wanted that house," said Steve Van Dyke of Frohlich, his wife's grandmother.
Frohlich wasn't the only one over the years enamored by the Dream House.
Three years after moving from Fargo to Bismarck in 2011, Justin Long decided he would buy a home here.
"It was an extensive search, and I had about given up," he said.
But the moment he walked into the Dream House, he was sold.
"I like the bone structure of the home," he said.
It was cozy, with great neighbors and a Capitol view.
"It's just a cute little house," Long said. "Something just felt homey when walked in."
Over the years, Long has grown to love the neighborhood potlucks and the way residents in the two-block area chip in to help each other, including shoveling each other's driveways during the winter. There were times he fixed plumbing for his elderly neighbor and, in return, she cooked him supper.
Now the home is on the market again. Long bought a restaurant with his parents in Linton, and the commute has gotten tiresome.
"The house has a whole lot of history in Bismarck a lot of people don't realize," said Long, adding he hopes the next owner will be as intrigued as he was.
Remembering Bismarck
The Saunders would move out of the Dream House after a couple years but stayed in Bismarck until 1955, after Fred Saunders' relocation orders fell through. Their next stop after Bismarck would be moving to Fort Riley, Kan., while he was employed with the U.S. Department of the Army. The family then bounced back and forth for several years between Arizona and Washington, D.C., according to Mike Saunders, adding that his father and mother went to work for other federal agencies, including the U.S. Department of the Interior.
Despite always being on the move, Arizona had become like home to the family — Mike Saunders spent his teenage and college years there — and most of them would spend their last days there.
The Saunders parents died — Fred in 1976 and Gertrude in 1977 — near Phoenix. Linda Saunders Rummel, age 5 at the time the family won the Dream House, followed her parents into public service, choosing a career with the Bureau of Indian Affairs. Sharon Saunders Nicholas, who was born in 1949, ran a daycare near Tucson, according to Mike Saunders.
Frederica "Freddie" Saunders Bennett, who had been age 6 when the family won the Dream House, was the only one of her siblings to settle outside Arizona. She lived in Los Angeles, having enjoyed a career as an independent record producer for labels such as Invictus Records, representing talent like Bobbie Gentry and Chairmen of the Board. When her health prevented that, she went to work as a legal secretary, Mike Saunders said.
Work as a controller for a computer software corporation had Mike Saunders moving around for years — California, Detroit, Dallas, Philadelphia — before he felt called back to Arizona.
"I loved going to school there," said Saunders, who attends as many Arizona Wildcats sporting events as he can.
His own two children have died, but he and his wife have four nieces, a nephew and many great-nieces and nephews, as well as two dogs. 
The couple used to run a Pack N Ship store in Tucson. Every once in a while, someone from Bismarck would come through and they would visit about mutual acquaintances. 
Mike Saunders said his parents spoke fondly of Bismarck, particularly the people.
"Though they had no use for the weather," he said of the couple who made half a dozen trips back to North Dakota over the years to visit old friends.
Their sentiments left a good feeling about the place for their children, too.  
"I always thought, if I was ever to have to call on someone to do something for me, I hope they're from Bismarck," he said, citing the city's helpful nature.
Mike Saunders can remember going to Bismarck Barons semi-professional baseball games. He said their pitcher was the first African American man he'd met. He received an autographed baseball from the man during a contest at a game.
In their second home on Washington Street, he remembers riding bikes and climbing the fence to the golf course.
Mike Saunders, now 73, said he's long thought of visiting the town from his youth and seeing the old home. Maybe he still will.