The premier hands-on science center in North Dakota achieved two milestones this fall.
Gateway to Science, an informal learning organization in Bismarck with a focus on learning exhibits related to science, technology, engineering and math, or STEM, will mark its 25-year anniversary in November. 
And earlier this month, Gateway to Science backers and board members broke ground at the site of what will become a state-of-the-art science complex.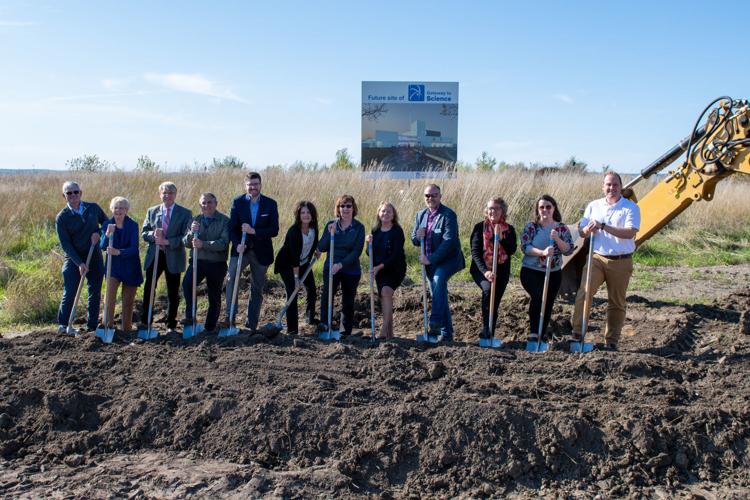 The site sits just west of the MDU Resources Community Bowl, a short move from its current location. The facility will be built on 7 acres of land donated by the city to Bismarck State College. BSC will lease the land to the Gateway to Science nonprofit, solidifying an informal partnership that began with the science center's inception.
The science complex will have 5 ½ times the space of the current location and will include larger exhibit galleries for energy, agriculture, health care and transportation exhibits.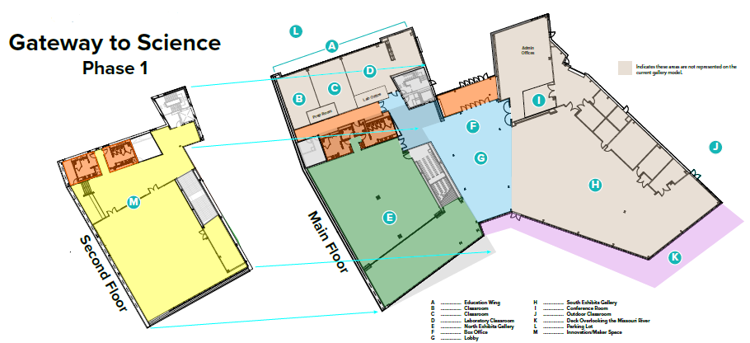 Admission and membership fees fund the day-to-day operations at Gateway to Science. The program also received a $5 million grant from the state as part of the higher education budget approved by the Legislature in 2013.
An ongoing capital campaign to raise money for the facility, exhibits and the creation of an endowment fund is more than halfway to the goal of $20 million. The Tom and Frances Leach Foundation provided a big boost last year with a $500,000 donation.
Gateway to Science Executive Director Beth Demke said officials hope to open their new doors in 2021.
Origin story
Gateway to Science started in 1994 when founding scientist Frank Koch, a chemistry professor at BSC, and lab assistant Tina Stroh presented the idea to a now-defunct local chapter of the Junior Service League, a volunteer service group for women.
Koch was active within the National Chemistry Association and for a few years prior had been having his chemistry students "do a couple of elementary things" and display them at Gateway Mall on the Saturday of National Chemistry Week, according to his widow, Kay.
Demke, who was president of the service league, said that when Koch approached the group about a partnership, the light bulb went off in her head.
"He had the idea that we needed to develop something that was a 'gateway to science,' to welcome people in to learn about science in a hands-on, very interactive manner," Demke said.
She and her family would visit children's museum's and science centers while on vacation, "and we had been saying as a family, Bismarck needs something like this," she said.
With Koch providing scientific expertise and Demke's group providing the business experience to raise money and awareness, Gateway to Science began to leave permanent displays at Gateway Mall. Volunteers from the service league would help with staffing in the evening after school.
When a shoe store left the mall, Gateway to Science moved into the space and remained there until 2005, when it moved to its location at the Frances Leach High Prairie Arts & Science Complex.
Kay Koch believes her late husband, who died of cancer in June 2016, would be proud of the direction Gateway to Science is heading.
"He'd be just so thrilled," she said. "He was a dreamer, and I'm glad I got to see his dream take one step into reality."
Dan Leingang, who started out as a math professor at BSC and is now vice president of academic affairs, said Koch was a good friend and colleague.
"His passion rubs off on a lot of people," Leingang said. "He's passed away now, but (the passion), it's still with a lot of people."
Measuring success
A focus on STEM education spread across the nation in 2008-09 and raised interest locally in the science center, according to Demke. By that time, Gateway to Science was well-established in the Bismarck community.
Due to the informal nature of the science center, it's difficult to measure the impact it's had on the generation of kids who grew up with it. But Demke said she's been told stories by former staff and students about how it helped them.
"A lot of students will say it sparked their passion," she said. "I know that we've got aerospace engineers that used to work here, we've got software engineers, we've got biologists. People have gone on to medical school."
Leingang said he saw a benefit in his own children, who are now adults working and studying science-related fields.
"That curiosity -- never being afraid to stop looking deeper or learning something more -- I think that is probably where you see students benefiting," Leingang said.
When it began in 1994, Demke and others involved were volunteers. They were able to hire one student to work there the following summer.
Today, 14 full-time and part-time staff members keep the center going, along with an army of volunteers -- as many as 75 a year.
Gateway to Science served 7,500 visitors in its first year of being open. Today it's up to 40,000-plus visitors annually. It hosted 117 field trips last year and 93 field trips to date this year. Dozens of times a year it goes on the road, taking a few exhibits in a van to communities across the state and to border communities in Montana and South Dakota.
Gateway to Science is open from 12-7 p.m. Monday through Thursday and from 10 a.m. to 5 p.m. on Friday and Saturday at the Frances Leach High Prairie Arts & Science Complex, 1810 Schafer St. Admission is $8 for adults and $5 for children ages 4 to 17. Children younger than 4 are admitted free with one paid adult.
Be the first to know
Get local news delivered to your inbox!