Bishop Paul Zipfel had a natural ability to connect with people through prayer and magic tricks.
Zipfel, the sixth bishop of the Bismarck Catholic Diocese, died Sunday at a nursing home near St. Louis, Mo., while under hospice care "after an extended and debilitating struggle with Alzheimer's disease," according to a statement from the diocese. He was 83.
Zipfel was installed as bishop on Feb. 20, 1997, after a 20-month period during which the bishop position was vacant.
The Rev. John Guthrie, a pastor at St. Pius, St. Martin's and St. Mary Queen of Peace churches, said Zipfel was a "very kind, compassionate, pastoral man" who was deeply involved in parishes.
"He cut his teeth in parishes," said Guthrie, who was a member of a council of priests that assisted Zipfel and later became his vicar general. "His heart was always in the parish, and you could tell that."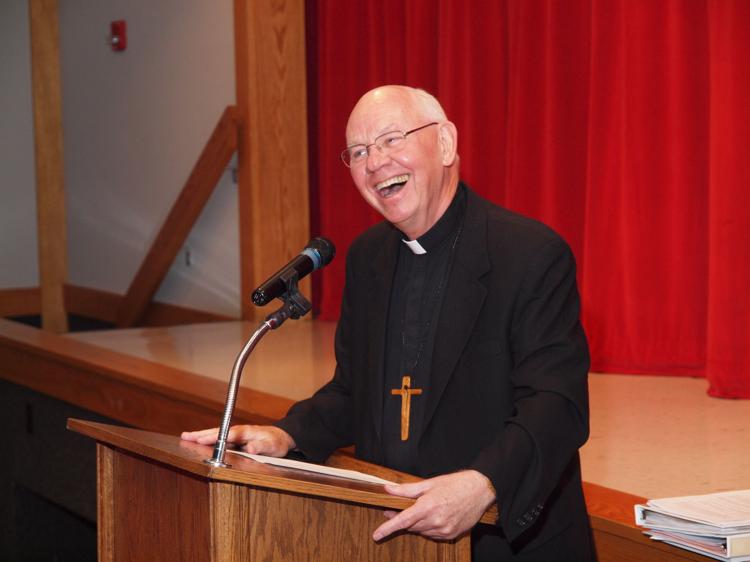 Zipfel also was a longtime member of the International Brotherhood of Magicians, a hobby that helped him connect with people, particularly children.
"(Magic) became a vehicle that he used to break down barriers with people, and immediately they were drawn," Guthrie said.
Zipfel was bishop during a time of scandal within the Roman Catholic Church. The John Jay Report, which was released in 2004, cited instances of sexual abuse by priests, including in North Dakota.
In an interview with The Bismarck Tribune at the time, Zipfel called the number of cases in North Dakota "very disturbing," and said "a great amount of trust has been lost."
Monsignor Tom Richter, a pastor at Queen of Peace Catholic Church in Dickinson, said Zipfel had a "vision for priesthood," which he worked to reform.
"During my time as vocations director, he raised the standard for entrance into the seminary and readiness for priesthood very high," including the psychological evaluation, background check and references processes, Richter said. 
Zipfel was passionate about education in the state's parochial schools, according to Richter. During a time of a priest shortage, Zipfel started assigning priests to become teachers and chaplains at those schools.
"It took a boldness to invest young priests in schools when in fact there was a great need for them to be in parishes," Richter said. "It's paid off tremendously in regards to the number of priests today that have been the fruit of much of the good work that has occurred in our Catholic schools."
Richter said Zipfel gave engaging homilies and was a "fine" preacher who stressed the importance of prayer.
Richter still recalls the day in 1997 when it was announced Zipfel would become bishop, and Zipfel said, "We have to first become a prayerful people" before accomplishing anything.
"I remember hearing that and thinking I can follow this guy; this is the kind of leader I want," Richter said.
Zipfel submitted his resignation in 2010 on his 75th birthday, as canon law requires. He ordained and installed current Bishop David Kagan in 2011.
Funeral services for Zipfel in St. Louis and Bismarck are pending.