Dennisse Montes and Jose Lopez could only watch Sunday afternoon as firefighters battled a Mandan apartment fire that gave the couple little time to get out.
"I just heard the fire alarm, took her and and my dog and ran," said Lopez, 33. "We lost everything."
Fire crews from Mandan and Bismarck responded to the 42-unit apartment fire on 31st Street Northwest about 12:30 p.m. No injuries were reported, according to Deputy Police Chief Lori Flaten.
Montes, 34, said it appeared as though the fire started at the south end of the building.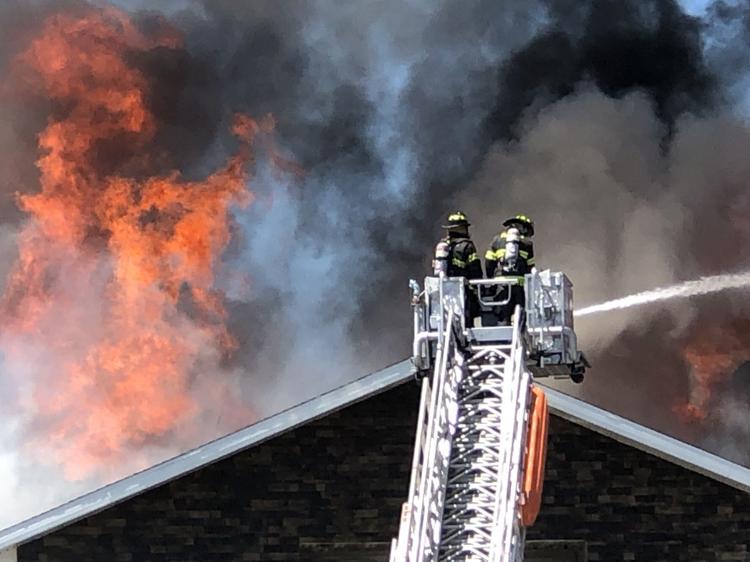 "One of the girls beside me said she thought it started in the porch of the last apartment, maybe from a grill or barbecue," Montes said.
The two stood with other onlookers, their year-old Siberian husky at their feet. Montes fought back tears as she watched. She said the two expect a baby in a month.
Firefighters at the scene had little information to share. All emergency personnel on site were either helping with crowd control, fighting the fire or taking a break from fighting it.
"They were calling for additional crews," Flaten said. "With the heat, firefighters aren't lasting long."
The temperature in Mandan on Sunday afternoon was approaching 90 degrees.
It wasn't immediately clear how many people lived in the building. Displaced residents were being sheltered at the Mandan Middle School, according to Morton County Emergency Manager Tom Doering. The American Red Cross set up in the school's parking lot.
Robert Wollf, of Mandan, arrived at the scene about 1:30 p.m. He said flames were showing through about the south one-sixth of the roof at that time. The fire was almost to the north end of the building just after 2 p.m.
"They just moved people back 10 minutes ago, about 1:50," Wolff said. "I heard firefighters say they're worried about the building collapsing."
Montes said at about 3:30 p.m. they were told everyone got out of the building but that some people couldn't save their pets.
Flaten said the roof of the building was gone. She was unsure how stable the rest of the structure was.
Anyone in need of assistance as a result of the fire should contact the Red Cross, said spokeswoman Gretchen Hjelmstad. Red Cross workers will meet with affected families and provide some financial assistance, blankets and comfort kits of hygiene items.
"We're figuring out lodging. I'm not sure how that's going to play out yet," Hjelmstad said. Mandan Middle School will serve as a temporary shelter to keep people comfortable for the short-term, she said.