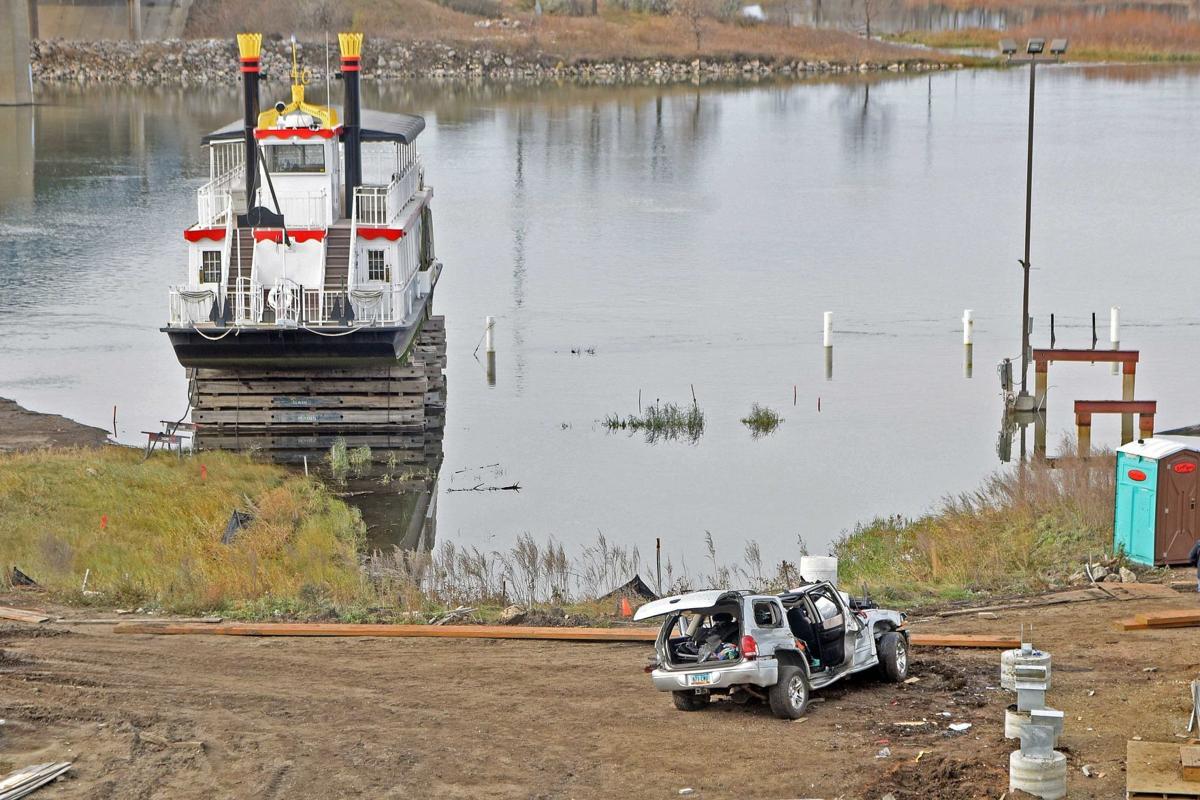 A Strasburg man who authorities say was driving a car that went airborne after leaving Interstate 94 in November 2019 and caused serious injuries to a passenger is scheduled for trial in June.
Chozey Schumacher, 25, on Tuesday pleaded not guilty to criminal vehicular injury and unauthorized use of a vehicle.
Schumacher was driving a 2003 Dodge Durango that went into the north ditch of the interstate in the Bismarck area, flew over River Road and landed near the Lewis and Clark Riverboat Landing, according to the Highway Patrol. He and passenger Stacey Shaw, of Bismarck, were taken to local hospitals. Shaw was later transferred to a Fargo hospital.
The vehicle was going 62 mph when it left the embankment at a 10-degree launch angle, according to Trooper Jeremiah Bohn. There was no evidence of acceleration, braking or mechanical failure, he said. The vehicle came to rest about 200 feet away -- two-thirds the length of a football field -- and about 40 feet below -- four times the height of a basketball hoop.
Schumacher at the time was on probation after pleading guilty in 2015 to felonious restraint and aggravated assault in separate Richland County cases. A five-year prison sentence had been suspended in the felonious restraint case. A petition to revoke his probation in January 2020 included the crash citation and four drug-related allegations. He was sentenced that month to 1 ½ years in prison for the probation violation.
Bohn testified during the Tuesday preliminary hearing that all but three of Shaw's ribs were broken in the crash. She was on a respirator for several months, the trooper said.
Investigators found two beer cans and a shattered liquor bottle in the car, and the communication from first responders indicated Schumacher appeared to be under the influence, Bohn said. Police were unable to execute a search warrant for a blood sample because Schumacher was in surgery.
Defense attorney Garrett Ludwig argued that there wasn't enough evidence to move the vehicular injury charge to trial. The state had no medical records that showed the presence of drugs or alcohol in Schumacher's system, he said.
"As far as specifically showing is there probable cause -- is there evidence that my client was under the influence more likely than not -- I just don't think we can make that leap," Ludwig said.
South Central District Judge John Grinsteiner agreed with Ludwig that there might not be enough evidence to convince a jury beyond a reasonable doubt, but he said there was enough to move the case to trial. He scheduled a two-day trial starting June 15.