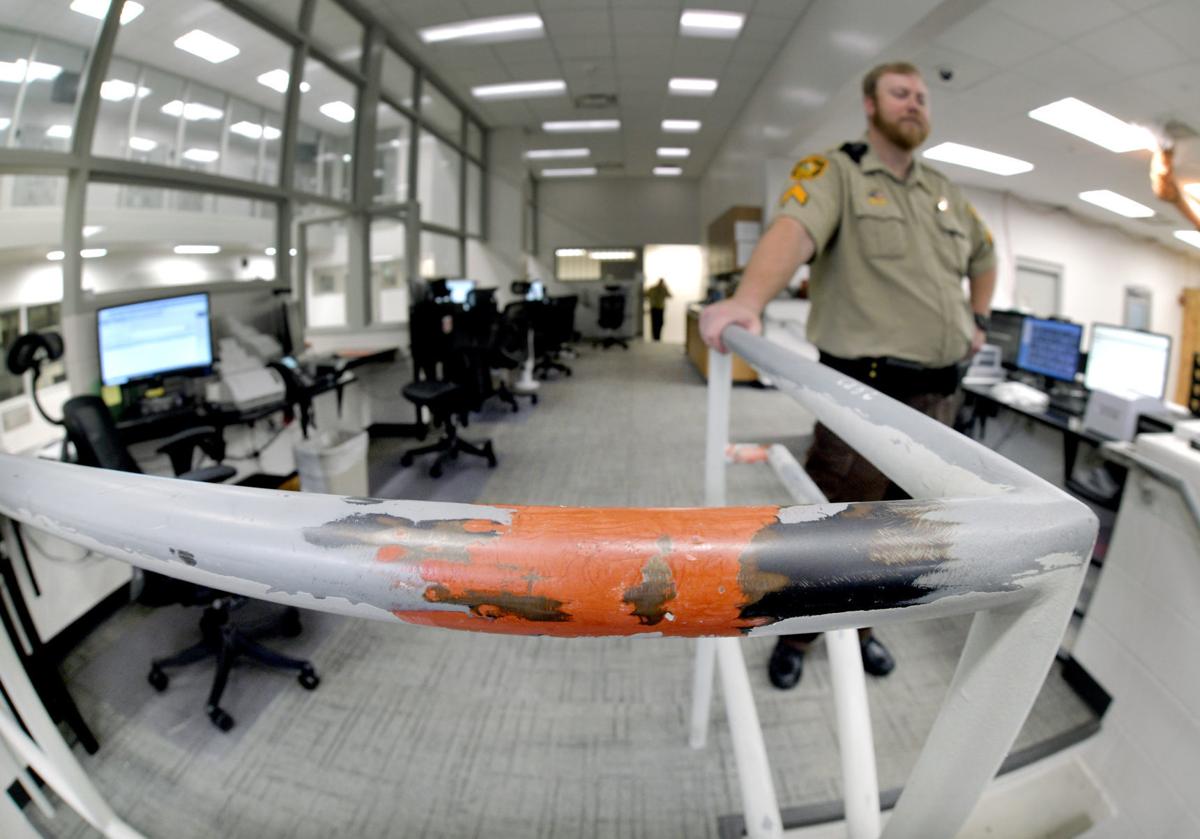 Staff members are looking for ways to correct chipping paint and other issues at the 2-year-old Burleigh Morton Detention Center, and they have to do it while keeping inmates housed and safe.
The $69 million center opened in June 2017. Sheriff Kelly Leben said the issues have been present "since Day One" and were brought to his attention when he took office in January. They include chipping paint, a problem with the coating in the showers, and an electrical problem in the sally port, or secure entryway.
Leben believes the electrical issue doesn't carry a high price tag. He and others worked with general contractor Comstock Construction and the applicator of the polyurea coating in the showers to remedy the failure of that product. That issue is nearly resolved, he said.
Chipping paint, mostly in high-traffic areas such as inmate bunks, might be a bigger problem. It's a lot of paint and a lot of surfaces to be prepped, and the work won't get done in an empty building.
"It's kind of like going back into construction mode, and at the same time we have 270-some inmates we have to figure out where to put while we're trying to deal with it," Leben said.
Maj. Steve Hall said the problems with painted metal surfaces were identified before the building was occupied.
You have free articles remaining.
"Anytime you have multiple entities involved, there are opinions on why it happened," he said. "We can't say where the fault lies at this time."
The paint issue will take some time to resolve because it will have to be repaired in sections. Inmates can't be in those sections while the work is done.
"With that amount of activity, it wouldn't be suitable to house inmates (in those sections)," Hall said.
Another cost involved is that of lost revenue, because the jail often is paid to house prisoners from other jurisdictions, Leben said.
"If we're not renting out that bed space, it's a burden on local taxpayers to cover that additional cost," he said. "Ultimately we're trying to resolve all these problems and at the same time look out for the Burleigh and Morton County taxpayers."
It's unclear how much the repairs will cost or who might bear those costs, but Leben said he doesn't think it should fall to the counties.
"Our taxpayers paid for a product and it hasn't lived up to what we expected," he said.
Phone messages left for Comstock Construction were not immediately returned.