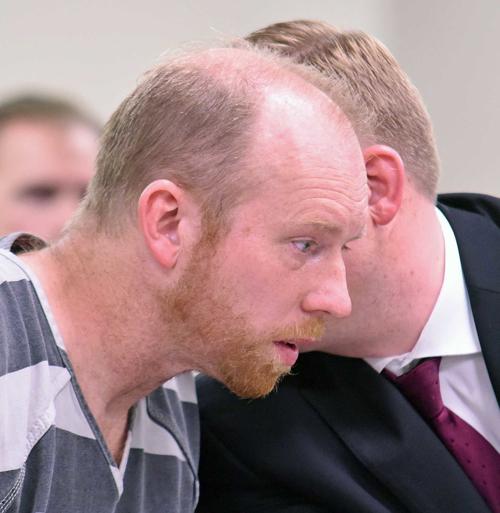 A Bismarck attorney is asking to withdraw as counsel for a man accused of killing four people in Mandan two years ago, citing a conflict of interest brought about by his client's filing of a disciplinary complaint against him.
It's unclear how attorney Robert Quick's withdrawal would affect the timeline of Chad Isaak's trial, which is scheduled to start June 7.
Isaak, 46, of Washburn, is accused of killing RJR Maintenance and Management co-owner Robert Fakler, 52; and employees Adam Fuehrer, 42; and William Cobb, 50, and Lois Cobb, 45, who were married. Police have not established a motive for the killings that occurred April 1, 2019.
Quick in court documents filed last week states that the disciplinary complaint Isaak filed against him presents a conflict of interest under which Quick "is obligated to withdraw as attorney of record." The motion includes all attorneys from Vogel Law Firm, who were acting as secondary counsel.
Quick when contacted by the Tribune said it would be inappropriate for him to comment further because the motion is still pending. South Central District Judge David Reich will hear the matter on Wednesday, court records show.
Assistant Morton County State's Attorney Gabrielle Goter told the Tribune that "the court will have to make certain inquiries of the defendant and Mr. Quick and ultimately make a decision on whether the withdrawal will be allowed."
If it's allowed, Isaak could hire another attorney, apply for an appointed attorney or defend himself, according to Goter. The judge would weigh how each of those scenarios would affect the timeline, she said. 
Isaak in July interrupted a motions hearing and told Reich that he wanted to address the court. He cited his Sixth Amendment rights after the judge told him to talk to his attorneys. The Sixth Amendment to the Constitution among other things guarantees a right to a speedy and fair trial.
"I've tried discussing it with the attorneys," Isaak said during the hearing. "They do not want me to say a word and that's why I'm bringing this up to you myself, sir." It's unclear exactly what Sixth Amendment issues he wanted to discuss with the judge.
Petra Mandigo Hulm, clerk of the North Dakota Supreme Court, said she could not verify the existence of informal complaints or provide information about them. There were no formal complaints against Quick made to the state Disciplinary Board as of midday Monday, she said.