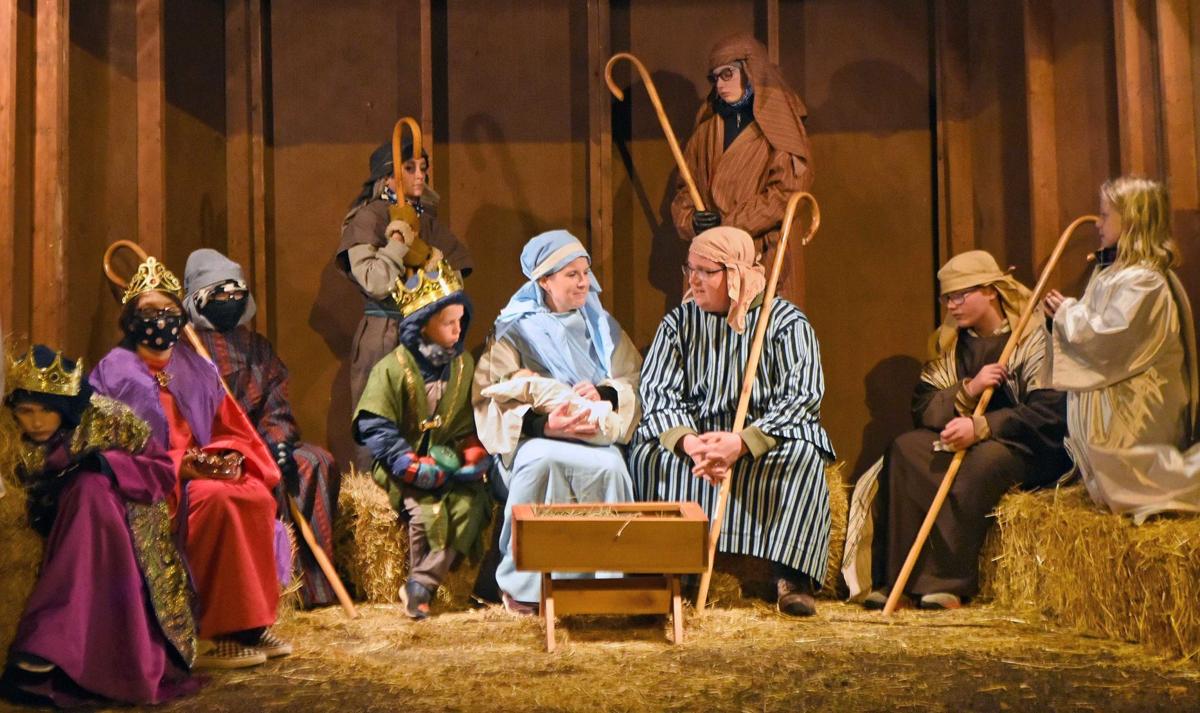 For Zion Lutheran Church in Bismarck, the show must go on.
Amid the coronavirus pandemic, the church put on its 60th annual Live Nativity last weekend -- a scaled-back, socially distanced, drive-by performance complete with an all-ages cast, two donkeys, two sheep and a llama.
"We're really glad that we're able to still do it even with all the changes of the pandemic and still have that opportunity to give that message to the community in a positive manner," said the Rev. Tom Marcis, who has led the church for 31 years. Livestreaming enabled snowbird church members to tune in. Zion Lutheran is planning a larger Live Nativity for 2021.
Christmas is typically a busy time of year for churches, when pews often are packed with regulars as well as families who do not attend often but make it a point for the holiday. This year, churches are working to accommodate worshippers with coronavirus protocols and messages of hope after what many consider a long, dark year.
The Cathedral of the Holy Spirit in Bismarck is planning eight Masses on Christmas Eve and Christmas Day, more than the five held in 2019. Livestreaming will be available on the Diocese of Bismarck website at https://bismarckdiocese.com/, and the 10 p.m. Christmas Eve Mass will be mask-only.
The Rev. Josh Ehli said the Christmas message is especially significant this year.
"It will be unique to say the least," he said. "But I think it has all the potential to be one of the most moving now that we are duly humbled by our own existence and humanity … and so I think there's a great cause for renewed hope in a savior and not in anything that this world can bring us because we can see it can be fleeting, even life itself, unfortunately."
During the pandemic, the cathedral has implemented livestreaming and distanced seating and encouraged hand washing and mask wearing.
Attendance has been down to between one-half and two-thirds as some people have stayed away. The cathedral outfitted five locations in its building with video screens and speakers set up for spreading out parishioners. Seating in pews has been in every other row. Parishioners have told Ehli they hope to return to normal, and he sees gratitude for the day when normalcy resumes.
"To be able to say we don't take this for granted anymore," he said. "What a blessing to have health, to be able to pack a church full. I miss that. I really miss having a full church."
Following is a sampling of how some other churches in the area are handling services during Christmas in a pandemic.
First Presbyterian Church
Two traditional Christmas Eve services will be combined into one virtual service at First Presbyterian Church in Bismarck, and many of the elements present at the traditional services will be provided in worship packets being prepared for congregants.
The church historically has held a child-friendly service and a second service that includes communion and a candle-lighting ceremony. Parts of each service are being recorded for editing into a single service that will be available online starting at 5:30 p.m. on Christmas Eve. It's a project that's come together with the help of a number of volunteers.
"We're blessed with talented people who are good about adapting," the Rev. Leanne Simmons said.
The intent of the worship packet is to make the experience more like the in-person ceremony.
"It will have communion bread and wine, a candle and the order of worship," Simmons said. "It will have all the symbols that we share in common."
The packets are available at the church.
Church leaders are planning a post-pandemic meeting to document what was learned and to create a record for the next generation, Simmons said. Christmas 2020 won't be noted as being less special because of the inability to gather but instead will show "how profound our experience is together," she said.
"It's shown how interconnected we really are and how hard it is to break that bond, even when we can't get back together," Simmons said.
Legacy United Methodist
The Advent theme at Legacy United Methodist Church in Bismarck is "The Light is Coming." The Rev. Brandon Vetter on Christmas Eve will take that one step further to deliver the message that "The Light is Here."
"In Jesus, there is always a reason for hope, peace and joy," he said.
Christmas Eve services at the church have traditionally been in-person and included songs, stories and a candlelight ceremony. That tradition will go on, though COVID-19 protocols such as masks and limited seating will be in place. A prerecorded ceremony is available online. Congregants may obtain a "Christmas Eve bag" of interactive elements so they can participate remotely.
Three in-person services will be held Friday. Legacy South will hold two in-person services, and one will be broadcast on KFYR.
A leadership team and church staff have been "absolutely invaluable in figuring out how to keep people feeling connected," Vetter said.
"Christmas is naturally a season of celebration," he said. "There's a hopeful and anticipatory mood."
Lutheran churches
Some area Lutheran churches are taking their Christmas Eve services outdoors.
First Lutheran Church in Mandan is holding its service in the parking lot of Mandan High School. Congregants are encouraged to bring a flashlight or use the light on their cellphones to participate in a candlelight service and sing "Silent Night," the Rev. Dan Paulson said. Attendees can listen to the service on their radios.
Paulson said he's "really excited" about the drive-in event. The church has been closed while Morton County is in the "red/critical risk" ND SmartRestart level and has been streaming during the pandemic.
Despite the pandemic, giving among the community has been "excellent," Paulson said. Members bought presents for 170 students in Mandan, and each child will receive four presents. Congregants also put together Christmas dinners for the families.
Faith Lutheran Church in Bismarck will have an online service Christmas Eve and also will hold several outdoor caroling sessions in its parking lot. Singers should be able to wear masks and social distance, according to the Rev. Derek Harkins.
The church has adapted during the pandemic, he said. Drive-thru Holy Communion was offered on Thanksgiving, and the church started streaming its services.
"It's been a huge learning curve across the board," Harkins said. "The congregation has been really accepting of all the restrictions."
Trinity Lutheran Church in Bismarck will hold its Christmas Eve services in person. Attendees are encouraged to register for one of four options online.
The church has been streaming its services, the Rev. Mark Narum said, and they're also broadcast on the radio.
"Each season provides a new challenge," he said. "We're getting used to it."
And Naurm said the congregation has stepped up during this time of need. Trinity houses The Banquet, an organization that provides free meals. More people volunteered to help at The Banquet on Thanksgiving than needed, and church members put 30 food baskets together.
"People have needs, and there are people with the heart to step up and fill those needs," Narum said.
Area churches
Outside the Bismark-Mandan area, churches also were making Christmas accommodations with the pandemic in mind.
Bethlehem Lutheran Church in Wing typically has one Christmas Eve service "packed to the gills with families," the Rev. Trish DeBoer said.
"This year, we decided to split it in two and do reservations because we are trying to keep the numbers relatively small," she said.
Masking tape in the pews helps people stay 6 feet apart from others. The congregation won't sing inside the church, so as not to spread the virus through respiratory droplets in an enclosed space. Instead, church members will listen to Christmas carols, including a recording of a performance by two women in the congregation.
The services will wrap up when the congregation heads outside to hold candles and sing "Silent Night" around a Nativity set.
Families that make up the United Church of Christ First Congregational in Garrison were visited last week by the Rev. Janis Sloka and other staff from the nearby Camp of the Cross. The staff put together care packages to surprise the 30 or so children who made up the Kids Club, which stopped meeting during the pandemic in an effort to keep the virus from spreading so the local school could stay open.
"The kids were just elated," Sloka said, adding that they also felt a bit disappointed because of virus protocols. "We couldn't play with, nor could we hug them."
The church held a "Blue Christmas" service last weekend with the local Lutheran congregation, a "Christmas Eve service for those who might have lost someone," Sloka said. He described it as a "safe space" where people who are grieving can avoid the joyful atmosphere of regular Christmas services.
The message at both that service and the one Sloka has planned for Christmas Eve is one of hope amid the pandemic.
He plans to reflect upon the experience of Mary when she became pregnant with Jesus.
"She still held hope that God was with her and would help her bring this child in the world," he said. "The whole idea is to still find hope and a silver lining in the midst of this."
(Tribune reporters Jack Dura, Sam Nelson, Amy R. Sisk and Travis Svihovec contributed to this story.)