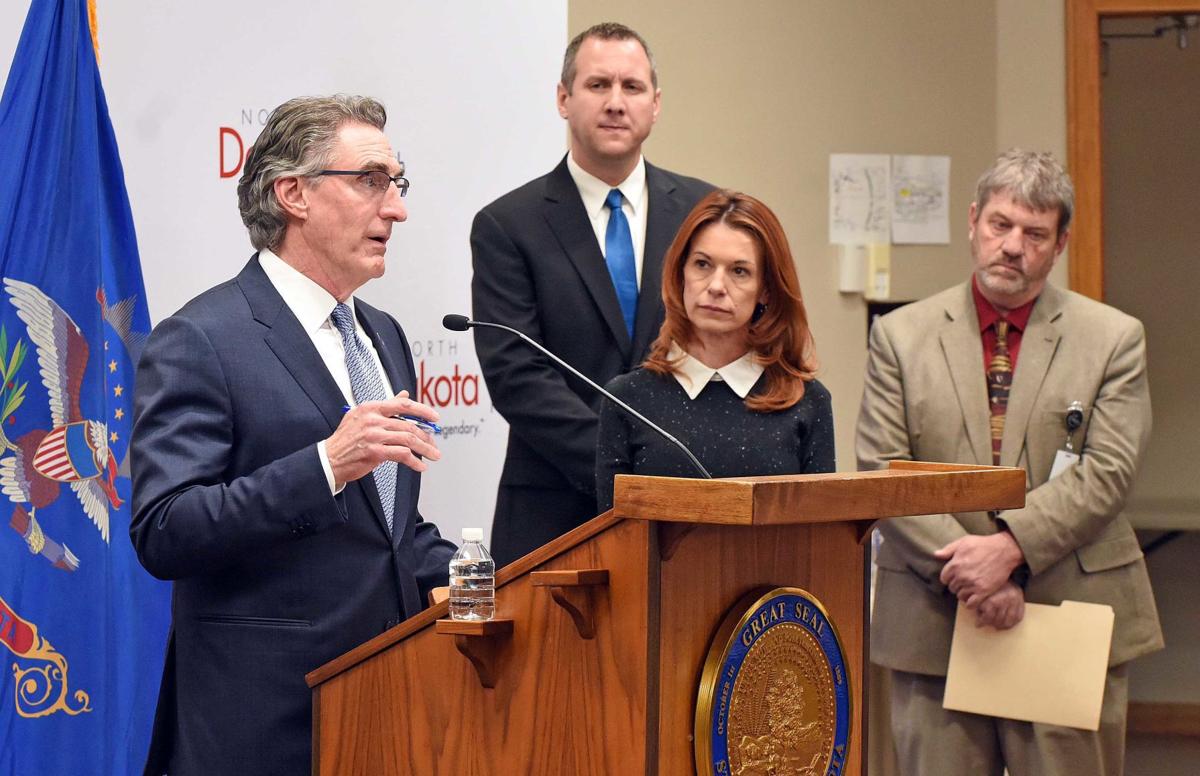 North Dakota Gov. Doug Burgum on Thursday ordered all eating and drinking establishments, as well as recreation and entertainment businesses, to close to on-site services amid the coronavirus outbreak.
He also eased licensing regulations for health professionals and facilities, ordered schools to remain shut down to students, with a focus on remote learning likely beginning in April, and shortened the academic year from 175 days to 163 days.
Burgum also restricted public access until April 6 at state facilities, including the Capitol in Bismarck, and directed most state government employees to work remotely. The state Information Technology Department has so far transitioned about 3,100 state employees to platforms for working from home, the governor's office said.
The news came as the state confirmed a dozen additional cases of COVID-19, the disease that results from the new coronavirus.
"We've more than doubled the number of cases in just the last 24 hours," Burgum said during an afternoon public briefing.
New cases
North Dakota health officials on Thursday confirmed 12 more cases of COVID-19, with nine of them in Burleigh County and two in Morton County.
The new cases announced Thursday bring the state's total to 19, with one hospitalization. Eleven are in Burleigh County and four are in Morton County. One of the cases is a girl who attends Fort Lincoln Elementary in southeast Mandan, the school said in a letter to parents on Wednesday.
State Health Officer Mylynn Tufte said in a statement that "This underscores the importance of practicing social distancing and following the President's recommendations to slow the spread of COVID-19."
Burgum said North Dakota residents can no longer view the pandemic as "some faraway thing" and must learn from what other states have experienced, including Washington, where cases have surpassed 1,000.
"We can know if it happens in the state of Washington, we can know it can happen here, and if others might still be living in a state of either disbelief or denial, we just have to look today at the numbers globally," he said.
There are more than 242,000 confirmed cases worldwide, according to Johns Hopkins University.
North Dakota's first confirmed case was on March 11. Four more were confirmed Tuesday, and two more on Wednesday, with the Wednesday cases -- both in Morton County -- being the first instances of community transmission. Burgum said "at least" two of the cases confirmed Thursday were instances of community spread. Other cases in the state are in Cass and Ward counties.
The health department has tested 673 North Dakotans for the virus, with 654 coming back negative.
Business restrictions
Business restrictions ordered by Burgum on Thursday apply to bars, cafes and restaurants, breweries and similar businesses. They must close to on-site patrons by noon Friday, but they can continue with takeout, delivery, curbside and drive-thru services, he said.
The restrictions also apply to recreation facilities, health clubs, athletic facilities, entertainment venues and theaters.
"We know this is going to require a change for a lot of people, but we thank you for doing that because this is one of the ways we can stop the spread," he said.
Burgum also acknowledged that "this is going to cause economic hardship here in North Dakota."
It's unclear if businesses that violate the order will be penalized, but state officials said that violating an executive order, as Burgum has issued, could result in an infraction with a fine up to $1,000.
The governor urged American Indian tribes to adopt similar restrictions.
School shutdown
Burgum was poised to sign an executive order that "allows age-appropriate alternative learning, including distance learning, to count toward instructional hours" mandated by state law.
The governor last Sunday night ordered the state's 175 school districts and private schools to close through Friday, affecting more than 110,000 students. School leaders statewide this week have been developing resources and guidance for online learning and virtual instruction, according to State Superintendent Kirsten Baesler.
Burgum said districts "have been working extremely hard on those plans, and we've see some very creative and innovative plans coming forward."
Schools will remain closed to students until further notice, though they will remain open to essential staff.
Burgum will waive a total of 12 school days, effectively shortening the academic year from 175 days to 163 days.
"These waivers ensure that districts will be able to pay teachers and their hourly employees," he said.
"During this 12-day waiver (school leaders) can continue to do planning for if we have extended closures," Burgum said.
He asked schools to submit "innovative education plans" by March 27. If they're approved by the state, alternative instruction such as online learning can begin April 1, the governor said. Officials are leaving open the possibility that classes could resume in-person at some point this school year if the outbreak becomes less severe, but a return to school buildings could come with modifications, such as smaller class sizes, Baesler said.
If school districts do not submit plans or fail to get them approved, they would have to "roll the dice" and hope that they can hold classes in-person at some point before June 30, when the school year officially ends, Burgum said.
"We cannot let this pandemic deprive our students of an education that prepares them to succeed in our rapidly evolving 21st century economy," he said.
Health licensing
Burgum also announced the suspension of some regulations related to licensing of health professionals, effectively enabling someone who is fully licensed in another state to work in North Dakota.
That will enable multistate health care systems with a presence in North Dakota to freely move personnel, according to the governor.
"We don't know where the surge capacity is going to be … needed," he said.
Licensing requirements for health care facilities also are being eased.
"If we needed to, for example, convert a dorm at a university into a place where we had surge capacity for patients that might be suffering from COVID, that we would have the ability to do that, and speed our way through what might have otherwise been a licensing process that would not have allowed us to convert state facilities for those uses," Burgum said.
Concerned about COVID-19?
Sign up now to get the most recent coronavirus headlines and other important local and national news sent to your email inbox daily.